Previously, we talked about how pretty a cultural province on the west side of Java island, West Java. As a place rich with modern creativity, the province is still able to be the best place for vacation with all its natural tourist spots.
Standing as a place for relaxing, most of them also function as informative attractions, like the Safari Park Cisarua Bogor. So aside from bringing the fun, they also can be useful for enhancing the kids' knowledge about the nature and the life of the wild.
Aside from the zoo-kind of attraction, a family could spend their time effectively in a conserved natural place like the eye-catching Ciletuh Geopark. But you know what else that a family could do on their free days? Camping! Camping is one with nature.
A humble and simple activity, but highly impactful for bringing a family together with all the simplicity of life. It's fortunate that you can find some places that are suitable for this around West Java. And some of them have been included on the short list below:
Campsites in West Java
Ranca Upas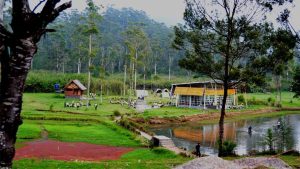 · Location: Rancabali, Bandung
· Ticket Fee : Rp20.000,- to Rp3.000.000,-
Weekend holidays feel less cool if you just use it to be stone silent at home. You can invite friends or family to picnic or maybe camping together.
At the Ciwidey tourist center not far from the Kawah Putih (or White Crater), there is a cool camping ground called Ranca Upas. It's certainly one of the top things to do in Bandung, a place highly suitable for a quality family time.
The spacious camping area is surrounded by lush green trees and an artificial lake. This camping ground is complete with the basic bathroom facilities, so you don't need to be confused if you want to do your "things". In addition, many food vendors also sell a variety of snacks and food.
You can light a campfire at night and enjoy the milky way when the weather is clear enough. You also don't need to bother carrying camping equipment because there are also tents available for rent. You can also explore Ranca Upas by riding the bicycle that has been provided.
Tanakita Camping Ground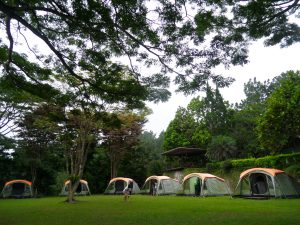 · Location: Kadudampit, Sukabumi
· Ticket Fee : Rp550.000,-
Tanakita camping ground is in the Mount Gede Pangrango Sukabumi National Park area. This place is very fitting to be a place for camping with its cool temperatures.
You do not need to bother carrying camping equipment such as tents, warm mattresses, or sleeping bags because all of them are provided.
Such a luxury campground. Just bring your personal equipment, and you're good to go. You sleep lightly in a tent without having to carry heavy luggage. They also have bathroom facilities with hot water, if you ever want to use it. It's like a campground with hotel-like features.
Sukamantri Bogor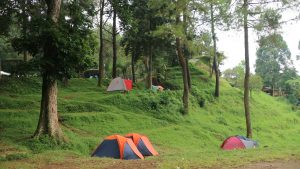 · Location: Tamansari, Bogor
· Ticket Fee : Rp22.000,-
Want to check another one of the top hangout places in Bogor? Go visit Sukamatri. Asking children for an enjoyable vacation must be perfected with a suitable tourist destination.
Moreover, inviting them to go camping. You can choose Sukamantri Bogor Campground. This area is located within the Gunung Salak National Park with an altitude of 800 meters above sea level.
It's not that cold for the kids, and not to warm either for the adults. The air there is cool but won't pierce your bones. There is also a waterfall, you know. So your camping activities are not completely monotonous.
Kawah Putih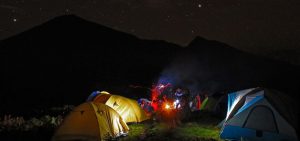 · Location: Lebak Muncang, Ciwidey, Bandung
· Ticket Fee : Rp20.000,- to Rp3.900.000,-
Legok Kondang Ciwidey has beautiful scenery and vast land to be used for outdoor activities. Even though it is a camping ground, you can enjoy some luxurious amenities such as cable TV and wifi. Not a true nature kind of place, but it's good.
You can also search this place that is located in Ciwidey with much ease, in fact, the location is not far from Bandung city. Legok Kondang Ciwidey is located not far from the Kawah Putih area and Strawberry Plantation.
Because of the close location, you can also stop by to enjoy the views of the White Crater and pick strawberries when returning home from Legok Kondang Ciwidey.
Mount Pancar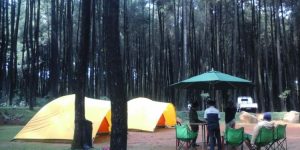 · Location: Citeureup, Bogor
· Ticket Fee : Rp25.000,- (plus the additional for taking pictures)
As one of the best nature things to do in Pancar Bogor, the Mount is surely noticeable. Mount Pancar is located in the Sentul area of ​​Bogor. You can do outdoor activities there besides camping.
The number of pine trees that thrive can be used as a hammocking area. Moreover, there are a lot of highly supporting facilities such as power outlets to charge smartphones.
In addition you can also visit other attractions in the form of hot water baths. If you want to come with your children, the Mount Pancar area is very appropriate because it is not far from Jakarta. It will not be a tiring journey for reaching this place.
Pondok Halimun (Halimun Hut)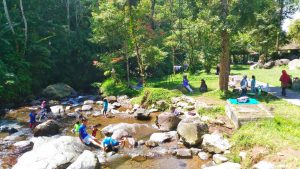 · Location : Perbawati, Sukabumi
· Ticket Fee : Rp3.000,-
Usually people would choose Bandung or Bogor for camping. Well, you can also try camping in the Sukabumi area as well. You can go to Halimun camping area. It is located at the foot of Mount Gede Pangrango, precisely on the border between Perbawati and Sudajaya Girang villages of Sukabumi District.
Fun thing is, the campsite area is actually passed by the Cipelang river which you can use for camping needs. There are also clean bathroom facilities, a parking area and a row of food stalls.
You can also take your kids to do a little tour in the tea and vegetable gardens managed by the locals.