After going to the eastern part of Indonesia in Bunaken for diving and swimming, we'll be back again to Java island to find the other astonishing places left uncover in this island. This time, we will go to the West Java province, with its free things to do in Bandung.
In this West Java province, you can see that the areas are mostly still covered in green vegetations. That's why, people from the big cities like Jakarta and Bandung and things to do in Kawah Putih  always coming to this part of proince to refresh themself. In this province, there's one beautiful attraction called Ciletuh Geopark. So what's the deal with this park and its surroundings? Let's chech the things to do in Ciletuh Geopark below :
1. Ciletuh Geopark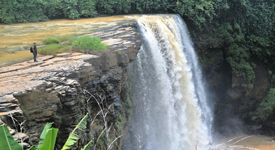 As a starting point of this article, we want to introduce the Ciletuh Geopark itself to you. So what is this place? The place is like the combination between all the natural venues, liek mountains, hills, waterfalls, and even beach. As beautiful as things to do in Cimaja.
Also, this place included as one beautiful place in UNESCO list. So, people really curious about this place and then started coming to this place their own. Once they arrived, they blown up by seeing how beautiful the place is. To enter, you don't need any money. Maybe just need to pay the parking ticket though, but that's it.
Location : Sukabumi, West Java
Tips : Don't forget to bring jacket
2. Panenjoan Cliff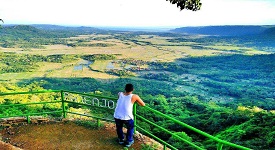 The next venue that still located in Ciletuh Geopark is this Panenjoan Cliff. The cliff itself is not so crowded with people, but during weekend, there will be more people coming to this place. Well, most of them are couples who want to see the romantic view from this cliff.
Don't worry about the safety because they built the place with full care. It's little tiring to go to the top of the cliff. But it's satisfying when you can finally see the view from the cliff facing beach, rice fields, and also forest. You only need to pay the parking ticket, about Rp20.000,- at maximum.
Location : Tamanjaya Village, Ciemas
Tips : You can always bring some snacks if you want
3. Palangpang Beach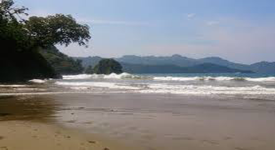 Now, it's time for visiting the beach. Surprisngly enough, the Ciletuh also has this beach. This place is more crowded because it's like the center of Ciletuh Geopark. You can see some settlements in here, hotels, and also some small restaurants lining up.
As an icon of Ciletuh Geopark, there's the sign saying the exact same name Ciletuh Geopark right in the middle of the beach. Usually some people will come close to the sign to take selfie or two. And after that, it's time for having fun at the water!
Location : Ciwaru Village
Tips : You can bring your own swimming suit if you want
4. Cimarinjung Waterfall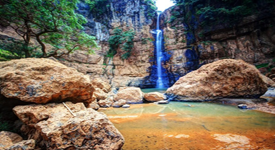 The next venue is this Cimarinjung waterfall. It's located just few meters from the Palangpang beach, you even only need to walk for about five minutes for reaching this place. The Cimarunjung became famous after visited by the famous television program, My Trip My Adventure.
On the locations, you can see the epic two big stones that sometimes people can climb on. Usually they will go on there to take some selfie, because the view will be much greater from there. For the administration ticket, each person should pay for about Rp2.000,-
Location : Ciwaru, Ciemas
Tips : Don't forget to bring your own camera
5. Sodong Waterfall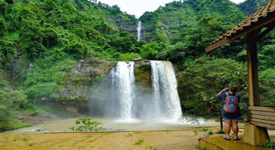 The next free venue for you all is another waterfall called Sodong waterfall. This curug, or watefall, located just few meters from the waterfall above. Many people love this because of two things, it's free, and provide the amazing view, just like the waterfalls in things to do in Cikampek
In this waterfall, there are two streams of water coming down. That's why, many people refer this place as a twin waterfall. Just behind the waterfall, there's a cave, called Sodong Cave. But don't you enter it freely without a guide.
Location : Ciwaru Village
Tips : Don't wonder to far inside the cave
6. Cikanteh Waterfall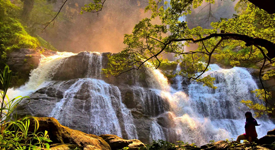 The next waterfall on our list of things to do in Ciletuh Geopark which is as beautiful as things to do in Cimahi is one waterfall called Cikanteh. It's little bit too hard to get there, because the road is totally wilrd and still being as natural as it should be.
You can go there from Sodong waterfall for about 30 minutes. The waterfall looks so majestic because of the forest that surrounding the place. It's a bit dangerous, but in some ways it's so much pleasurable. 
Location : near Sodong Waterfall
Tips : Just be careful of your step
7. Darma Mountain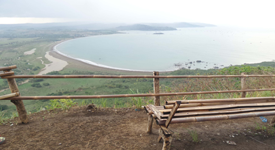 In the seventh location, we want to introduce you to the Darma mountain. To go here, you need to hop on a jeep from the Cimarunjung waterfall. The road is pretty rough. You even need a 4WD vehicle to finally able to reach it.
For renting the vehicle, you need the cost for about Rp60.000,-. It's so much statisfying because in there, you can see the full view of Ciletuh Geopark, with of course, the Palangpang beach which has this kind of horse shoe form.
Location : near Cimarinjung Waterfall
Tips : Of course, don't forget to bring a camera
Other Things to Do in Ciletuh Geopark
Seven locations are not enough, right? We know that. Because of it, we want to add some numbers more to our list of things to do in Ciletuh Geopark, things that you can't absolutely miss from the beauty of Ciletuh Geopark.
Bacan Lake
Karang Para Hill
Awang Waterfall
Cikaso Waterfall
Bravo Adventure
Ciptagelar Village
Buniayu Cave
Cimaja Beach
Ombak Tujuh Beach
Our list of things to do in Ciletuh Geopark finished here. Like you can see, almost all of them are perfectly well natural attractions that really fun to visit. They can be crusial options for the people who want to have a different calm atmosphere from this location.
Also with the total costs that is really low, these places are great for backapackers or budget tourists. They can have the amazing experience of visiting these spectacular places with most little cost as possible.
Ciletuh Geopark