Circling around Indonesia, you may notice some of the memorable islands, each with their own unique characteristics, and blessed with many interesting values. The Java island for example, is divided by the three main parts, West, Central, and East.
They have some of the best places for tourism, especially the western part of the island with the most extreme sports in West Java that may seem interesting for some people. Of course, having your blood pumped for a day wouldn't be a very b ad idea. A bit of different activity will not hurt you.
West Java is considered to be a green province. It still has the visitable and well-conserved natural attractions that seems to be the one of the selling points of this area. The variety of attractions are abundant, from the extreme attractions like hiking the Mount Gede, or enjoying the calmer ones like witnessing fascinating waterfalls of the province.
Aside from the waterfalls, you can seek some relaxation time on the beaches of West Java. They are indeed pretty and peaceful. Want to see closer? See them below
Beaches in West Java
1. Ujung Genteng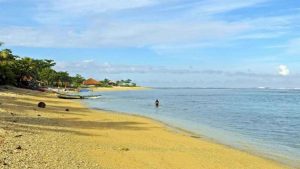 · Location : Ujung Genteng, Ciracap, Sukabumi
· Ticket Fee : Rp10.000,-
Other than the things to do in Bandung, surely you can enjoy the natural attractions that also exist in Sukabumi. The exotic beach in West Java that we will first discuss is a beach attraction that can be said to be quite well known. For those who live around the area of ​​West Java, could be very familiar with the name of Ujung Genteng.
At least there are some people who often visit this beautiful beach, especially during the weekend. The beach itself is one of the few tourist attractions in Sukabumi that became an iconic location for vacation.
When the holiday season arrives, this beach is always filled by visitors, especially from the bigger city like Jakarta. Those who come to this beach are not only the domestics or local people who live around Sukabumi.
You could find a variety of tourists who come from outside cities who come to enjoy the beautiful scenery and the calming situation around Ujung Genteng.
2. Pasir Putih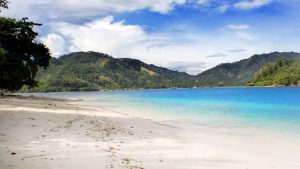 · Location : Pananjung, Pangandaran
· Ticket Fee : Rp5.000,-
The one beautiful exotic coastal area in West Java. This one might be said to be one of the few hidden beaches located around the country. Maybe the name of the Pasir Putih or White Sand beach is not too well known by many people. Just as the name implies, this beach does have the white sand that is soft enough to step on.
Walking barefoot along this beach might provide a very interesting and different atmosphere than usual. In addition, this tourist area also has a view that can be said to be really amazing. Anyway, if you visit Pasir Putih, there will be no sense of disappointment for sure.
Many things you can do on this beautiful beach, including filling your social media feed with pretty pictures of a tropical heaven.
3. Madasari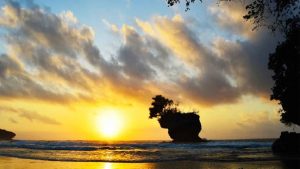 · Location : Cimerak, Pangandaran
· Ticket Fee : Rp7.000,- to Rp160.000,- (depends on the vehicle)
As one of the exotic beaches in West Java, the name of this beach may sound very new and still unknown by many people. On the other hand, that does not mean that Madasari beach has no advantages at all. On the contrary, this beach is one of the beaches that is quite beautiful for you to enjoy.
The view of this beach is certainly not inferior to other beautiful beaches in the area of ​​West Java. However, if you visit this beach, you should be careful at all times, because the beach has waves that are big enough to swallow the people who can't swim. The sharp hard stones can be dangerous as well.
4. Pangandaran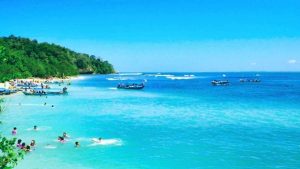 · Location : Pangandaran Village, Pangandaran
· Ticket Fee : Rp6.000,-
Who does not know Pangandaran? The beach itself seems to be an iconic tourist attraction in the province of West Java. Pangandaran Beach does hold a lot of beauty. Many interesting things that you can do on this beach, especially enjoying the sun view.
Pangandaran is the most suitable location to enjoy the sunrise and sunset. The vast expanse of sand is perfect for playing some light sports with your friends, making your day more fun and memorable.
5. Pelabuhan Ratu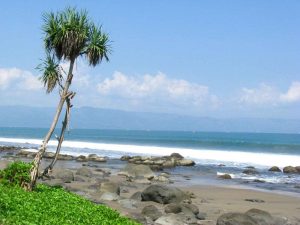 · Location : Pelabuhan Ratu
· Ticket Fee : Rp2.000,- to Rp3.000,-
The next popular beach location in West Java is Pelabuhan Ratu. A place that is widely known as the heaven for surfers. Besides being known as a paradise for surfing, it's also known for its stories and myths. This mystical story is one of the main attractions that is owned by Pelabuhan Ratu Beach.
The story itself is also becoming an interesting point of this location, and widely known around the country.
6. Kejawanan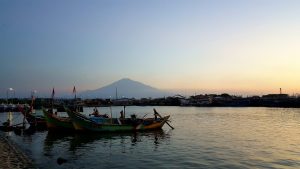 · Location : Lemahwungkuk, Cirebon
· Ticket Fee : Rp1.000,-
As one of the things to do in Cirebon, a traveler should visit a beach named Kejawanan. This beach may not be as beautiful with exclusive-looks as the beaches around Lombok or Bali.
But still, this place still becomes one of the prima donna tourist areas for the people of Cirebon, as the beach that is always highly visited during the holiday season.
7. Santolo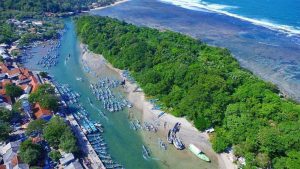 · Location : Cikelet, Garut
· Ticket Fee : Rp5.000,-
For the last one on the list, we want to mention Santolo beach, which surely one of the best things to do in Garut. The beach is located in a district named Cikelet of Garut City and it has a fairly long coastline compared to the others.
You will feel satisfied by walking down the beach barefoot because the sand is really soft and nice to touch. All of it is also completed with the slow calming waves. With a peaceful and comfortable atmosphere, visiting this beach is not a bad idea at all.