If you are traveling around Indonesia, do not forget to taste the local foods which you may get falling in love with them. Each city in Indonesia has its own delicious local foods.
Medan is one of Indonesian cities with best street food and local foods. Tasting Medan local foods is one of must things to do in Medan! Here are 4 recommended Medan local foods for you.
1. Mie Pangsit Akun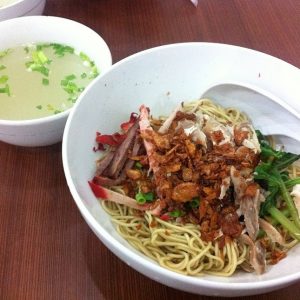 Many people in Indonesia love noodle. If you are the one, this is one of the best recommendation of Indonesian noodle dishes for you. There is Mie Pangsit Akun which is very popular in Medan. You can find it in S. Parman Street No. 101. It also can be found in Wahidin Street No. 11A.
The owner Mr. Tek Khun. Mie Pangsit Akun has been established since more than 15 years ago. The name was originally Mie Awai. This local food is one of the favorite foods in Medan. People love to eat Mie Pangsit Akun especially in the morning.
The interesting and also unique part of Mie Pangsit Akun is about the process to prepare this food. There will be timer to remind the cook. This timer is needed in order to keep maintainin the good quality of the noodle.
This cooking process is what the owner really take care of. That is why it is hard for the owner to make Mie Pangsit Akun as franchise, or to open so many branches of Mie Pangsit Akun.
Another important thing that makes this noodle so recommended is that Mie Pangsit Akun free of preservative! So it is safe for your health. How about the pricey? Do not worry, because the price for a portion is just Rp 20.000, not too pricey.
2. Bakmi Hock Seng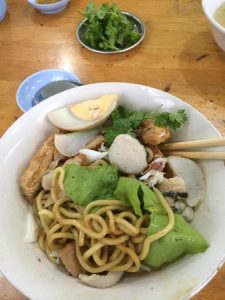 This one is still about noodle. Another recommendation for you is Bakmi Hock Seng! You can find Bakmi Hock Seng in Gwangju Street No. 17. The business of Bakmi Hock Seng was started in 1932. This noodle is so popular, and it has another branch in Jakarta.
Bakmi Hock Seng is so crowded almost every time, even in the morning. Here you will find 3 kinds of noodle, the yellow one, kwetiaw, and vermicelli. You can also mix them as you want. There are also some condiments such as various kinds of meat, seafood, and vegetable.
Especially about the seafood, it is not so common for most noodles in Indonesia. But here, you will get many kinds of seafood, one of best Indonesian foods for seafood lovers! One of the favorite condiments in Bakmi Hock Seng is the crab.
It might be not common in Indonesia eating noodle with crab, but that is also the unique but also tasty part in Bakmi Hock Seng. There is also a typical aroma of sesame that is so tempting.
You can come everyday here, but it only opens from 7 a.m. to 1 p.m. The price is quite affordable, Rp 60.000 per portion. It looks pricey but worth with the condiments and of course its deliciousness!
3. Bihun Bebek Asie Kumango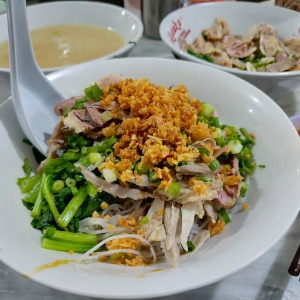 Some people love noodle, some others might love the others, such as vermicelli. There is Bihun Bebek Asie Kumango, one of the recommended North Sumatran foods! It is located in Kumango No. 15, Kesawan, West Medan.
It can be said that Bihun Bebek Asie Kumango is one of the Medan local food legends. It is because Bihun Bebek Asie Kumango has been exist in Medan since 1930.
Actually, there are many other menus here, such as bread, coffee, and tea. But the duck vermicelli is still top of the top!  Something that makes it delicious is the duck broth.
Another thing that also important is the strong aroma of onion spring and and fried shallots which are tempting you to eat them!
Unfortunately, Bihun Bebek Asie Kumango only opens in the morning. On the other hand, fortunately it opens from Monday to Saturday!
Around five years ago, the price was still about Rp 30.000. Now? It has been Rp 60.000. A little bit pricey, but do not worry, it is worth the taste!
4. Soto Sinar Pagi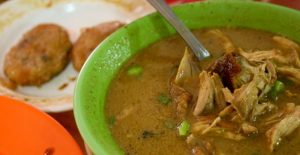 After traveling around Medan, you might think about food to warm your body. One of best things to do in North Sumatra is to try Soto Sinar Pagi! It is located in Sei Deli Street No. 2.
The business of Soto Sinar Pagi was started by Zulkarnaen about 50 years ago. Zulkarnaen died in 1990s, but the business did not stop. It is continued by the children of Zulkarnaen.
The characteristics of the soto are the dense and yellow-colored soup. There are also many variations of soto here, such as chicken soto, beef soto, beef tripe soto, or mixed soto. You can get a portion of soto and rice with just Rp 28.000.
It is said that former president of Indonesia, Susilo Bambang Yudhoyono, had ever tasted this soto! So, if a president eat any certain local food, you can imagine how popular and delicious this soto, right?
If you are planning to visit Soto Sinar Pagi soon, remember that it opens from 7.30 a.m. to 4 p.m. Another thing to remember, this place is crowded almost all the time!
So, those are 4 recommended local foods for you who are going to travel around Medan. Each one of them is worth to taste. Do not be confused to decide which one you are going to eat, just taste all of them!