There are many reasons why you need to put Indonesia on your holiday list. The beauty of its nature and its unique traditions and culture might be the main reasons, but besides the incredible nature and culture, there are plenty other reasons to visit Indonesia.
If you are a part of travellers who like to seek for mouthful and tasty experience while travelling, then visiting Indonesia is the answer. The diversity of ethnicities in Indonesia not only makes it diversed in culture, but also in culinary that comes from around the nation.
From tasty Maluku foods to the best cheap local food in Jakarta, you can find many delicious dishes in every corner of Indonesia. The food ranges from Indonesian seafood for seafood lovers, tasty meat dishes, mouth-watering rice dishes, to delicious noodle dishes. Indonesia has all of them.
The noodle dishes in Indonesia is highly recommended as they truly are delicious. Locally, noodle is called mie in Indonesian language. The name of the mie is oftentimes followed by the region of where the mie is originated from. As a start to discover the delicious noodle dishes in Indonesia, here is a list of 8 delicious Indonesian noodle dishes that you need to taste.
1. Mie Aceh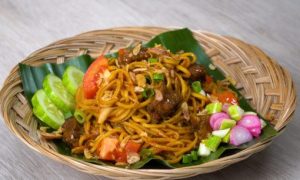 As the name, this noodle dish comes from Aceh, a province on the western part of Indonesia. Mie Aceh is made with egg noodle that is flavored with thick spices which makes the flavour becomes so rich with a slight of spicy taste. This hint of spicy taste along with the rich and seductive aroma and spices are the ones that make mie Aceh becomes so addictive.
Mie Aceh is usually served with Indonesian crackers called kerupuk, fried onions, slices of lime, and cucumber pickles. You can also find mie Aceh that is served with chicken, beef, or seafood. Mie Aceh usually has a reddish gravy color and it can be served two ways, as fried noodle or soup noodle.
This noodle dish can be easily found all around Indonesia as it is well-known for its tasty flavour. But of course you need to go right away to Aceh for an authentic taste.
2. Mie Celor Palembang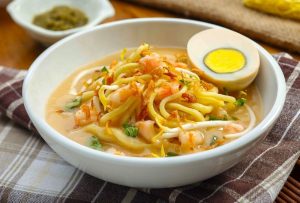 Mie Celor is originated from Palembang, the capital city of South Sumatera province. This noodle dish is made with egg noodle that is similar in appearance to the noodle used for udon, whereas the noodle is wide, long, and straight.
This noodle dish offers a new taste of broth as the broth comes from the mixture of coconut milk, dried shrimp broth, eggs, and flour, creating a thick and tasty broth. The use of dried shrimp broth also makes the noodle has strong seafood scent and taste.
As the topping, mie Celor is usually served with slices of boiled egg, shrimp, fried onions, and celery, making the noodle dish so delicious. This is one of the must-try dishes that you need to taste when you are in Palembang for an authentic delicious experience.
3. Mie Bangka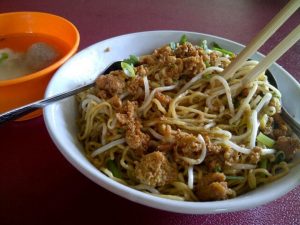 Mie Bangka comes from Bangka island in Bangka Belitung province, a province in the southeastern coast of Sumatera island. This noodle dish uses thin and long egg noodle and can be served with chicken meat or minced pork.
Mie Bangka is usually served with lots of bean sprouts, soy sauce, caisim vegetable, and dumpling. A complement dish that is originated from Bangka island for this dish is a bowl of meatballs that are filled with tofu.
Besides in Bangka Belitung, the noodle dish can be found as street food around Jakarta, Bandung, and Palembang.
4. Mie Jawa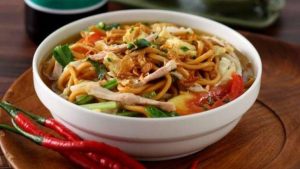 Mie Jawa is a popular noodle dish in Yogyakarta, Solo, and around Java island. This noodle dish is originated from Yogyakarta and you can easily find it on every corner of Yogyakarta. Mie Jawa can be served in three ways, boiled, fried, or dried.
The dish is made with thick egg noodle that is flavoured with complete seasoning. As a complement, the noodle is cooked with cabbage, chicken, and tomatoes. When you order it fried, the noodle will be cooked with soy sauce that unifies all of the ingredients and enriches its flavour.
The noodle is usually topped with a sprinkle of celery to add more flavour and seductive scent, leeks, pickles, and fried onions. A complete and delicious noodle dish for your amazing food trip.
5. Mie Ongklok Wonosobo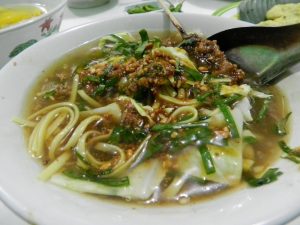 Mie Ongklok is a signature noodle dish from Wonosobo, a city in Central Java province that is hard to be found outside of Wonosobo area. Thus, you might need to travel to this city for an authentic and new experience if you want to try this noodle dish.
The dish is made with egg noodle and cabbage that are seasoned with jenang sauce as its broth. Jenang broth is made from brown sugar, dried shrimp, starch, and spices, which creates a delicious and thick broth. For toppings, the noodle dish is topped with fried onions and chilli slices.
The noodle dish is typically served with tempeh kemul, Wonosobo's signature dish of tempe, Indonesian healthy and vegetarian food that is made from soybean. Mie Ongklok is also typically served with chicken satay for a complete enjoyment.
6. Mie Cakalang Manado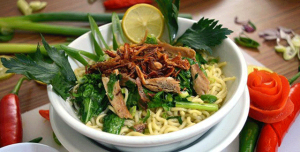 Want cakalang or fried noodle, it tastes just as good. Fufu cakalang fish which is often a processed smoked fish will give a different flavor in a bowl of skipjack tuna. It's not wrong if you try it when traveling to Manado.
Maybe from the shape it looks normal like noodles in general. But, you try it. You will feel the pleasure of the tuna fufu chunks or smoked skipjack tuna which makes the taste and aroma of the noodles taste very distinctive with the smell of fish. Cakalang noodles can be served in the form of fried or soup Manado cuisine that many people hunted, here!
Manado is an area that is famous as the largest tuna producer. This cakalang noodle is a noodle that comes from Manado. Cooked with tuna and served with gravy and sprinkled with skipjack floss. This noodle will be incomplete if it is not added with typical Manado chilli sauce. Named green chili sauce mixed with vinegar, water and salt. When going to Manado do not forget to taste this culinary.
7. Mie Kocok Bandung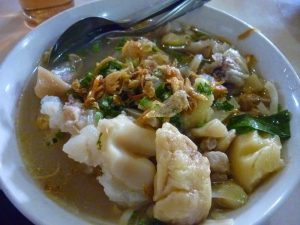 Mie Kocok is a noodle dish that is originated from Bandung, the capital city of West Java province. The name kocok, which means shaked or mixed, refers to the process of cooking the noodle whereas the noodle is put in a long-handled container with a hole that is placed in hot water and then flipped with a gesture that makes the noodle mixed or shaked so that it is evenly cooked.
The dish is made with flat egg noodle that is flavoured with thick beef broth. It is served with sliced beef, been sprouts, meatballs, celery, and fried onions. You can also have a slice of lime to juice so that the taste becomes more refreshing.
This noodle dish can be easily found on street food vendors aroung bid cities like Jakarta, but of course the taste is not as authentic as where it is originated from.
8. Mie Koba Bangka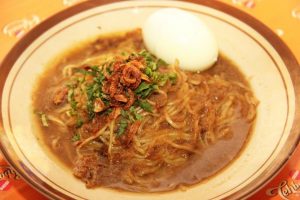 Mie Koba is another delicious noodle dish that comes from Bangka island in Bangka Belitung province. The name of the noodle dish is taken from an area in Bangka regency. This noodle offers a sweet and savory taste that comes from its broth.
The broth is made from mackerel fish, palm sugar, and various seasoning and spices, creating a fresh , sweet and savory broth that is addictive. It is usually served with slices of boiled egg, fried onions, and celery.
Tasting the delicous foods around the nation is a definate reason why you need to travel. All of Indonesian foods are fresh and rich with spices that come from the chilies, shallots, garlics, lemongrass, and many other spices that make Indonesian cuisine incredibly mouth-watering.
These 8 noodle dishes are only samples of how delicious and diversed Indonesian culinary are. For better experience, you will definitely need to visit Indonesia first. This will allow you to know other tasty foods that come from other regions, such as North Sumatran foods, halal foods in Bali, delicious foods of West Sumatran, Chinese-Indonesian foods, vegetarian foods of Indonesia, and many more.