Situated between the Indian ocean and the Pasific ocean, Indonesia as an archipelago country with more than 17,000 islands, is the largest island country that is surrounded by large sea. This geography of Indonesia makes it has many beautiful beaches that is worth-visiting.
Even though it is not as prominent as the beaches in Bali or Lombok, Gorontalo, a province that was established in 2000 on the western coast of Sulawesi island, has numerous beautiful beaches that you will not regret visiting. Visiting these beaches can be one of the wonderful things to do in Gorontalo.
To convince you of how beautiful the beaches in Gorontalo are, we have made a list of 6 beautiful beaches in Gorontalo you will not regret visiting.
1. Pulo Cinta Beach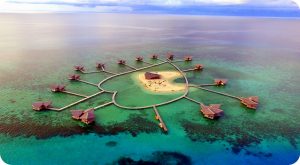 Located in Talimuta district, Bualemo regency, Gorontalo, Pulo Cinta, which means love island in English, is a beautiful island which beach is amazing and fascinating with crystal clear sea water and well-preserved coral reef that can be seen clearly. Pulo Cinta is an eco-resort in the middle of sand island that was built in a shape of a heart.
The beach in Pulo Cinta is a perfect destination for your honeymoon wish. Imagine you are waking up from a long night in a honeymoon. The first thing that you hear is the calming sound of the waves and the scent of the beach is the first scent that appears the most to your sense.
And when you open your resort room, you can see a fascinating view of crystal clear water and endless sea. Your mood and love atmosphere will surely build stronger when you are here in Pulo Cinta beach, one of the perfect honeymoon destinations in Indonesia. This place offers you a complete package for your incredible honeymoon or holiday.
You can go snorkeling or diving on this beach as it has beautiful clear water with exotic coral reefs and sea inhabitants.
If you want to stay in one of the resort's room, you will need to pay from IDR 3,000,000 to IDR 15,000,000 per night. If you feel like you only want to enjoy the beauty of the beach without spending a night there, you can rent a boat for IDR 25,000 and arrive at the island for about 30 minutes.
2. Kurenai Beach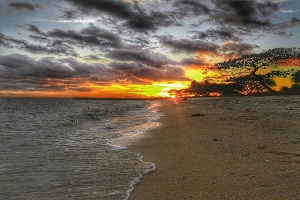 Kurenai beach is located in Botuborani village, Bone Bolango regency, Gorontalo, 30 kilometers from the city of Gorontalo. Kurenai beach is a beautiful beach that is worth-nominated as one of the best diving and snorkeling spots in Indonesia.
The beautiful coral reefs and exotic sea creatures are the ones that make this beach becomes prominent for underwater activities. The warm temprature of the water and the wave that is not too strong are other factors that contribute to its popularity.
Besides admiring the beauty of its underwater living, you can also stay there up to the evening to enjoy the beautiful sunset that is so calming and romantic. You can visit this beautiful beach anytime as Kurenai beach opens 24/7 and you don't need to pay any entrance fee in order to enter this beautiful beach.
3. Dunu Beach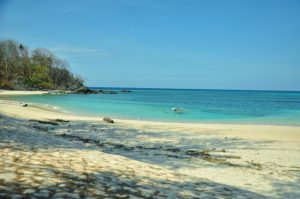 Located in Dunu village, North Gorontalo regency, Dunu beach can be accessed 1.5 hour to 2 hours from the city of Gorontalo. Dunu beach is a great spot for family recreation with its panoramic view, calm water, and white soft sand which create a perfect spot for children to play.
With no entrance fee, you can bring your children or family there anytime and enjoy your quality time with your family. The children can swim safely under your control, build sand castle, or run on the beach while you can enjoy and relax yourself with the beautiful view of the beach or just wait for the sun to set.
There are not many facilities in this beautiful beach yet, so it is best for you to bring your own foods and equipment. It can be a positive side as you can prepare a picnic on the beach. But always remember to keep the environment clean.
4. Mananggu Beach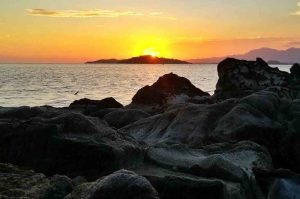 Situated in Mananggu vilage, Boelamo regency, Gorontalo, Mananggu beach is a beautiful beach that has wonderful view and clear sea water. The seashore is decorated with coral stone, a perfect spot to sit while enjoying the beauty of the beach.
The clear and clean water that seems endless offers you a wonderful view that you cannot easily miss. Going to this place to relieve all of the stress that you have will be perfect. You can just sit on one of the coral and then relax yourself while sightseeing to the beauty offered by Mananggu beach.
The sunset in this beach is also so calming and beautiful, another natural stress relief that works so well. This beauty is offered freely to you as there is no entrance fee and you can access it anytime you need a doze of vitamin sea since the beach opens 24/7.
5. Bolihutuo Beach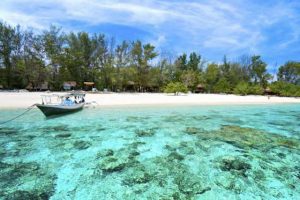 Bolihutuo beach is a beautiful beach that you will not regret visiting that is located at Botumoito district, Boalemo regency, 130 kilometers from Gorontalo city. This is a popular destination among the locals since it has beautiful scenery with white sand and crystal clear water.
The crystal clear water makes Bolihutuo beach becomes popular as a diving spot. You can easily rent diving equipment around the beach that is offered with a relatively fair price. This beach is well-managed that it is supported with amny facilities that can accomodate your holiday.
You can try boating by renting a boat for IDR 3,000 per 10 minutes, go swimming or diving, or just enjoy the beautiful scenery with a complement of food and beverage in the restaurant that rows on the seashore. If you choose to spend a night near this beautiful beach, you can stay at the nearest cottage which starts from IDR 150,000 per night.
In order to enter this beach, you are only charged IDR 3,000, such a small amount of money to enjoy this beautiful and well-facilitated beach.
6. Biluhu Beach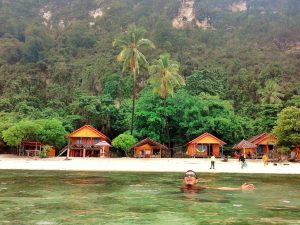 Biluhu beach is located in East Biluhu village, Batudaa Pantai district, 24 kilometers from Gorontalo city. The beach is decorated by white sand and rows of coconut trees, creating a perfect spot to hide from the hot burning sun. 200 meters from the beach, a 100 meters cliff stand firmly, adding another beautiful view to the beach.
There are also wild animals like birds and monkeys that plays on the trees behind the beach. It is a wonderful natural ambience that you can't ever wish for. You can enjoy the scenery by sitting underneath the coconut trees and sightseeing directly to the sea. The white smooth sand, the sound of the sea water, and the gentle sea breeze are a perfect blend that could escort you to an eternal calm atmosphere.
You can also wait to see the beautiful sunset on the beach. And if you wish to spend a night on the beach, you can stay in a small cottage by the shore and have a wonderful, calm, and comfortable night there. You will be charged IDR 20,000 to enter this beach that opens 24/7.
Those are the 6 beautiful beaches in Gorontalo that you will not regret visiting. Besides these beautiful beaches, Gorontalo has many more to offer. There are plenty of other beaches in Gorontalo that are parts of hidden beaches in Indonesia that are worth-visiting. So, when you are in Indonesia, make sure to visit Gorontalo and its beautiful beaches.
Besides beautiful beaches, Gorontalo also has Wangi-Wangi, a small island in Gorontalo with many interesting tourist attractions. Check out this list of things to do in Wangi-Wangi for your guide.