Indonesian cuisines are always rich of tastes. The variety of ingredients and other condiments make them more perfect. Each province in Indonesia usually has their own signature dishes, such as in East Javanese.
If you are planning to travel around East Java, do not forget to taste these 6 dishes of East Java!
Soto Lamongan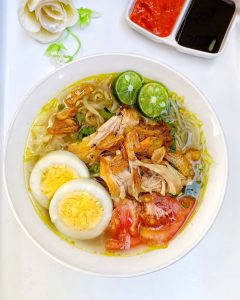 Soto is very popular all over Indonesia. For you who just finished things to do in Lamongan, you can try one of the most famous soto , Soto Lamongan. This is the signature dish of Lamongan, East Java. Soto Lamongan can be found easily, not only in Lamongan, but also in other places, such as in Jakarta.
It is typically well-known because of the yellow soup which is made from turmeric and other ingredients like garlic, candlenut, orange leaf, lemongrass, and bay leaf. The main part of Soto Lamongan is the chicken. There will be also some vegetables such as cabbage, tomato, and sometimes be added with boiled eggs.
Another part that will never be missed from soto is the koya which is made from prawn crackers and garlic. The crackers and garlic are pounded together. It makes the soup of soto getting thick. Soto Lamongan is often served with soy sauce, chilli sauce, and lime juice.
Bakso Malang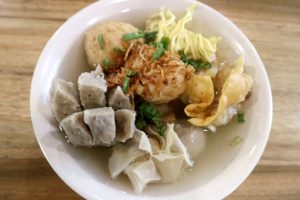 Who do not like bakso? Bakso is one of popular Chinese-Indonesian foods. This food might be one of the best street food in Indonesia. There are many kinds of bakso in Indonesia, one of them is from Malang. Bakso Malang is typical with its various ingredients, not only the meatball itself, but also any other condiments such as dumpling, siomay, and tofu.
Bakso Malang is very easy to find. You do not need to find any specific restaurant, you can just find it on the street with the price starting from Rp 10.000 per portion. Comparing with other bakso such as Bakso Solo, the soup of Bakso Malang tastes more fatty. It is because the beef innafs are cooked together inside the soup.
Pecel Madiun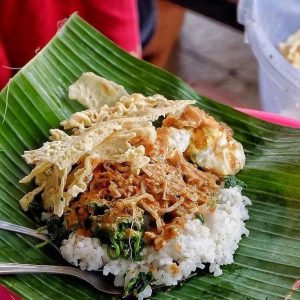 Pecel can be said as one of the signature dishes not only in East Java, but also other regions in Java, like Central Java and Yogyakarta. In East Java, the popular pecel is Pecel Madiun. The difference between pecel in East Java and in Central Java or Yogyakarta is the dominant taste.
Pecel in East Java tends to be spicier, while in Central Java or Yogyakarta is more likely sweet. Trying Pecel Madiun is one of recommended things to do in Madiun.
The sauce of Pecel Madiun is spicy and savory. It is mixed with some boiled vegetables, serundeng, stir-fried tempe, noodle, and rempeyek. You can also add some side dishes such as fried foods or any satays. The vegetables in Pecel Madiun usually consists of long beans, shoots, spinach, cassava leaves, papaya leaves, etc.
Eventough the name is Pecel Madiun, this food can be found easily outside Madiun or East Java too.
Rujak Cingur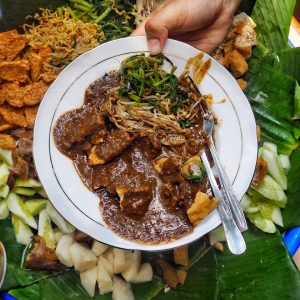 Rujak Cingur is so popular in Surabaya, one of the best Surabaya attractions. People believed its history is related to Egypt. It is said that there was a king named Firaun Hanyokrowati. He asked all the cooks to serve special food on his birthday, but none of their foods matched his taste.
Then there was a cook named Abdul Rojak, he was making a dish which was loved by the king. The king granted him with a ship and land, but he just accepted the ship. After that, Abdul Rojak wandered until reaching Tanjung Perak, Surabaya, and spreaded the dish which now is well-known as Rujak Cingur.
The word cingur in Javanese means "mouth". This dish used to be made from camel's mouth. Since it is impossible to use camel's mouth in Surabaya, it was changed with cow's mouth. Rujak Cingur is served with some vegetables like cucumber, bean sprouts, long bean, etc which are added with shrimp paste sauce.
Lontong Balap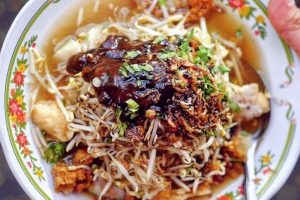 Another special dish from Surabaya is Lontong Balap. There are some versions about the history of Lontong Balap. One that many people believe is, there were some lontong  sellers in Semarang Street, Surabaya who had races every day in order to get the customers.
This story is from the grandchild of Lontong Balap seller, Cak Pri. Cak Pri has been selling Lontong Balap since 1913. The taste of Lontong Balap is a mix between sweet, salty, and savory. There are lontong, bean sprout, fried tofu, lentho, paste sauce, and the soup. The price is also affordable, starts from Rp 10.000 per portion.
Rawon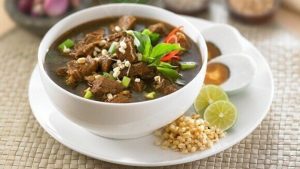 All things to do in Malang will not be completed if you don't taste Rawon. This typical dish is often said as black soup. It is because the soup color is black, it causes by kluwak which is the main ingredient of the soup.
Nowadays there are many modifications of Rawon, such as Rawon Setan. If you want to make it by yourself, actually it is also easy to get instant ingredient of Rawon in any markets.
Rawon is one of signature dishes from malang. One of the popular Rawon in Malang is Rawon Nguling. It has been exist in Malang since 1983. It is usually served with tempe mendol, empal, prawn crackers, etc. The soup is savory and the beef is tender. You can get a portion of Rawon in Rawon Nguling with only Rp 35.000.
So, those are 6 East Javanese cuisines which are very recommended for you to try. Those are good choices to be eaten alone, or together with family and friends.