Yogyakarta save a lot of beautiful places. We have not to pass attractions in Yogyakarta. There are a lot of hits places, so we can visit them if we were in Yogyakarta. These are some hits places that you have to know and visit in Yogyakarta.
Related articles :
Kalibiru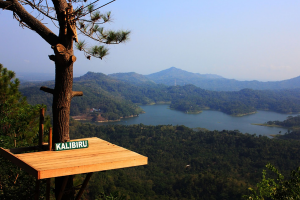 Many people have known about this place. Kalibiru is one of nature attractions in Yogyakarta. It offers its beautify to visitors. They will be pampered with beautiful view from hills and Sermo dam.
Kalibiru is in Hargowilis, Kulon Progo. One of favorite spots in here is enjoying the beauty of nature from the top of pine tree. This pine tree is built as viewing tower. We can see the beauty of nature around Kalibiru.
This place is managed by resident around Kalibiru forest. Besides as attraction, Kalibiru forest is also used as nature ecosystem keeper in that area.
Mangunan Pine Forest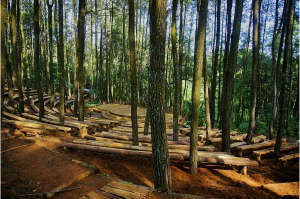 The name of Mangunan Pine Forest is familiar for someone who often visited to Yogyakarta. As one of attractions in Bantul, this forest is a destination that we don't pass it.
Its place offers beautify and quietness from nature which can't get in the middle of Yogyakarta. We can enjoy this situation casually above a hammock in that location.
This pine forest is in Mangunan. Main function of this forest is a conservation place. So, if you came there, as a good tourist, we should take care it together. You may also read things to do in Malino.
Mangunan Orchard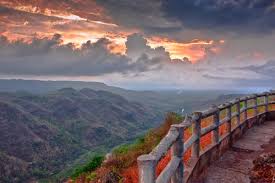 This place is not far from Mangunan Pine Forest. In this place, we will be offered a lot of fruits. Besides as fruit attraction, this place also offer its nature beautify.
Its location is as same as the cliff of Dago, because this place is in the height that can make us as in the sky.
If we came in the morning, we will see fog around Sewu mountain. Beside that, we will enjoy beautiful sunset in there, too. This place has many facilities. We can get this place easily. We can use our own car or rent a car.
Breksi Cliff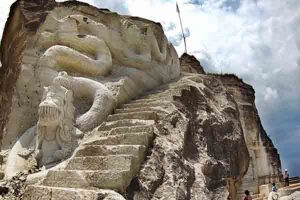 This place is a new favourite place in Yogyakarta. It is in Sambirejo, Prambanan. Before it become an attraction, it was a limestone quarry. But, this place was closed by government.
So, people make it as a new attraction. This is a creativity of Yogyakarta resident.
In this location, we will see many beautiful reliefs. Many of reliefs is on the cliff of limestone. If you want to come here, you should bring an umbrella or hat. Because this place is so hot and you should go to there in the morning or evening. 
The Temple of Boko Queen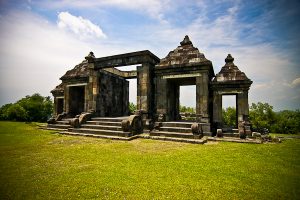 The palace of Boko queen is an interesting place to be visited. It is more suitable, if we called it as palace complex because it was a palace that got collapse. Beside as a culture attraction, this place is famous as the best of sunset place in Yogyakarta.
If you want to visit the temple of Boko queen, you can come to the temple of Prambanan. From Prambanan, you will be delivered to the palace of Boko queen. The price of ticket is relative expensive, but it will be paid with its beautify.
See also : Things to do in Magelang.
Malioboro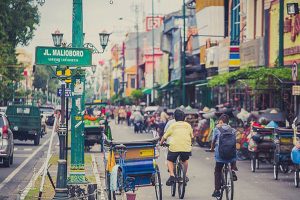 Who don't know the best hits place of Yogyakarta? Malioboro has been famous by tourists. This area has many attractions. Start from historical and culture attractions until shopping attraction.
This location become a backbone of economical movement.  So the government give extra attention about the growth of Malioboro.
Malioboro is a shopping attraction in Yogyakarta. On the right and left side, you will see many seller who sell many souvenirs and foods.
Related articles :
Gunuk Pasir Parang Kusumo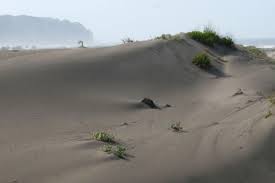 If you want to feel situation like in the middle east with its arid dessert, you can visit to Gunuk Pasir Parang Kusumo.
It has been very famous. Many people use this location for pre-wedding.
Because of that, it becomes one of romantic things to do in Yogyakarta you never knew existed.
It also offers an extreme sport, Sand boarding. This sport challenges our adrenaline and it is enough extreme for you who have not an experience in this sport.
Monjali Rainbow Park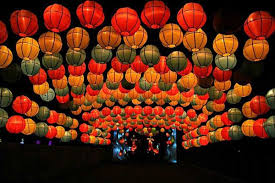 Who is say that Yogyakarta only looks beautiful in the morning? Yogyakarta is beautiful in the night, too. Yogyakarta has many interesting night attractions, such as this rainbow park.
This park is in Yogya Kembali Monument or we usually call it as Monjali. There are many Chinese lanterns, so it make this place so beautiful at night.
The light of Chinese lantern in the night make many tourists to visit there. This place will be more crowded at weekend or holiday. You may also read Nightlife in Yogyakarta Indonesia Places
The Mangrove forest in Congot beach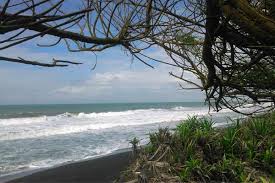 Things to do in Yogyakarta you never knew existed? This place has started to be famous in local tourist in Yogyakarta. This place is one of mangrove forests in Indonesia, it opens for public as attraction.
The processing of mangrove forest in Congot beach has been a long times.
This place offers its beautiful. We can walk around in this mangrove forest. This place serves bamboo streets for visitor who want to walk around there. We can enjoy fresh beach air and calmness situation from this attraction. You may also read things to do in Demak Indonesia.
Kedung Pedut Waterfall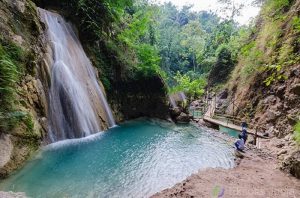 This time, we will play with water in this attraction. One of waterfall attractions in Yogyakarta is Kedung Pedut Waterfall. It has two levels of waterfall and they have difference with their purity and water color. This attraction is in Jatimulyo.
The difference of their water color is caused by the difference of rocks in the bottom of pool.
In this place, you will enjoy the coolness of waterfall. It is very recommended for you who love travelling in free nature. You will be satisfied with its beautify and miss this place.
Sri Gethuk Waterfall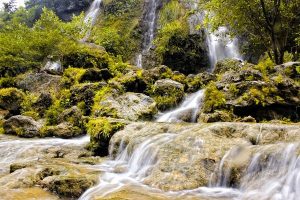 This place is also a favourite waterfall in Yogyakarta. The beautify of this waterfall has been very famous by the tourists who visited to Yogyakarta.
This waterfall is in Bleberan. This waterfall is an oasis in Bleberan because it has an arid area and it is filled by karst hills. For you who want to enjoy a peace situation, you have to visit this place as things to do in Yogyakarta you never knew existed.
This place is very suitable for you who want to enjoy your short trip and get a happy holiday.
Indrayanti Beach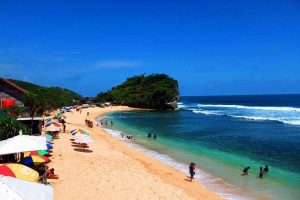 This beach is in Tepus. It is one of favorites beach in Yogyakarta. Besides that, this beach is a kind of the loveliest beach in Indonesia. Its original name is Pulang Syawal Beach, it calls Indrayanti for easing people to remember it.
This beach is also famous in international tourist because it is so beautiful and clean. We never see trash in this place. The manager of this beach always takes care it.This place has also complete facilities. So it is always clean and comfortable.
Related articles :
More Attractions in Yogyakarta
Besides attractions above, there are another attractions in Yogyakarta, such as
Vredenburg Fort
Kidul Square
Plengkung Gading
Baron Beach
Prambanan Temple (See also Best places to visit in Indonesia)
Sari Park
Kraton of Yogyakarta
The Jogja Monument
Lepo Waterfall
Watu Lawang Mangunan
Nglingo Tea Plantation
The Top of Gebang
Sadran Beach
Green Village Gedangsari
Pindul Cave
Pengilon Hills
Ngandong Beach
The Vulcano of Purba Nglangeran
The Tour lava of Mount Merapi
Pok Tunggal Beach
Jomblang Cave
Pulo Sari Waterfall
Punguk Kediwung Hills
Tembelan Kanigoro Chasm
Ngeleng Cave
Those are some things to do in Yogyakarta you never knew existed. Hope this article can be your reference when you were in Yogyakarta.