Cikarang is one of the industrial areas in Indonesia. In this city, there are many industrial estates such as Hyundai, EJIP, Delta Silikon, MM2100 and Jababeka. Not only as an industrial area, this city also established many factories such as Unilever, Astra Honda, etc. This caused many immigrants came to this city to work and eventually settled there.
The number of factories and offices in this area make workers work from Monday to Saturday with the same activities. This caused not only make the body feels tired, but also will make our brain feels bored. The pressures of work that come everyday, like static environment can make us feel so tired and bored. We can imagine, if this continues to happen, many people will feel so stress and it cause of work decrease, so we need a way to feel free with the pressure.
One way to get rid of the fatigue and get tired is with planning about vacation somewhere, maybe to a tourist spot or new place. It will help us to refresh our brain and eventually help us to get new inspiration or luckily, we also can get new friend or new boy/girlfriend. Now many tourist attractions that we can visit start from family attractions, education, shopping, and nature attractions for you who loves adventure. However, sometimes our plans for vacation is hindered by the distance, because we don't have much time off on the weekends, so we need a tourist spot with efficient distance.
What's Things to Do in Cikarang? 
Although Cikarang is an industrial city and has high enough industrial activity, so many people think that this city is a hot and polluted city. But in fact, this city sace a lot of tourist attractions. This tourist attractions can easily visit in th weekend without any traffic jam. So our brain feel fresh and not waste much time.
1. Waterboom Lippo Cikarang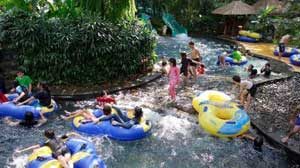 Waterboom Lippo Cikarang is not far from toll Cikarang, the attractions are unique, cool, and interesting. Carrying the theme of exotic Bali's nature, waterboom lippo can be categorized as a world-class waterboom.
You can visit this place with family or friends to enjoy various kinds of rides such as outbond, water rides like a "kolam arus", and "kolam ceria". The attractions here divided into adult and child spot. So, don't worry about the dangerous places.
For you who want a spa, in this place also available spa fish therapy. After having fun, don't worry about your hunger, because in here, there are foodcourt that provides various menus. This place open every day from Monday to Saturday with entrance fee for weekdays only Rp 50.000 and for weekend Rp 95.000. Affordable right?
2. Taman Buaya Indonesia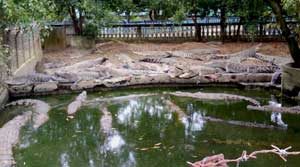 For parents who want to introduce the natural environment and animals to their child can come to the Taman Buaya Indonesia. This place located on Jalan Raya Serang-Cibarusah, South Cikarang.
The entrance fee is really cheap only Rp 20.000 each person, so very affordable. Taman Buaya Indonesia has various type of crocodiles such as Irian crocodiles, Sumatera crocodiles, albino and many more that about 500 crocodiles.
In addition to introducing children to animals, we can also see crocodile attraction. But this attraction are not open everyday, only on holidays, sometimes even just 2 times a month.
3. Kampung Djamoe Organik Cikarang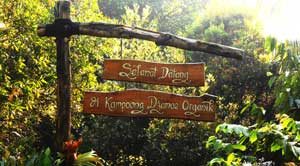 We haven't moved from South Cikarang, precisely in Jalan Ciujung EIB area door II. This place belongs to Marta Tilaar which is already well known by many people. If we have already discuss about animals, now we discuss about plants.
Kampung Djamoe Organik is a place of educational tourism spot that you can observe with family or friends. In here, we can teach the children about herbal plants or herbal medicines that seems rarely met in the middle of urban.
In addition to learn about herbal medicines, this place also has an artificial lake and organic ricefields with a cool atmosphere and a lot of green trees. You may also visit: Things to Do in Bekasi
4. Saung Ranggon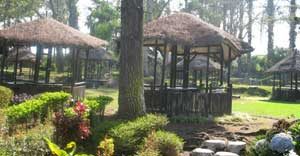 The green tourist attraction in Cikarang not only Kampung Djamoe, but there is Saung Ranggon in Cikedokan Village, West Cikarang. In this place, we can relax in "saung" while enjoying the green scenery.
This "saung" is said to be built in the 16th century by the prince of Jakarta.
Maybe this place not known by many people, but in 1821 this place was found by Raden Abas. Well, there are many things to do in Cikarang. You may also visit: Things to Do in Braga Bandung
5. Lippo Cikarang Citywalk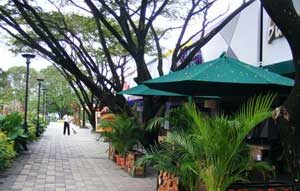 After discussing the green and cool place, it's time to moved to a more modern but still fun, that is Lippo Cikarang Citywalk. This place is located on Jalan M.H. Thamrin, not far from Lippo Cikarang Mall.
This place is a new shopping and entertainment center. Its a spacious, neat, and cool place, and also has spacious parking lot. Makes it one of the places that you can visit on a weekend with your family.
Not only as shopping area, this place also has a lot of snacks and restaurants. For you sho loves culinary, this place also provides farmers market or culinary tourism center. You may also visit: Things to Do in Subang,
6. Taman Sehati Park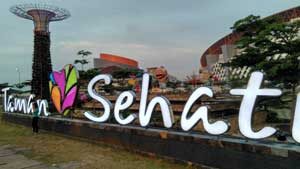 Things to do in Cikarang? Enjoying afternoon time with family or friends while taking pictures is cool activity. But if only doing it in home, it seems less inspiring.
Taman sehati is one of the places that can provide a new atmosphere. The location is in Stadion Wibawa Mukti, Sertajaya Village, East Cikarang District. This place is quite new, because the  construction is not 100 percent completed.
However, the people's enthusiasm with a beautiful city park, cool, affordable travel make this place crowded. Not only relaxing, we can also enjoy the beautiful flower dome scene like in Singapore. You may also visit: Things to Do in West Java Indonesia
7. Kota DeltaMas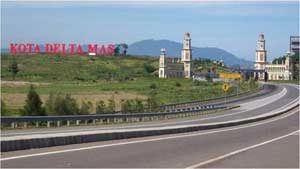 The name is like a city, but its provide village feel. That's the feeling you might feel while visit Deltamas.
Straight paths, lots of shady trees and hills, also road that aren't jammed make this place looks so nice.
We can also enjoy the view over the hill and enjoy the beauty artificial lake here.
Don't worry because not only scenery here, but Deltamas also has culinar tour. You may also visit: Things to Do In Sukabumi
8. Sport Club Taman Santosa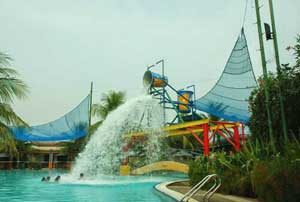 If you want to let go of your tired by exercising, don't worry because the place is far away. Cikarang also has Sport Club Taman Santosa, located in North Sentosa Street, South Cikarang.
This place is a sports center that has various sports venues such as futsal field, swimming pool, fitness center, aerobic, and many more for you who want to refresh your body. This place is not only for adults, but it also has a children's special area.
Well, those are some tourist attractions in Cikarang that you can visit in the weekend tours. Happy holiday in Indonesia!