Who doesn't know the Bogor City, one of the city that often become tourist destination in West Java. This city has a lot of natural beauty that always impress tourism. Many tourist attractions in Bogor has natural elements. This is because most tourists who come to Bogor searching for the natural atmosphere here. Because of the natural atmosphere, many restaurants here use it for art in the culinary world. Check this Things to Do in Bogor at Night
Romantic Restaurants in Bogor
This city, has a lot of exotic and beautiful places to eat. And those places will give us new sensation. Here they are :
Rumah Air Bogor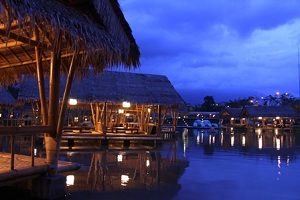 Bogor is one of the Sundanese cultural center in West Java. So, no wonder if we will find out a place to eat with the concept of Sundanese cuisine. One of the places that carry this concept is Rumah Air Bogor.
This restaurants is located in the area of South Bogor. Combines the concept of Sundanese food with natural charm in southern Bogor. South Bogor area is one area that can be said included in one of the natural attractions in Jabodetabek. From this location, we can enjoy the beautiful view of Gunung Salak. Besides that, this place takes concept of Saung as the building. Saung concepts combined with existing waterpool, making this place is very enjoyable to visit.
This place not only serves Sundanese food only. However, in this place, we can also do various activities related to the family. Activity that we can do here the most is outbound. Check this: Things to Do in Bogor
De Saung Hk Resto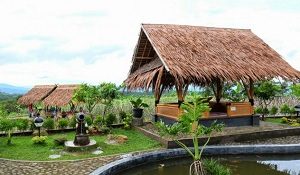 Still around the Southern Bogor, precisely in Ciapus area. This place located under the Gunung Salak valley. So, the air feel very cool and fresh.
De Saung Hk Resto also adopted saung theme to their building. Besides that, De Saung also give priority to the comfortness of the customer and family. This place is the one of tourist spot which is often visited when holiday or weekend.
This place has very beautiful surrounding. With the existence of saung that surrounded by rice fields and the view of Gunung Salak, will make the customers feel comfortable. In addition, De Saung also offers various menus of Sundanese food. One of the favorite menu here is the grilled fish. Check this:  Things to Do in Sentul
Bukit Air Resto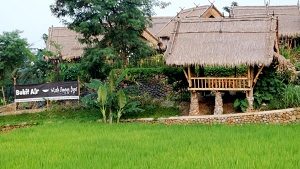 A place to eat with natural nuance in suburbs of Bogor should not be missed. If you come to Bogor but did not stop by and enjoy the culinary here, will be very unfortunate. Bukit Air Resto located in the middle of a very beautiful stretch of rice fields in Bogor.
Located in the suburbs of Bogoris very profitable. This is because we can still feel the rustic atmosphere of the village. Also away from hustle and bustle of the Bogor City. If you like or hobby in photography, the this place is suite for you. Because this location has very beautiful natural scenery. Especially when you come in sunset, so its beauty will increase.
The cuisine here mostly are Indonesian Food menu. Although more dominated by traditional sunda cuisine. Some menu that we can find here like sangu tutug oncom, fried ikan mas, grilled fish, and others. Check this: Romantic Restaurants In Surabaya for 
Cimory Riverside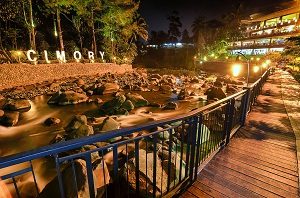 For those who often visit the area of Bogor especially to the Puncak Bogor, then this is the one place is not foreign to you. Cimory Riverside is one of the favorite places to eat in the Bogor area. Many visitors stop by and enjoy food in this place while heading to the Puncak Bogor.
This one place not only serves delicious menu of cuisine with good taste. But it also presents a very authentic natural landscape. As the name suggest that contains Riverside, this place is located on the edge of the river. So we can enjoy the sound of the rushing water of the river that certainly will not dissapoint.
This one place is one of several unique cafe in Bogor that we can visit. Besides serving many menus and beautiful natural scenery, this place is well known as romantic date restaurants in Bogor.
Kampoeng Koneng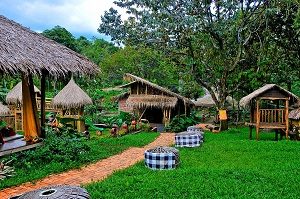 There are many romantic restaurants in Bogor. Sentul is one of the areas located in the Bogor City. Many tourist attractions in Sentul that we can visit. One of the culinary tourism located in Sentul Area is Kampoeng Koneng. Like the other place to eat in Bogor, this place also has a natural atmosphere that is very thick and beautiful.
If we come to this location, so we will be greet with the beautiful atmosphere of the leafy rows of trees. And the air is still very cool and fresh. This place is visited by many people who want to visit Bogor from Jakarta. This location is not far from Sentul toll gate. To reach this place from the toll gate only takes about 10 minutes.
Like the name, this place serves a variety of typical Sundanese cuisine. Here, we can find a variety of food menu that we rarely encounter. In addition, if the night comes and the torches are lit, then this place will become more romantic. It is suitable to be a date place in Bogor. Check this: Romantic Cafe in Bandung 
More Romantic Spots in Bogor
Some of the places above are a fraction of the recommendation of the places to eat with natural nuances in Bogor. There are still some romantic restaurant in Bogor, such as :
Gili-Gili Bogor Restaurant
Gurih 7 Restaurant
Kampung Wisata Rumah Joglo
Desa Sawah Restaurant and Villa
Resto Kebun Teh
Saung Kuring
Resto Bumi Aki
De Salman Resto
Resto Solo
The Grand Hill Bistro Cafe
Jambo Cafe and Resto
Nicholes Kitchen
Those are the complete recommendations about place to eat with natural nuances in Bogor that we can visit. So, take your couple hands and enjoy the romantic restaurants in Bogor. Enjoying the beauty of natural scenery in Bogor while eating the delicious food there, of course it will not make us disappointed. Hope this article is helpful. Happy holiday in Indonesia!