Besides Bandung is well-known as Flowers city, Bandung is also known as a city with a million of beautiful natural wealth. No wonder if Bandung is often visited by the tourists in the weekend or holiday. Many people want to enjoy the atmosphere in Bandung city, whether with family, friends, or partner.
Even there are also so many couples who  choose Bandung as a place for honey moon destination. If you want to spend your time with your partner, here are several recommendation of romantic cafe in Bandung that you may visit.
1. Dusun Bambu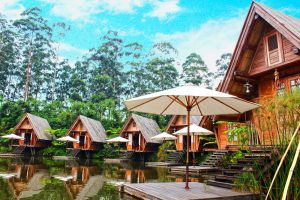 It is located in St. Kolonel Masturi KM. 11. Dusun Bambu or in English is Bamboo Village, perhaps you have heard about this place before.
Dusun bamboo is known as one of the suitable tour attraction for a family tour in Bandung. But, this place is also fit a couple who wants to enjoy the romantic moment together.
In there, there are so many cafe who provide the unique concept, such as Lutung Kasarung. Lutung Kasarung is a place that is designed very special and it is really compatible for spending romantic time with partner. Especially, for the couples who love the concept of wild nature.
2. Maxi's Resto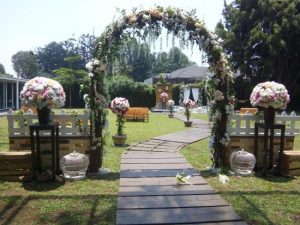 Located in St. Gunung Agung No. 8 Ciumbuleuit. Maxi's Resto also has an unique concept and it is suitable for the the visitors who want having romantic dinner with their couple.
The interesting concept in this cafe is outdoor area with large garden. That's why this place is often rented to hold a wedding ceremony
This building of this cafe consists of two floors. So, the visitors are free to choose whether they want to eat in the ground floor or the second floor.
The menus that are provided include western food such as sandwich, steak and etc.
3. The Valley Bistro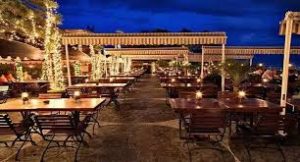 If you go to Dago area in Bandung to enjoy several attraction places, you may also visit one of the cafe there, it is the Valley Bistro. It is located in St. Lembah Pakar Timur No. 28, Dago.
The attractiveness of this romantic cafe is a beautiful panorama of Bandung city from the height. So, it must be very suitable coming to this cafe at night so you and your partner can enjoy the city lights of Bandung.
Most of the menus which are offered here are Crab soup or siapa soup. Beside that, the main menu and also the favorite one is steak. But, you better book a place before coming to this place, especially on weekend because this place will be very crowded by the visitors.
4. Atmosphere Resort Cafe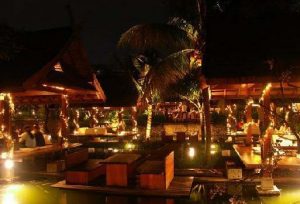 This cafe will remind you with Bali island because it is adapted from cafe in Bali.
Atmosphere resort is located in St. Lengkong Besar no. 97, Cikawo.
Most of furniture there made from wood so it will look natural and elegant.
Besides that, this cafe also has a large-beautiful garden and a pool which will create a romantic moment for the couples.
The menus which are offered there are various, it starts with Local menu, Asian menu, till European menu. 
5. Sierra Cafe and Lounge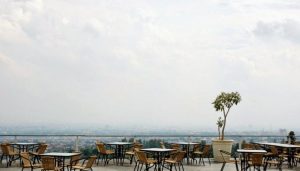 Although this place is a little bit far from the center of Bandung city but this cafe still becomes the place which has a lot of visitors.
It is because in Sierra cafe, the visitor can enjoy the city light of Bandung from the height. So, it is very suitable for the couples who want to spend romantic dinner time.
The menus which are offered in this cafe is also various. It starts with local menus special Nusantara till the western menus. Thus, you may also visit Romantic Restaurants In Surabaya for Perfect Dating
6. Burgundy Wine & Dine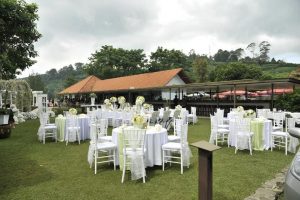 This time, the romantic cafe is Burgundy wine and dine which was located close to Maribaya attraction object.
Maribaya is one of the highland in Lembang, Bandung, so the atmosphere in this cafe is also interesting.
The visitor can enjoy the beautiful panorama while eating food. This cafe is divided into three parts, they are yard, terrace, and indoor.
At indoor, the visitor may have a comfortable and romantic moment because it is a place for VIP. You may also visit Shopping Destinations in Bandung Indonesia
7. The restaurant- Padma Hotel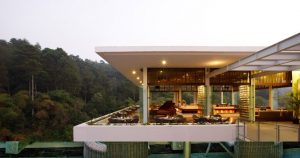 In Padma hotel, it is provided a romantic places for eat, it is The Restaurant. The location of this place is a bit far from center of Bandung but that is the attractiveness of this place. The visitor may have more chance to enjoy the freshness of the hill environment.
Besides that, The restaurant has open kitchen concept where the kitchen of this restaurant can be seen by the visitor. Another interesting thing is event Kampoeng Nelayan in every Friday. It means, the visitor can enjoy the seafood. You may also visit Things to Do in Ciwidey Bandung
8. Maja House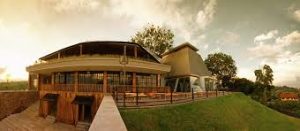 The romantic concept from this cafe may be seen from the building decoration. Where this cafe building is designed with a little different architectures.
The building has constitutional art deco and it is also a little bit contemporary. The visitor can have romantic moment with couple along with the good atmosphere, breeze, and beautiful scenery.
Not only used as a place for eating, but in this cafe also provide a meeting room, hotel, and function room.
9. The Peak Resort Dining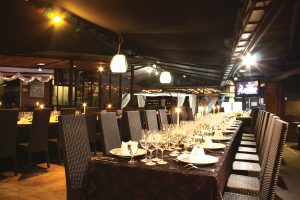 The lighting in this cafe can create a romantic atmosphere for the couple because it uses a torch.
The Peak is located in St. Karyawangi Ciwaruga. You and your partner may come for having a romantic dinner there.
The main concept of the peak cafe is European Restaurant with a modern concept.
You will get the restaurant with three floors and there is one floor which is special provided for the couples, that is the third floor.
10. Congo Cafe & Gallery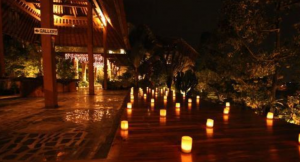 Located in St. Rancakendal Luhur No. 8. This cafe is very unique and suitable for the couple who love the natural nuance because the visitors will feel like eating in the forest.
Congo cafe has three floors. In the padangpariaman, you will see an open area with the a lot of plants. While in the second floor, there is a gallery which shows the various art works made from wood.
You and your partner will having dinner with light dinner concept and it is absolutely very romantic.
11. Takigawa Meat Bar in the Sky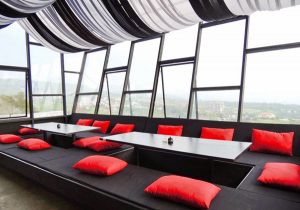 This cafe is a Japanese cafe and it is suitable for the visitor who love Japanese food.
But if you don't like Japanese food, you may choose another menu there such as local menu and western menu.
The taste of this food is really compatible with Indonesian's taste so you don't need to be worry.
You may also visit:
12. Belle Vue French & Italian Bistro

Belle Vue French & Italian Bistro is placed in the fifth floor of GH Universal Hotel Bandung. This restaurant owns the France and Italian menu.
That's why the concept architecture of this cafe is classic renaissance. This cafe is opened for 24 hours so the visitors are free to come whenever they want.
13. Gedong Putih
Gedong Putih has two places for eating, they are Welfed or Apsara. Both have different concept. In Welfed, the menus which are western modern. While in Apsara, the menus which are offered is Thailand Traditional food. The most interesting thing in this place is a garden which surrounds the building.
People can organize a wedding here because it provides a white hall which has 200 capacities of guest invitation.
14. The 18 Restaurant and Lounge
Located in St. Jenderal Gatot Subroto No. 289. This restaurant is placed in the the top floor of The Trans Luxury Hotel. The menus which are offered there are international class food which is cooked by the experienced team. The menus include appetizers, the main food, and the dessert.
15. Orofi Cafe
One of the romantic cafe is Oroci Cafe. It is popular among young people because the place is very comfortable. The main interesting thing in this place is the panorama of Bandung city. Beside that, this place also carries Santorini concept.
In this cafe, there are three main are that can be chosen as preferred. The first are is outdoor, the second is semi- indoor and the the third is Bar. In Orofi Cafe, the visitor also can enjoy the sunset while eating the various menu that are provided. 
More Places You Must Visit in Bandung with Your Lover
Besides the several cafe that have mentioned above, here are the other lists of recommendation Romantic Cafe in Bandung:
The Stone Cafe, St. Rancakendal Luhur No. 5, Coblong Dago, Bandung
Rumah Miring, St.  Dago Giri No. 119
Dulang Resort & Resto, St. Pabrik Gitar, Pagerwangi, Lembang
Api Unggun, St. Raya Lembang No. 177B Bandung
Sweet Home Cafe & Resto, St. Setiabudi Bandung
Indishetafel, St. Sumatera No. 19 Bandung
Kebon Awi Kaffee, St. Bukit Pakar Timur No. 29 Dago Atas, Bandung
Grandia Resto Cafe & Pastry, St. Cihampelas No. 80 Bandung
Cocorico Cafe, St. Bukit Pakar Timur No. 19
Sapu Lidi Lembang, St. Sersan Bajuri Cihideung Parongpong
Miss Bee Prividore, St. Ranca Bentang, Bandung Utara
Cafe D'Pakar, St. Dago Pakar Utara Bandung
Gubug Mang Engking, St. Kopo Bihbul No. 45
Amor Kopi, St. Ir. H. Djuanda, Cimenyan
Black Romantic, St. Gelap Nyawang Blok B, Lebak, Bandung
That's all the lists of recommendation romantic cafe in Bandung that you guys can visit for spending romantic time with your partner, especially for a honey moon couple. Thanks for reading!