As a biggest cit around West Java, standing on it own Special Region, Jakarta has a lot to offer to the travelers. Even though some of the place are really busy, but of course they are really worth to visit or at least look at, like the things to do in Kemang.
Beside the area of things to do in Kuningan Jakarta, we also want to introduce you to the other area in Jakarta called Bintaro. In here, you can find so many modern attractions or spots that really intersting for all ages. So let's start with the list of things to do in Bintaro below:
1. Lot 9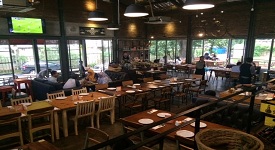 The first one we'egonna talk about is the spot with the name of Lot 9 Bontaro. This spot is located near the famous Bintaro 9 walk, only a few meters from there. Usually the place is filled with many teenagers who want to spend sometimes to hang out with some friends, doing some social interactions with them.
The place use the retro decorations, complete with the unique one, the old bycicle that hang on the wall as a decoration. The place also serves some traditional foods beside some coffee or tea. A really good place for hangout during the weekend.
Location : Artery road of Bintaro 78
Opening Hours : Always opens from 7 am to 10 pm every day
2. Modern Market of Bintaro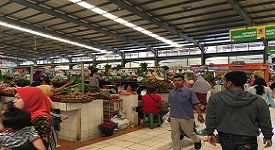 In the second place in things to do in Bintaro, we want  tell you about the market of Bintaro. Different from the other traditional markets in Indonesia that has a little bit dirty environment in a less comfortable place, in here you will feel to shop in a traditional market but with more modern building.
The sellers here are more arranged wiht their own kind of goods. The meat sellers located in the back, and the dairy product sellers in the front, etc. With such a comfortable place, you will take longer time to shop in here because of that condition, which is good. Plus, you can arrange the price with the sellers.
Location : Jendral Sudirman street
Opening Hours : Starting from 5 pm every day
3. Bintaro 9 Walk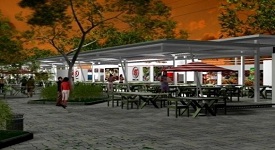 There are many cool things to do in Bintaro Jakarta. As a famous place, like the malls inside the article of things to do in Plaza Indonesia. Bintaro has its own great spot, the big one called e Bintaro 9 Walk. It'l located not far from our first spot, the Lot 9. This spot has the opening hours during the dan till the night.
Even though the opening hour is not fitting for some people, the place is indeed still corwded with people, anly teenagers. In this restaurant, you can pick whatever kind of food you wantthe Japanese, food from Thailand, or maybe some traditional food. All included in this beautul spot of things to do in Bintaro.
Location : Bintaro Utama street
Opening Hours : Opens from 5 to 11 pm
4. Lotte Mall Bintaro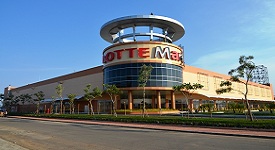 Also, one mall to notice, is the mall located around the M.H.Thamrin street called Lotte Mall Bintaro. People usually go to this mall to hunt some of good restaurants avaiilable in there, because there are some restaurants that offer the outdoor sensation to the customers.
Also, the many variants of food also can be found within. As a good place for hangout also vacationing with family, the Lotte Mall Bintar can be a great choice to spend the day. Especialy if you live around the area of Bintaro.
Location : M.H. Thamrin street
Opening Hours : : Opens from 9 am to 10 pm
5. Bintaro X Change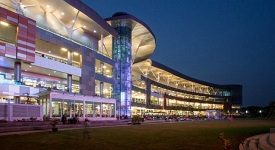 There are many cool things to do in Bintaro Jakarta. The next one is the mall called Bintaro X Change, or what people call as BXC. The mall consists of so many wonderful stores, restaurants, and also se green areas that can be sue to do exercise. Usually people use it, especially the Jogging Track because it's very helpful and beneficial.
The mall also has some cafes that also so good, like the cafes in cafes in South Jakarta . Also, if you walk deeper to the mall,you can the ice skating ride inside it. It's actually the biggest one in all South East Asia.
Location : Boulevard Bintaro street
Opening Hours : Opens from 10 am to 10 pm 
6. Menteng Park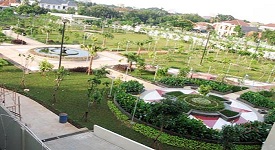 Of course, we won't forget the known Taman Menteng or Menteng Park, where usually people start gathering aroung the place during the evening to hang out and their own activities like the organization gathering, etc.
During the weekend, so many people will come here to have some great exercise during the morning. There's also se group exercises in here too, you can join them if you want though. With so many benefits, the Menteng Park final became a favorite for the people of South Jakarta.
Location : A few meters from Lotte Mall BIntaro
Opening Hours : Always opens
Aside from those other six places included on our list of things to do in Bintaro Jakarta, you can also spare some time to visit these other spots too. Total, there are 9 of times to be told after this. So be sure to stay with us For you who interested of travelling around Bintaro area of South Jakarta, here are the other 9 places left :
Ragunan Zoo, the famous zoo of Jakarta
Setu Babakan, a wonderful lake of South Jakarta
Suropati Park, good refresher place for stressfull people
Ayodya Park, inhale the good natural air
Pondok Indah Water Park, another best water park of Jakarta
Galeri Indonesia Kaya, gallery full of Indonesia richness
Cipulir Play Park, suitable play park for kids
Museum in The Middle of a Garden
Little Tokyo, visit the famous city of Japan inside Jakarta
So that is our coplete list of things to do in Bintaro, Jakarta. Remember, even though it's a very stressful city, you can have some relaxation still. Releasing some stress is a good thing to continue your life for tomorrow. Many spots that can be found like things to do near Grand Indonesia, and also this Bintao we talked about. All you need is sparing some time to rest a bit in the end of the day.