In Bali, there's some interesting things to see such as the temples, beaches, the wonderful entertainment of water sports and also the Balinese culture. You can see the culture in many forms, putted into some crafts like masks, traditional clothes, language, songs, and also the unique balinese dance called Kecak dance which one of the things you should get beside things to do in Goa Gajah.
To see this beautiful heritage of Balinese culture, you must come to the right place to able to see it clearly, and also comfortable. There are some places, the notable ones that can be used to watch the special Kecak dance, and you as a tourist could some to those spots to. In this article, we include nine best of them inside the article of "where to watch kecak dance in Bali", which look as great as the other things to do in Lake Batur Bali. Please check them below :
1. Uluwatu Temple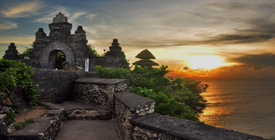 The first location that is very suitable to watch the beautiful Kecak Dance is of course the Uluwatu Temple. Many say that the location is perfect because visitors can see the dance with magnificent background of sunset in Indian ocean. If you want to come here, be sure to arrive early because many seats will be taken immediately. Many people would love to visit this important templ of Bali island.
If you don't know it, Uluwatu Temple is located in Pecatu, South Kuta, Badung area of Bali island. From the airport that located in the area of Tuban, Uluwatu is only 30 minutes from there. And from Denpasar city, it's about 1 hour and 1 minute via Raya Uluwatu Pecatu street. The Kecak Dance usually shown at 6 pm until 7 pm every single day. You can enter by paying Rp10.000,-
Location : Pecatu, Bali
Tips : If you want to avoid some more crowd, you can always come early
2. Cafe Lotus, Ubud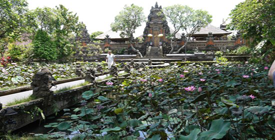 Where to watch kecak dance in Bali? One of the right places is the Cafe Lotus that located in the area of Ubud, Bali. This cafe is not like the other cafes. Cafe Lotus has this stage that located around lotus flowers. It's so magical to see the show, especially during the night when the ligths that came from fire illuminating the water surface, making a wonderful view you ever see.
Beside the lotus ponds, you can also find the other vegetations such as orchids and also some trees that planted around the stage. While you enjoying your meals served by this cafe, you can see some of Balinese unique dances every night around 7.30, excluding Friday. But at first, you should make a reservation which can cost you about Rp80.000,-
Location : Ubud highway, Ubud, Gianyar Bali
Tips : Make sure that you can come on all nights except Friday to see the dances.
3. The village of Batubulan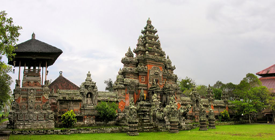 Beside the things to do in Seminyak Bali, you can also visit some notable places to see the great and amazing Kecak Dance in Bali like this village of Batubalan for example. Seeing the village, there's so many cultural aspects that shown to the tourists, including the structure of building, and the stage that used for the Kecak dance sometimes during a week.
In 9.30 in the morning, visitors start to visit this village to see one of its greatest form of art, the dance. The dance shown in here is not only Kecak dance, but there's a popular one with the story of Ramayana. Ramayana dance will be held in the morning, but the Kecak dance usually happening from 6.30 pm at Sahadewa place in Batubulan area.
Location : Gianyar Bali
Tips : If you want to see both of them, you can wait for Kecak dance and enjoy all the things in Batubulan village such as restaurant and also resort.
4. Tanah Lot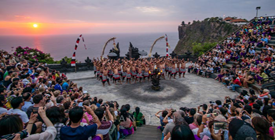 The name of this place is very popular. On every study tour in each school in Indonesia, when they have a plan to visit Bali, they will always visit this area. As a spot that maybe looks better than things to do in Hanging Gardens of Bali, Tanah Lot offers so many things that can spoil any tourists who visit there.
They can buy some stuff like clothings, accessories, and handicrafts. But beside shopping, visitors can also enjoy the beautiful temple located on the cliff. And, people can enter that very temple to see Kecak dance that will be held everyday starting from 18.30. The entrance ticket of Tanah Lot is about Rp20.000,- per person.
Location : Baraban, Kedir, Tabanan regency of Bali
Tips : People come with their cameras, so why don't you?
5. Arma Museum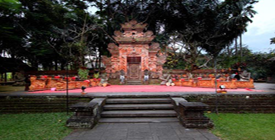 Even though museum seems like a very boring place, where maybe not so many poeple interested to come there, but Arma museum has its own charm that can able to bring more and more people in. Visiting Arma or Agung Rai Museum of Art wouldn't be a bad idea.
So, in this place you can get much information about the culture of Bali, starting from the arts, accessories, traditional dances, traditional masks, to the unique dances. Every evening, there will be some people training dances. And you can also see them training, or maybe interact with them afterwards. You can also join in to feel the Balinese culture directly by also dancing their dances. Entrance ticket is Rp50.000,-. 
Location : Pangosekan Ubud highway
Tips : The girls are very friendly to the visitors, so you don't need to worry about thei behavior
6. Ubud Palace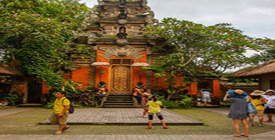 Next one in the article of where to watch Kecak Dance in Bali is Ubud Palace. As a place that can be more entertaining like things to do in Abang Bali, Ubud Palace can give you much satisfaction to enter the gate into the world of art and culture of Bali island.
In this place, you can see the other dance beside Kecak dance that performed sometimes during a week, but there's some unique dances like Legong dance, which is being a highlight of this place. The dance is danced by pretty girls wearing colorful clothing and accessories.
Location : Ubud highway number 8, Gianyar, Bali
Tips : This place doesn't have any entrance tickets, so you can some here freely starting from 8 am to 7 pm.
There's other location to see the Kecak Dance in Bali, such as :
Garudah Wishnu Kencana area
Village of Taman Kaja
Pasar Senggol
So those are the total nine locations, perfect ones to answer where to watch kecak dance in Bali island Indonesia. You can choose one and some of them, or put them all on your traveling list of vacationing in the island. They are very suitable ones to watch the special Kecak dance that you can only see in here. So mak sure that you don't miss the opportunity.
Kecak Dance at Uluwatu Temple