Going around in Bali is total fun. Exploring so many things like things to do in Pemuteran Bali, and also another location that also located near the one you have visited. Last time, we walk about one little area called Abiansemal, Bali which has its interesting attractions.
But now, we want to go to the eastern side of Bali island, to the location called Abang, Bali. This location is inside the regency of Karangasem, Bali. It has so many things to offer to you, that you can find on our list of things to do in Abang Bali, on the informations below :
1. Mount Abang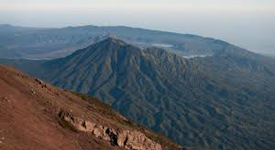 As the first location, we want to tell you about the mountain which has the same name as this area, but located further away. Specifically, the mountain is located in one area called Kintamani, which is also the neighbor of this Abang area. You can find another similar mountain in things to do in abiansemal.
Well, as you can see on the picture we put above, the mountains has relaly great view. Even though its names ain't so famous like several mountains in Indonesia like Bromo or maybe Ijen, but the poeple still really love this. As a spot for looking at sunrise, this is one great spot.
Location : Bali island
Tips : Go here in the dusk to see the sunrise
2. Tirta Gangga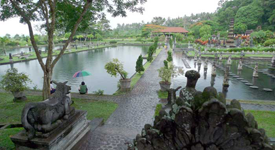 The next locations isreally perfect for you who like swimming so much. Swimming is a very good thing of course, it's a form of exerices that doesn't require so much stamina to do it. And another fact it, swimming is also recommended for the people who have asthma.
Aside from the facts of swimming above, we wnat to tell you some informations about this place. Built one a building that reaches some meters above the ground, you can go swimming while looking at how spectacular the view around you is. Only with Rp10.000,-, you can enter and having fun with the place.
Location : Abang street Almapura
Tips : Bring your own spare clothes and towel
3. Jemeluk Beach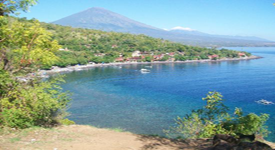 Another beach you can find in the area of Abang Bali, which isalso considered as the best things in teh Abang Bali is thsis Jemeluk Beach. The beach is really clean, and having this kind of smooth sand that every one likes.
Looks beautiful as the beaches in beaches in Kuta. If you want to do some refreshig a bit after workd, you can visit this beach once in a while. With the cheap parking ticket of Rp2.000,-, you can easily enter the place via the gates provided on the front.
Location : Amed street, Bunutan
Tips : Kids will love this, bring them along
4. Amed Paradise Warung and House Bali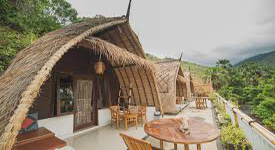 If you looking for a very good services and stay in a unique and estetique places, you can ave a stay at this Amed Paradise Warung and House Bali. It has two important aspects, the Warung (Stall) and The House.
You can find those important aspects easily when having a day within this venue. Because all the services are in high quality, no wonder that the cost to stay per night in this Amed Paradise is like Rp600.000,- or more if you want to book the best room.
Location : Raya lipah street, Abang
Tips : It's a perfect palce for the tourists who looking for the services and comfort
5. Dream Divers Bali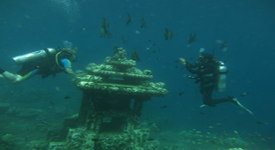 If you're paradising in Bali, of course the activity of diving can't be missed. Many peeople relaly wanted to try the sea ecosystem directly by doing this activity. There's one place here that will sevre you about the diving services, the Dream Divers Bali.
Beside offering the things that related with diving, like the equipment and such, this place willa slo offer you some packages that you can choose. One example is the Rp2.000.000,- per person, and you'll get some discount when you come with more people. For that price, you can stay in their "inn" for like two days.
Location : I Ketuh Natih street
Tips : Ask more friends to go out with you, becuase it's more fun that way
6. Japanese Ship Wreck Point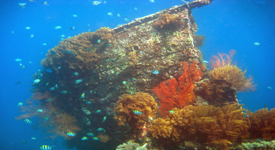 Having a relation with the things to do in Abang Bali above, the Japanase Ship Wreck Point is indeed a beautiful diving spot taht can be found in the area. Even though  the wreck is long gone, the remains are still can be found beneath the sea.
The things to look for in here is of course the underwater view. It looks gorgeous. No wonder that many people say that this place is one best dive point in Bali. Beside the view, you can also witness the fishermen boats which you can rent to take you to find another interesting diving site.
Best dive point, fishermen boats, geat underwater view
Location : Karangasem street
Tips : Don't forget to bring your swimming equipments 
7. The Tree House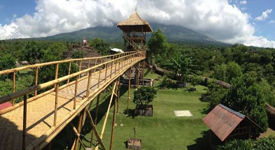 In the seventh location, we want to introduce you to another great spot in Abang Bali caled the Tree House. Even thouhg there are so mnay tree house attractions like this in Abang area, but this location is the most noticable one. This tree house looks like the ones in things to do in Gretek Bali.
With the entrance ticket consists of Rp10.000,-, you and your relations can explore the area of The Tree House. Beside the wooden tree house and bridge provided, you can also see this kind of building architecture that completed with some lamps that look really beautiful on the night.
Location : Tulamben Kubu
Tips : At least bring a phone with you to capture the moments in there
Like usual, we want to add the small list taht contains some of the best places located in Abang, Karangasem, Bali. There are nine of them added to the list. To see the complete of them, you can find them on the things to do in Abang Bali below :
Amed Beach
Asam Spring
The Hill of Love
Temega Tree House
Bali Fab Dive Center
Ecodive Bali
Lemped Tree House
Agung Karangasem Temple
Tulamben Beach
So that's our list of things to do in Abang, Bali. There are 16 in total, so you can explore them all one by one if you want to get the full experience traveling to that very area. Better do it in the holiday free weeks when you have so much time to spend.