After taking a long trip to some areas in Bali like the things to do in Gretek Bali, the enxt thing we want to do is exploring a new area to make this holiday more memorable and colofrul. After considering to pick a place for the topic dtoday, our choice is finally fixed.
For the next trip in Bali, you should see this new area called Abiansemal Bali. Yes, maybe the name is strange to you, isn't it? Compre to the other famous place in Bali like things to do in Kuta Bali. But of course, with the new area, there will be new experiences. So here's the things you can find in the area included pn the list of things to do in Abiansemal, Bali:
1. Green Camp Bali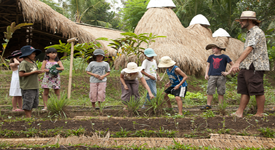 As the first location, which also looks good like things to do in Bali Horse Riding, we want to recommend to you the attraction that is known for a place that filled with interesting camp activities. In here you can have your pals or family members to gather with you for having fun in your own little camp site.
In this Green Camp Bali, there are many choices of package that you can choose. Those three kinds of camps are the Kids, family, and summer camps. Each of them has its own price. For example, for the Family Camp package, it's starting from 250 dollars for three days. So, better prepare some stuff, especially budget before actually going to this place.
Location : Banjar Saren Abiansemal
Tips : Make sure you'll go with more people to make the cost lesser
2. Tirta Arum Swimming Pool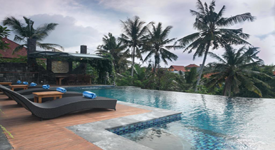 The next is in fortunately way cheaper than the attraction above, or maybe having less administration fee than things to do in Padang-padang Beach. Located around the Sutomo street, Blahkiuh, Abiansemal, this swimming pool is one beautiful and comfortable swimming pool. If you look closely to the picture, you can see this pool is like the pools that you'll find in the hotels or something.
But, surprisingly enough, the entrance ticket to enter that beautoful spot in Abiansemal is only for Rp20 thousand rupiahs, plus the additional parking ticket on the outside. That price is nothing to compare twith the wonderul simming pool itself. This is actually the best things to do in Abiansemal.
Location : Sutomo street, Blahkiuh
Tips : Visit it during the morning to get less crowd
3. Bukit Sari Temple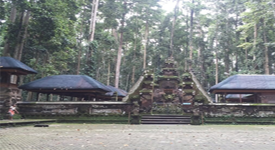 In the third place of things to do in Abiansemal, Bali, we also want to intriduce to you the famous temple around the area called the Bukit Sari Temple. If you notice, this location is relaly close to the Bali monkey forest.
In fact, in the temple you can see some monkeys playing around with either the natural objects or the tourists belongings. Becuase of them, it's advised to always looking at your bag when visitting this temple, because chasing them out is really tiring for usual people.
Location : Pantai Balangan street
Tips : Be sure to not breaking or interfeering people's activity
4. Green Village Bali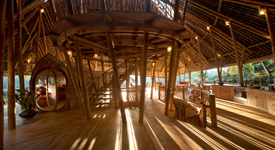 After the Green Camp Bali, there's also another Green thing in the area of Abiansemal, called the Green Village Bali. This is still looks great, just like things to do in Echo beach Bali. Take a look closer, and you'll find some building that have so much different architecture.
They are made from the natural components possible, like the rattans and woods. There's some tour packages here to see this village around. A tour starting from Rp350.000,- ain't so bad. Prepare your camera though!
Location : Tanah Ayu street, Sibang Gede
Tips : Better bring a camera here, because some spots here are fantastic!
5 . Bali  Best Cycling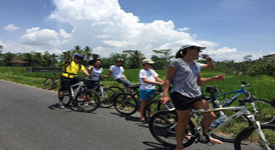 What is the thing that can be done in area of Bali, which is also can increase our health and a fun activity in the same. The answer is taking a bike tour. A bike tour is really good, especially if you doing it in the morning.
Circling around the area to find its things to do in Abiansemal is a wnderful thing to do here. You cna chat with some people while of course examining the area closely because the speed of the bike is not to fast. You cna try some places thta will serve you their best cycling tour. Pick the highest quality with low price possible if you can.
Location : Bike Tours Providers around Abiansemal
Tips : Bes ure to go with your family or friends, because it's a lot fun that way
6. Tanah Wuk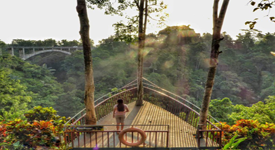 Beside the famous Tanah Lot, there's an alternative called Tanah Wuk. Tanah Lot and Tanah Wuk are completely different from one to another. If you in Tanah Lot can do some shopping while having relaxation, in this Tanah Wuk you can do otheer things.
Becuase located in a high ground, Tanah Wuk is really perfect place to capture the view of Abiansemal completely, with paying for the entrance ticket for only Rp20.000,-. Seeing the view with this decirated place is one remarkable memory.
Location : Sangeh, Abiansemal
Tips : Because this one is also considered as one romantic place, you mst go here with your love one 
7. Garuda Wisnu Kencana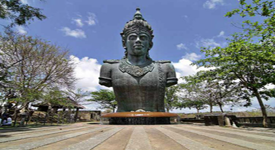 In this seventh place, of course you are not strange with this attraction. Known for its gigantic size, the GWK statues is becoming a trend for tourist around 2014. And now they still developing it t be the greatest statue in Indonesia.
With paying the entrance ticket of Rp70.000,-, youcan enter the place that consists of the statue itself, and the small park that has some walls in it. Usually the torists will take some pictures from the park, and using the statue as a background.
Location : Uluwatu street, Ungasan
Tips : Camera is needed to capture all those beautiful view
Visiting those place are totally fun. But wait, the journey is still going on. It doesn't end yet, before you actually going to check the other place in the small list of things to do in Abiansemal below :
Pandawa Beach, the most wonderful beach in Bali island
Pasifia Museum, a very nice museum to visit
Bali Bombing Monument
New Kuta Greenpark
Yadnya Museum
Clothes Museum
Kuta Beach, another famous beach near this area
Luhur Watu Temple, a temple with thousand arts and actions
Tanah Lot, place for shopping and witness its exclusive temple
So those are the spots or places you can visit in the area of Abiansemal Bali. You can see that those places are having their own specialites, either they're naturalor bringing something new to us. The new experience you get from such an unique area is remarkable. So, we hope that this lis of things to do in Abiansemal can actually help you to taking a journey in this area with safe and comfort.