Echo Beach is a tourist destination that is still not as popular as Kuta Beach or Nusa Dua Beach. Echo Beach is located in Badung Regency, about 30 minutes drive from Denpasar. If you are confused when looking for directions to Echo Beach, look for directions to the famous Tanah Lot. Later you will meet a sign that says Echo Beach. Along the way to Echo Beach you will be entertained with a stretch of green rice fields. Let's see the assorted things to do in Echo Beach Bali..!
1. Sunset Viewing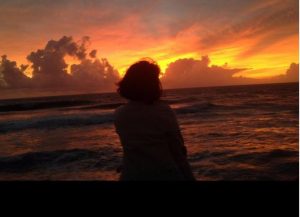 Echo Beach has soft brown sand and is adorned with exotic rocks. The atmosphere is comfortable and not too crowded that makes visitors happy to linger. Echo Beach is located in the southwest of Bali making it the perfect place to enjoy the beauty of the sunset.
Echo Beach has an awesome sunset view. Visitors can see the reddish sky accompanied by sea breeze. The feel of peace and serenity will be an unforgettable experience. Besides Echo Beach, Petitenget Beach is also one of the best places in Bali to watch sunset. Visiting Petitenget Beach is only one of things to do in Badung Bali.
2. Surfing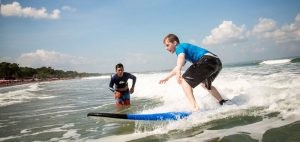 Echo Beach is endowed with great waves and blue sea. Therefore many surfers come and try to conquer the waves here. Seeing local and foreign surfers in action is a fun entertainment.
In addition you can also learn to surf in Echo Beach. The excitement and experience you will gain may be more valuable than shopping for example. And of course surfing is a cool sport in Bali.
3. Relaxing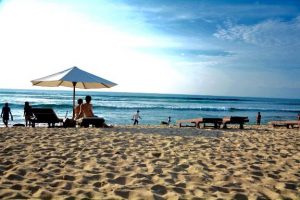 Echo Beach has the beauty of a typical Balinese beach. Blue sea, big waves, soft sand and friendly locals can be found here. The holiday ambiance is really felt in Echo Beach.
The atmosphere is not too crowded which makes relaxing in Echo Beach more fun. You can rent a chair for Rp 25.000 / day and spend time reading books. Or you can lay out mats and picnics with friends. If you want to feel another serene atmosphere, come to Blue Lagoon Beach. Relaxing there is just one of things to do in Karangasem Bali.
4. Strolling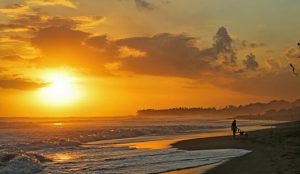 Echo Beach has a long coastline. The beach is located adjacent to Canggu Beach.
Some people say Echo Beach has a romantic atmosphere suitable for couples.
Strolling down the beach barefoot is mandatory in Echo Beach. You can feel the fresh sea breeze and enjoy the waves wetting your feet.
Many things can be thought of while strolling. It can be a good time for reflection.
5. Posing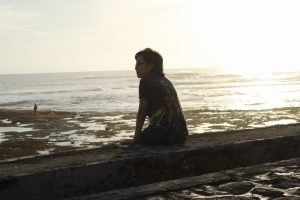 The beauty of Echo Beach is instagramable. There are many interesting spots that can be captured and uploaded to social media. You can pose with a stunning backdrop of sunset or a vast blue sea.
Taking a photo at Echo Beach will boost your popularity, at least it will give you more likes. Exhibiting the beauty of Echo Beach is also good for Bali tourism. This will make people more appreciate the natural beauty of Bali. Anyway, if you want to be more popular in social media, you need breathtaking pictures. Pinggan Village in Kintamani is a super instagramable spot. You should go there. Plus, there are lots of things to do in Kintamani Bali.
6. Jogging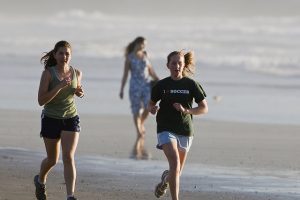 Although on vacation, you should take the time to work out. Thus you will always be in good shape. Vacation can only be enjoyed if you are healthy and fit.
The bautiful Echo Beach can be a great place to work out. Jogging along the coastline in the morning will be a fun experience. Accompanied by sea breeze, you can run while refreshing mind.
7. Eating at Pizza Fabbrica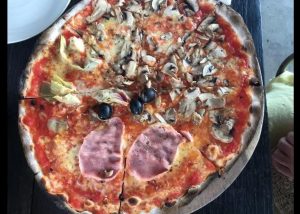 Pizza is identical to typical Italian food. This food is suitable for snack or as a substitute for dinner. High carbohydrate content and its various toppings make pizza easily accepted by the Indonesian people.
While visiting Echo Beach, take some time to stop by Pizza Fabbrica. Here you can taste one of the best pizzas in Bali. Pizza is made from fresh and selected ingredients to produce a super delicious taste. The pizza is very thin, crispy and the seasoning is perfect. By the way, if you are a culinary lover, you should try Chicken Betutu, a typical Balinese cuisine. Come by Bedugul. In addition to taste Chicken Betutu, there are plenty of things to do in Bedugul Bali.
8. Eating at the Shady Shack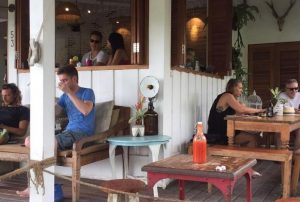 It is not perfect to visit Bali if you do not hang out to enjoy the beach atmosphere. Hangout does not have to be with friends, it can also be done alone to get me time. And the good thing is, almost all hangout places in Bali provide free Wifi.
The Shadi Shack is the perfect place to hang out and enjoy the feel of Echo Beach. It has a simple yet elegant design, a friendly atmosphere and a vegetarian menu. Once you try the delicious vegan food here, you will be thinking of becoming a vegetarian for the rest of your life.
9. Staying at FRii Bali Echo Beach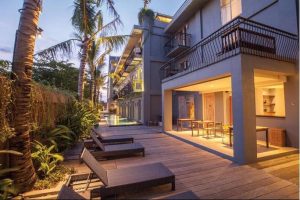 If you want to enjoy the beauty of Echo Beach a little longer, staying at FRii Bali Echo Beach is the right choice. FRii Bali provides rooms with direct access to the pool, stunning interior design and free Wifi throughout the area. The rooms also feature cable TV, air conditioning, minibar and electric kettle.
For dining options, FRii Bali has a Seaduction Restaurant which serves Western and Indonesian food. While enjoying the dish, you can see the beauty of the beach. FRii Bali also provides free parking for guests.
10. Staying at Bali Full Moon Guest House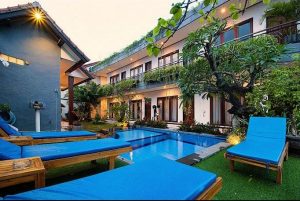 Bali Full Moon Guest House is located close to Echo Beach, just 700 meters away. The hotel is also not far from Batu Bolong Beach. Bali Full Moon offers an outdoor pool and free WiFi access in all of the areas in the property.
The rooms are big and clean with excellent bathroom. The Wifi connection is also very good. You can always ask for their kind and friendly staff. They will make you feel really welcomed.
More assorted things to do in Echo Beach Bali
11. Riding a Horse at Stable Kuda Bahagia in Canggu
12. Pampering Yourself at Goldust Beauty Lounge in Canggu
13. Buying Souvenirs at Paradise Pictures in Canggu
14. Hanging Out at Crate Café in Canggu
15. Hanging Out at Betel Nut Cafe in Canggu
All right guys, those all the assorted things to do in Echo Beach Bali. A day will not be enough to explore the beauty of Echo Beach. Apply leave for a few days and let's visit Echo Beach Bali..!