Who do not know Karawang? Karawang is one of regency in things to do in West Java. This area borders with many district. In the west, Karawang borders with Bogor and Bekasi. In the south, Karawang borders with Cianjur, Purwakarta in the Southeast, Subang in the east and Java sea in the north. In this regency, you will find many interesting attractions. Let's check this article below.
Curug Bandung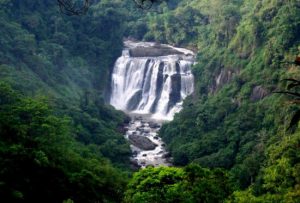 There are many things to do in Karawang West Java, Indonesia. Curug in Sudanese is waterfall. Curug Bandung is the most famous waterfall in Karawang.
Because it has very beautiful scenery and there are 7 waterfalls in this area, such as Curug Peuteuy, Curug Picung and Curug Bandung. Curug Bandung is in Mekarbuana, Tegalwaru.
It is around 42 kilometers from Karawang. To reach this area, you have to walk for three kilometers from Jayanti, Mekarbuana.
Jayanti is in 40 kilometers from Karawang and you should through the market of Loji.
Tanjung Baru Beach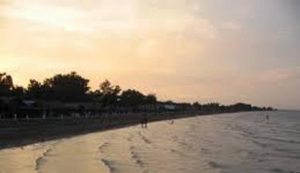 Tanjung Baru Beach is suitable for family attraction. This beach has brown sand. This beach was from deforestation of mangrove along the beach. Because of that, this seawater is turbid and there are many silt settles in any parts.
This beach is in the peninsula between Subang and Karawang. For exactly, it is in Pasir Jaya, Cilamaya, it is around 45 kilometers from Krawang.
If you went there by motorcycle, you will be charged the entrance ticket Rp. 10,000 per motorcycle.
Cipule Lake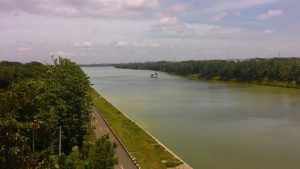 After the beach and waterfall, next we go to the lake. It is Cipule Lake. It was a sand quarry. But after it is growth by the government, today this lake is an attraction in Karawang. Cipule Lake is in Walahar, Ciampel and it is around 11 kilometers from Karawang.
This lake is very unique. In the middle of lake, there is a scenery of mountain. This mountain becomes the beautiful background of Cipule lake. Another uniqueness is the way of boat there. The boat is run by controller  who pulled steel cable from the lakeside to Love Island. In Love Island, you can walk around and enjoy the view.
The green forest will make you happy in this island. There are some facilities in this lake, such as rent a fishing equipment, boat with monitor, powerboat for crossing and water pedicab. You may also read things to do in Dieng Plateu. 
The Monastery of Shian Jin Ku Po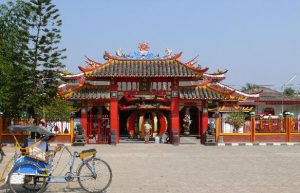 The Monastery Shian Jin Ku Po is in Tanjung Pura, Karang. It is around 4 kilometers from Karawang. In the past, this monastery is a place of Chinese group who land in the bay of Ujung Karawang. Next, this group go to the estuary of Cabangbungin, Bekasi and dawn Citarum river.
This monastery was built in 1770 by that group. They brought their anchestor ash, Sian Djin Ku Poh. The Monastery of Shian Jin Ku Po is in the supervision of Shian Jin Ku Po foundation. This manager always hold big events such as the birthday of monastery, the ceremony of New Year, the ceremony of potumugana and barongs attraction.
If you want to go to historical and culture attractions in Karawang, you can visit the Monastery of Shian Jin Ku Po. This monastery is very popular in another area. They love the architecture of this monastery. In there, you only pay for parking and money cleanliness. You may also read things to do in Banjar Bali.
Jiwa Temple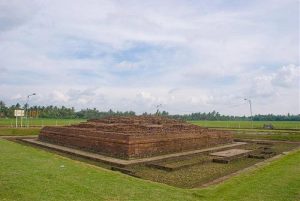 Want ti know more things to do in Karawang? Jiwa Temple is in the complex enshrinement of Batujaya. For exactly, it is in Segaran, Batujaya and Tegaljaya, Pakisjaya. This temple is not far away from north shoreline West Java.
The name of Jiwa is from a mound where the temple was built and it was considered that it had a soul. The people have taken a goat above that temple but that goat die. The word "Jiwa" is similar to the Hindu god Shiva. In Sudanese accent, "Syiwa" becomes "jiwa".
This temple is in the middle of rice field, you will feel cool and quiet around the temple. Try to go there in the afternoon. The entrance ticket is Rp. 10,000 per person. You may also read things to do in Prambanan Temple.
Green Canyon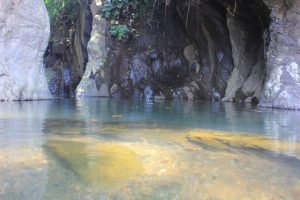 Green Canyon is not only in America but it is in Karawang, too. It is in Tonjong Roke, Medalsari, Pangkalan. You can reach Green Canyon with walking around one kilometer from Cipaga.
Green Canyon is a canyon of soil erosion. This erosion come from river stream that flow for hundreds of years in the cave. The entrance ticket is only a few rupiah as non-governmental.
There is no special gate to enter the Green Canyon. On the road side from Green Canyon, there are only two stores that sell many tourists needs.
The Water boom of Curug Cigentis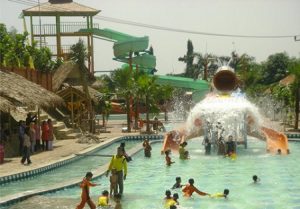 This water boom has a concept about back to nature. So, you can play water and enjoy the beautiful scenery of mountain. This tourism village is very suitable for family attraction.
The entrance ticket is cheap. In the weekday, you only pay Rp. 15,000 per person. In the weekend, the entrance ticket is Rp. 20,000 per person. Some games in this Water boom are :
ATV
Outbound
Water boat
Fishing
Java Inn
Typical of Baduy home
Futsal field
Family gathering
Wedding party
Company gathering
Birthday party
Seminar
See also things to do in Cikarang Indonesia.
Determination Rengasdengklok Monument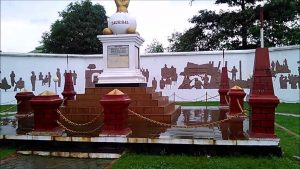 Do you know a moment of Rengasdengklok? When some youmen "kidnap" Soekarno to push old group to claim the Independence. This place is so wide. The outside of this monument is rounded by the iron fence. Its shape is a monument with text of proclamation in front of its wall.
On the top of monument, there is a ball with writing "17 Agustus 1945". There are star monument and red white monument in The symbol of determination. This monument is in Jl. Rengasdengklok, Karawang. You may also read things to do in Jakarta.
Taruma Leisure Water Park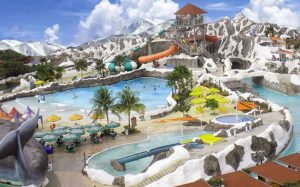 Taruma Leisure Park is in Jl. Tarumanegara, the resident of Grand Taruma, Karawang. It is in the middle of city, so it present cool and fresh atmosphere in the bustle of city. There are some places in Taruma Leisure Water Park, they are water slide, kiddy pool, wave pool, lazy river and leisure pool.
This water park also provides some facilities, such as Cabana and Gazebo, Stage, Private locker, Shower to bathroom, Mosque, Toilet, Beach chairs, Life vest and Life guard. The entrance ticket of this water park is Rp. 50,000 per person on Monday – Friday, On Saturday, Sunday and holiday, the entrance ticket is Rp. 65,000 per person. 
More Attractions in Karawang West Java 
Besides attractions above, Karawang still has many attractions, such as things to do in Karawang West Java, Indonesia:
Tanjung Pakis Beach
New Ocean Beach
Curug Cikarapyak
Curug Cipanudaan
Curug Cigentis
Curug Cikoleangkak
Kalimati Lake
Situ Kamojing
Rawagede Monument
Soto Gempol
Gabus Pucung Warung Mandiri
Tahu Bumbu Sari Rasa
Soto Tangkar Mang Nean
Gonjing Cake
Wonderlan Adventure Water Park
Dolls Crafts Center of Cikampek
Sempur Hill
Mount Loji
Cibayat Lake
Tirta Mulya Family Fishing
Blandongan Temple
Curug Tonjong
Culture Village
Place of exile Soekarno
Rainbow beach
Resinda Lake
Dayeuh Cave
Rawa Gede Monument
Situs Batujaya Museum
Reastaurant Alam Sari Water Park
Mall Festive Walk
The new market Karawang
Reastaurant and Fishing Mang Ajo
Karawang Town Square
Tourist Village
The attraction of top Sempur
The grave of Syekh Quro
San Diego Hills
Green Sorabi
Tahu Bumbu Sari Rasa
Steak 21
Curug Ciomas
The culture village of Karawang
The grave of Singaperbangsa
Mitra Agrotourism
Sanggabuana Hills
Rafi Mandiri Fishing
Neng Une Fishing
Abim Fishing
Persada Nature Attraction
Mount Sulah
Kopi Tian
Johar Market
Karawang Central Plaza
Those are some things to do in Karawang. Hope this article help you to determine your next tourism destinations.