Jakarta city is not the only city that is very popular in the western part of Java island. In that part of the island, there's popular city too called Bandung, known for its colder wather, nice attractions, and pretty girls (it's true). Bandung is indeed known as a city that has a large collections of great spots like restaurants and cafes that maybe included in happening places in Bandung.
There's so many of them that they may see confusing for newcomers. So, the best choice is to go to the mall, where you can get so many brands just located inside one place. There's a popular one called Paris Van Java. It's actually included as most visited malls in the city where peope starting from the kids to adults visiting it every single day. In this mall, many wonder what kind of thing that they can get, is there any good places to visit here? Or is there any good restaurants that can give us enjoyment like the ones in things to do in Bandung for 3 days? Of course, there's some. We included some of them inside this best restaurants in Paris Van Java Bandung article. See full of them below :
1. Gyu Kaku Japanese BBQ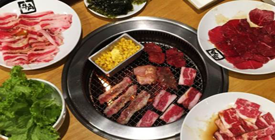 The first restaurant that we want to talk about is the Gyu Kaku Japanese BBQ restaurant, located on the resort level of Paris Van Java. In this restaurant, you can pick one of two main buffets, the Standard one and also the Premium. The standar, which is about Rp228.000,- consists of Appetizer and Agemono, Standard meat like Karubi and Suki Shabu, home made Korean pickle, grilled appetizer, salad, soup, desert like Milk Pudding or Gyu Kaku Ice Cream,and many more.
For the premium one Rp398.000,-, you can choose can also have almost the same menus like the standard one has. But, in this premium buffet, you can get premium meats such as King Karubi, Gyu Kaku Karubi, and Dragon Karubi. The appetizer is really interesting in here, especially the ones like Chicken Namban and Seafood Okonomiyaki. When combined together with great services and clean environment, Gyu Kaku Japanese BBQ is the one you should visit.
Location : Paris Van Java, Resort Level
Price for two : Rp 300.000,-
2. Sushi Groove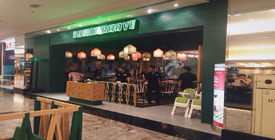 Moving from there we're going to a restaurant that also great as free things to do in Bandung called Sushi Groove. You can find the other branches of this restaurant in Jakarta too, like in Tebet for example. You can also takeaway the meals if you're in a hurry. It's really recommended to do table booking first, because the restaurant is indeed very popular.
People usually come to Sushi groove during lunch time, to enjoy their favorite meals like Miso Soup, Salmon Sushi Half Portion, or maybe Chicken Katsu Curry set . You can also enjoy the other ones like Neo Tokyo Potato Salad, Small Plate choices, Groovy Sushi roll set that consisting Kani Tori Roll, Golden Gate Roll, and also the unique Salmon Sushi Ball.
Location : Paris Van Java, Resort Level
Price for two : Rp200.000,-
3. Pizza E Birra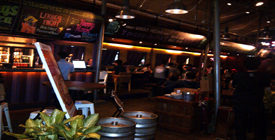 Next one that looks as great as the unique things to do in Bandung is Pizza E Birra. Beside Paris Van Java, you can also find this restaurant in some other places like Gandaria, Setiabudi, Tanjung Duren, or Thamrin of Jakata city.
So what you can get in this restaurant you said? This Italian restaurant can serve you dozens kind of pizza like Classic Margherita, Salame Piccante E Funghi Bianchi, Pepperoni, Bianca, Mushroom Pizzas, and many more. There's also beers and mocktails to pick. If you don't like pizza, you can switch to the Wagyu steak, sausage, or spaghetti.
Location : Paris Van Java, Resort Level
Price for two : Rp200.000,-
4. Yellow Truck Coffee and Tea Co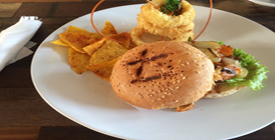 Known as a suitable place for hangout, especially for college students because the prices in here are very friendly, here's the Yellow Truck Coffee and Tea Co. In here, you can order thing that starting from Rp14.000,- til the most expensive one Rp32.000,-.
In this restaurant, you can pick the main course set that consisiting of different menus such as Nasi Goreng Rempah, Nasi Goreng Katsu, and Spaghetti. You can also choose the rice bowl with so many kinds like Dori Sambal Matah, Chicken Katsu Teriyaki, Beef Teriyaki, and many more.
Location : Sumantri street 93
Price for two : Rp100.000,-
5. Sour Sally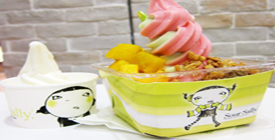 In Paris Van Java, there's also a restaurant calld Sour Sally, that can be said as poular one in Gandaria City and Grand Indonesia Mall. Sour Sally is a restaurant that is known for its desserts. In here, you can pick many kinds of ice cream.
There's about 5 different menus, starting from the regular one with the price of Rp50.000,. Also the large one, riche, lykone, and take home pack. Each of them has two main types, the black sakura or white skim. The price is really worth it for the customer service, the taste of ice creams, and comfy environment.
Location : Paris Van Java, Concourse Level
Price for two : Rp150.000,-
6. Sagoo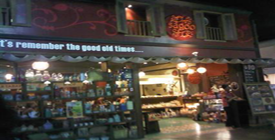 The next place that looks so great like things to eat in Bandung is Sagoo. Like the Yellow Truck Coffee and Tea Co that also included in the best restaurants in Paris Van Java Bandung, Sagoo is also very affordable, the price will not strangle your neck.
Many say that Sagoo is like the specialist in Nasi Goreng. People would love to visit this restaurant to taste dozens type of Nasi Goreng that this place has like Nasi Goreng Tempo Doloe,  Nasi Goreng Sagoo, Nasi Goreng Teri Medan, Nasi Goreng Sampan Udang, and many more.  Besid Nasi Goreng, you can also enjoy the other stuff like Kway Teow, Martabak, other fine dine meals, and also the old time delights menu. 
Location : Paris Van Java, Concourse Level
Price for two : Rp150.000,-
7. The Duck King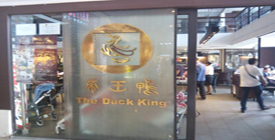 We're moving to a Chinese restaurant called The Duck King. For all the restauants that serve duck meals in this mall, this is the true king. The Beijing duck, Stir Fried Beijing Duck, up to The Braised Superior Shark Fin can hypnotiz everyone to come in.
In this restaurant, there's also some house specialities that always being favorite ones like Grilled Tiger Garoupe Duck King Style, Deep Fried Duck Szechuan Style, Steamed Beancurd with Minced Prawn, Staw Chicken & Bitter Guard with Black Bean Sauce Served in Clay Pot, and many more.
Location : Grand Floor Paris Van Java
Price for two : Rp300.000,-
Beside the locations that already mentioned above, we also have some other places that you can visit as the best restaurants in Paris Van Java Bandung :
First Love Patisserie
Tous Les Jours
Alberto's Burger Lounge
The people's cafe
Melbourne Kitchen
Warunk Upnormal
Sari Saos
Bread Point
Steak BBM
So that's it, the best restaurants in Paris Van Java Bandung. Bandung city is indeed having so many nice place for hangout and chill. Paris Van Java is like a perfect complex that containing most of them, just in one big area. Because of that reason alone, you shouldn't miss this special mall because there's so many things that you can do in here. Be sure to not missing it.
Eating at Gyu Kaku BBQ