So, like we always said, vacationing in Bali island, the eastern part of the Java island is always awesome. Most peope will visit some of the best places or location that exist in this very island. Beut beside visiting the popular ones like Sanur Beach, Padang-padang beach, or maybe Kuta beach, you should explore the other parts of Bali island to find some new things like things to do in Goa Gajah.
Beside that, there's also a spot in Bali called Kintamani. In the island, there's an island located in Kintamani, with the name of Mount Batur. This mount is indeed known for having a spectacular view and always being a favorite location for both local and foreign hikers. Now, beside talking about the attractions that located in Bali island such as things to do in Seminyak Bali, we want to give you the information about the Kintamani volcano Bali tour to Mount Batur. We'll give you some tips to at very end, so don't you miss it !
Kintamani Area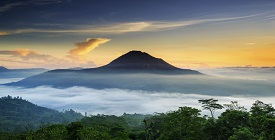 Before actually talking about the mountain, we want to give you a brief explanation first about the area named Kintamani. Kintamani is a tourism spot located about 2 hours from Denpasar city. You can take some vehicle to go there, it'll be a long journey though, so be sure to spend your 2 hours travel nicely. If you arrive from Ngurah Rai International Airport, th distance between Kintamani tourism area and that very airport is about 79,9 km. But, along the way, you can see the beautiful environment of Bali island that mostly decorated by green rice fields.
Most people who live in Kintamani work as farmers. So, the rice fields terraces are common things that you can find in here. The pictures of them are great to be captured and maybe putted on your social media feed to tell the world that Bali island has a green gem that anyone can see. In this tourism area of Kintamani, you can find the completed services that consist of settlements, villas, resorts, restaurants, and even the food stalls.
So, you can get a complete package if you have your holiday to spend in this area, they got all you need. While eating the lunch, you can witness the magnificent Mount Batur standing on the friendly and calming rice fields, which is one of many aspects that always being a favorite one for the tourists.
The Attraction of Mount Batur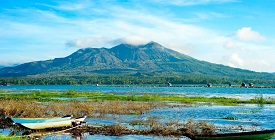 So now, let us talk about the mountain that located in Kintamani area, named Mount Batur. This mountain is also being a favorite hiking spot for many people, just like things to do in Mount Bromo in East Java. Mount Batur has three vulcanic craters, that are known as Batur Crater I, II, and III. This mountain has a very wide calder that reaches 13,8 X 10km. It's also one of the beautiful creaters in the world.
The Mount Batur has errupted many times, starting from 1904 to 2005. But the most biggest one and still be remembered until today is the erruption at August 2nd to September 21st of 1926. Those erruptions created some of the best attractions that this mountain has, such as the famous Lake Batur. With a wide of 16km2, and also 60 meters depth, the lake batur is always becoming a top priority.
Benefits of doing a Kintamani Volcano Bali Tour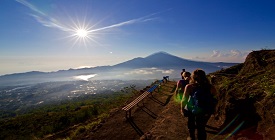 So, some of you may wonder what is actually the benefit of taking a risky and yet very tiring journey of hiking to some mountains like things to do in Mount Pancar Bogor in Indonesia, especially this Mount Batur in Kintamani. This Kintamani Volcano Bali Tour can give you some things, that maybe you can't get anywhere else. The first one is being one with the nature. When a human finally see the true face of nature, they are like coming home. Putting body and mind on the ground and just feeling how peaceful it is the condition around natural places like the mountain.
The second benefit is you can build up more connections. In these days, many people love doing hiking. They came from different backgrounds, some of them even businessmen who just want to release some stress by seeing the gift of the nature. It's not impossible to even join in some communities where people there are having the same hobby, which is hiking. And the ultimate result is you can have some more friends and relations.
And the third on is to make your body healthy, as simple as that. Beside having your mind cleared up by seeing the beautiful nature in the mountain, you can also increase your immune system by doing this sport. Inhaling a very fresh oxygen on the wild is always good for your lungs.
Estimated Costs
About the cost, it's really depend on the hikers themself. If they want to bring some stuff with them, of course it must be more expensive. But the most crucial one is the cost of traveling and cost of guide. For example, if you are departing from Jakarta, you'll need a transportation to go to Bali island, then you should order the plane ticket in the first place, right? It's about a million or more. If you want to have cheaper expens, then you can hop on the bus to go there, which can only cost you about Rp500.000,- or less.
Then, after arriving at Bali, You need to take a bus to Kintamani, the estimated cost for this is Rp50.000,-, it can be less or more than that. Then, you need to proceed to the gate of Mount Batur. You have two options here, just walk there or ordering another vehicle service called Ojek. The cost for Ojek is about Rp 40.000,-. You can negotiate the price if you want.
After arriving at the gate, you also have two options, hiring a guide or going by yourself. If you're not experienced at hiking at all, you should hire one for Rp500.000,-. It's costly indeed, but it's important for your own safety. Final cost if the entrance ticket, which is Rp750.000,-.
Kintamani Volcano Bali Tour Tips
We also have some tips that can help you on your hiking trip in Mount Batur, such as :
Perfect time for hiking is at 3 am, so you can see the sunrise on there
Take care of your health
You should bring some friends, if you're a newbie in hiking
You should have complete equipments for hiking
Always remember, safety first
Don't do anything weird, dangerous, or immoral
Prepare your own trash bin, so you don't throw trash everywhere
Always respect the other hikers
If you have a camera, bring it
Other Attractions located around Kintamani area
Around the things to do in Kintamani, there's also the other attractions that you may visit after ding the hiking at Mount Batur. There are some of them like Lake Batur, Lake Penelokan, The Toya Bungkah Hotspring, and also Ulun Danu Batur temple.
So that's the total information about the Kintamani Volcano Bali Tour. Focus on your health condition and clear your mind to enjoy the greatness of Mount Batur in your next trip on this island. See you later !
Hiking in Mount Batur