India is a country with a lot of natural resources. The people of Indonesia are like blessed by how many kinds of meal they have. Thanks to their richness in vegetables and spices, they can make a lot different foods that very authentic and taste wonderful. You don't need to come to India for trying their foods, you can also visit the Indian restaurants in the city you live in, like best chinese restaurants in Surabaya.
But for now, we want to introduce you to some notable Indian restaurants in Jakarta. But, we're no telling about the restaurants that have colourful meals only. The restaurants we putted on the lsit are the ones that also have a fairly cheap price for a great taste of their foods. So, beside the best restaurants in Plaza Indonesia, here's the list of cheap Indian restaurants in Jakarta :
1. Kinara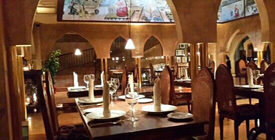 The first one that included in the list of cheap Indian restaurants in Jakarta is Kinara. This place looks as great as best restaurants in Garut, but it has more affordable foods though. Even though the price is not that high, the quality is still the best. Kinara located in the area of Kemang Raya street number 78B. Actually Kinara is a known place in that area, so it will not be hard to find it.
Kinara standing that area for about more than 10 years now, and people still coming to this place. The reason is, aside from its uniquely looking architecture, this restaurant has collections of amazing foods like Murgh Biryani Spicy Chicken which is the beautiful combination of rice and chicken meats. The spices are stick with the meats, making them so rich with flavor and it's one of many delicious Indian foods you can find out there.
Location : Kemang Raya street 78B
Average Price (for two) : Rp 250.000,-
2. Udupi Shree Krishna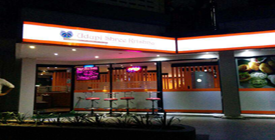 The next one is an Indian restaurant located in the area of entertainment, Kemang Jakarta. You can find one particular restaurant calld Udupi Shree Krisna. There's so many good reviews about this place. So you can expect a wonderful taste of foods when visiting the one and only, Udupi Shree Krishna in Kemayoran Jakarta.
From the outside, the place looks simple enough with its white building combined with orange line and the name shines brightly in the middle with the symbolization of two furs of a peacock. There's a menu that is must try in Udupi Shree Krishna, which is the Vegetable Manchoorian. Even though it consists of vegetables, but surprisingly there's taste of a meat inside.
Location : Kemayoran, Jakarta
Average Price : Rp150.000,-
3. The Royal Kitchen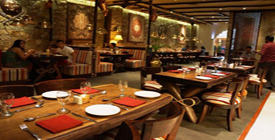 If you want to get a buffet set in a Indian resturant, then Royal Kitchen inside the Bellagio Mall of Kuningan Timur South Jakarta can give you that experience. The place is decorated beautifully with ornaments on the walls and also they use the simple form of tables and chairs with colorful colours to increase the customers appetite.
As said above, you can pick the buffet set which consists of some different kinds of meal. With the price no more than five hundred thousands rupiah, you can get a large collections of meal such as its popular Biryani Rice. Beside that rice, you can also get The Murgh Makhani which is known as butter chicken. They are super delicoous and very recommended.
Location : Bellagio Mall, Kuningan Timur, South Jakarta
Average Price : Rp250.000,-
4. Gokul Resto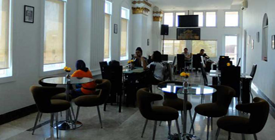 This place may looks very modern just like romantic garden restaurants in Jakarta.The buildinf and decoration really show modernization on every aspects. Even though eating here would be like eating inside an Italian or Eropean kind of restaurant, this Gokul Resto only serves Indian foods.
The thing is, the menu is quite complete. You can choose one or some from the list that shows you so many variants of foods. Starting from the appetizer till the dessert, all of them are great. If you are confuse because there's so many options for you, you can just pick the meal sets with less than hundred thousand rupiah. From it, you can get some foods at a time.
Location : Sawah Besar, Jakarta
Average Price : Rp100.000,-
5. Roti Prata Tamarind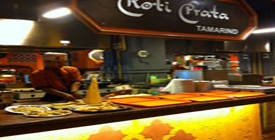 The next on tbe list of cheap Indian restaurants in Jakarta is Roti Prata Tamarind. Even though the name has a word Bread in it (Roti), but you can also get diffent meals beside bread in this particular restaurant that located in Kota Kasablanka.
But of course, the most recommended menu to try in this restaurant is surely the Prata Bread that you can get less than 50 thousand rupiahs. It has three different variants, the Prata bread with egg, cheese, and also meat. Beside it, you can also get some foods like Biryani Rice and Chicken Tika which also taste good.
Location : Kota Kasablanka 2nd floor
Average Price : Rp50.000,-
6. Taj Mahal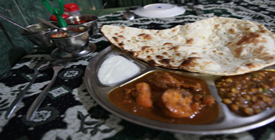 If you heard the name Taj Mahal, you could imagine that glorius building in India. It's a sign of love. If visiting Taj Mahal is maybe too far for you and your love one, than maybe you can try to come to the other Taj Mahal in Sawah Besar.
You can explore the world of India culinary with you love one. It makes you more happy because you don't need to pay some more money to get all their foods here. There's two meals thta very recommended to try, the Goat Biryani Rice and also its wonderful Chicken Tika Masala. 
Location : Samanhudi street, Sawah Besar, Jakarta
Average Price : Rp150.000,-
7. Taal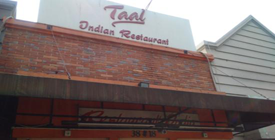 The next one inside the list of cheap Indian restaurants in Jakarta which also looks as greas as the other Jakarta restaurants with outdoor seating is the Taal. It's located inside Mall of Indonesia Jakarta. That's why, it's becoming a jewel in a very crowd area.
But  it's not too hard to find it because the place is actually already known by many. You can just ask someone and they wil easily show you the direction. There's a lot of menus that used a Paneer, which is a processed cheeese, very authentic, that usually used as subtitute foods to cow's meat.
Location : Mall of Indonesia, Jakarta
Average Price : Rp150.000,-
Of course the seven restaurants above are not enough to represent all the good ones. So we also include the other list of cheap Indian restaurants in Jakarta below :
Queen's Tandor
Little India
Hazara
Maroush
Queen's of India
Ganesha Ek Sanskriti
Koh E-Noor
Zanar Bar and Grill
Indian Delitz
So what do you think about the list of cheap Indian restaurants in Jakarta above? They are most likely to be visited especially during the end of the month when the budget is getting tighther. The restaurants are ready to help you with their amazing foods which such an affordable price.
A Little Peek of Kinara Restaurant
https://www.youtube.com/watch?v=WTNbIYJTHto