Hello again people. Meet us  again in AllIndonesiaTourism.com to talk some more about the good stuff that can be found in Jakarta city. We're gonna talk about restaurants again, after talking about Jakarta restaurants with outdoor seating. But this time, it's more special, because you're gonna take your love one to these restaurants that putted into the list that can be your best choice to spend the night.
Some people have their own preferences. Of course, the list of Instagram worthy restaurants in Jakarta in the previous article will be loved by everyone. But sometimes, people want something different and more special. The garden restaurants are usually be a great choice for them, especially if they want to make the dinner more special and romantic for special moments. So here you go, the complete list of the romantic garden restaurants in Jakarta :
1. Odysseia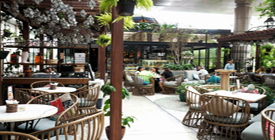 Also included in the previous article, we have Odysseia in the first location. There's always beautiful things in the city of Jakarta, beside things to do in Glodok Jakarta Indonesia, surprisingly most of them are located in like the busiest part of town. Like this one for example, you can find Odysseia in the area of Pacific Palace Mall SCBD, Jakarta.
The restaurant looks very leafy because on every corner, they putted vegetations that making the place more calm and cozy. Maybe because of them, the place is also feels more fresh than any other restaurant in the same area. For the food, you can try its signature which is Creamy chicken and Mushroom Pasta, a chicken that completed with additional stuff like wine and sauce.
Location : Pacific Palace Mall, SCBD
Price (for two) : Rp350.000,-
2. Three Buns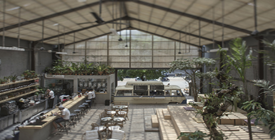 Next one is Three Buns. For you who want to know about its location, this green and wide restaurant is located in the area of Senopati Jakarta. It looks a bit like Odysseia, but it has much wider space, it's suitable for a place to gathering, but it also not bad for a romantic dinner. When you enter the place, you will feel the garden atmosphere all around the place. Green plantations everywhere and the roof also transparent, so the sun is becoming the lighting of this restaurant.
Usually, the place is mostly used for lunch by the workers who happen to work in Senopati area. But sometimes, especially during Saturday night, many couples will come here to have their romantic dinner, with the night sky as roof.
Location : Senopati, Jakarta
Price : Rp350.000,-
3. Omah Sendok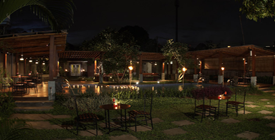 Omah Sendok is mostly known for its green area. And it's likely unbeatable by any other restaurant in Jakarta. This restaurant also located in the same area as the restaurant we already mentioned above, in Senopati. Omah Sendok, which is one of many authentic restaurants out there, use wood for its tables and seating. And it has two option, oudoor and indoor.
Most people of course, would prefer to eat outdoor because they can have more special view. The garden aspects then combined with the night view of Jakarta city can be one of the best thing ever to get when you eat. Also for the dish, the signature in this Omah Sendok restaurant is Bandeng Priyayi, which you can get for Rp47.000,-.
Location : Senopati, Jakarta
Price : Rp200.000,-
4. Awan Lounge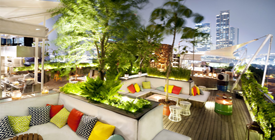 Aside from the beatiful things to do in Tanah Abang, which is widely known by Jakarta people, there's one other venue that anyone should try if they want to have a very romantic dinner with the best environment. It's Awan Lounge, a restauant that located on top of a building, giving the perfect night view for anyone who would visit it.
The owner also giving the green aspects by adding plantations that can make the place looks more refreshing on the tip of the restaurant. They also add one single medium tree on center of the table. It is a wonderful place to visiti, especially for the people who want to relax a bit in the stressful daily activities.
Location : Tanah Abang, Jakarta
Price : Rp350.000,-
5. Parc 19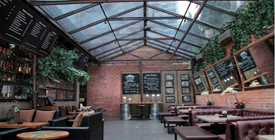 In the entertainment area of Kemang, which is very suitable location for having fun, there's one noticable restaurant called Parc 19. With the Paris concept of interior, the Parc 19 looks very cozy for the customers. It's also completed with green vegetations, putted on the pole and wooden stucture of the building.
Not only the environment, many people would recommend this place because each weekend, there will be a DJ who performing in this "garden". The name of Parc 19 is so famous, even many DJs from other countries are coming to the restaurant.
Location : Kemang, Jakarta
Price : Rp400.000,-
6. Twin House Coffe and Kitchen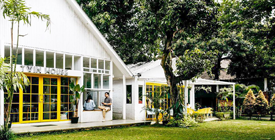 For the people who already bored with the usual restaurants that always have the same concepts everytime, the  Twin House Coffe and Kitchen is might be a great option for the. The place has two parts of building, first the main building where people usually eat indoor, and the garden.
The visitors would likely to eat in the garden section, because it's like more special. They can eat and accompanied by green environment of trees and grass. Eating inside would also better, because they have this vintage theme which feels really cozy. 
Location : South Cipete, Jakarta
Price : Rp 150.000,-
7. Sky Garden Cafe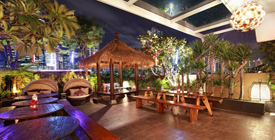 Aside from the things to do in Kemayoran, we want to visit one of the famous restaurants in the area of Setiabudi Jakarta, Sky Garden Cafe. It's located on the rooftop of a hotel named Hotel Lasuna. The restaurant offers the best view you can get and also well made cuisines.
From the menu, you can choose so many variants of food starting from American, Oriental to Indonesian cuisines. Coming here with your loved one is very recommended, especially the atmosphere around is really perfect for a romantic session.
Location : Hotel Lasuna 3A Floor, Setiabudi, Jakarta
Price : Rp200.000,-
Seven locations above are not enough for you? Don't worry, we got you. If anything bad happens like the place is full or maybe is not suitable for you enough, you can try these restaurants that you want to visit, the special one that is perfect for both of you.
Other Romantic Garden Restaurants in Jakarta
Casadina Kitchen and Bakery
SIKU Dharmawangsa
Historia Food and Bar
Warung HaloNiko
Smarapura Traditional and Resto
De Luciole Bistro
Gastromaquia
Sweet HUT PIK
PEPeNERO
So that's the romantic garden restaurants in Jakarta. So many choices of them inside this city alone. The couples would be glad to visit them, especially because they are really perfect to build the chemistry and atmosphere for them. One romantic dinner is always needed, to either make their love journey more colourful, or just having fun spend the night together.
Some say that proposing someone during a romantic dinner would be one of the best experiences that woman could get in their life. So gentlemen, be sure to give your love a good one, because it can be more and more meaningful to her.
Omah Sendok Jakarta