Hello again, meeting you in this beautiful Sunday morning to talk about our famous topic, the restaurants. In Jakarta, the restaurants are like having their own aura. And people really like it because they can have like so many options for going out either for dating with their partner or hanging out with their friends beside enjoying attractions like best place to do horseback riding Jakarta.
Each person of course has their own taste of a restaurant. Some like to eat indoor, which is pretty neat and comfortable with stable temperature, and the others like it otherwise. They like to eat out door where they can have the natural environment aspects like the wind and view of the city around them. Beside Instagram worthy restaurants in Jakarta, of course the restaurants that have those aspects are always great, like these Jakarta restaurants with outdoor seating that perfect for the people who want to enjoy their foods outside.
1. SKYE Bar and Restaurant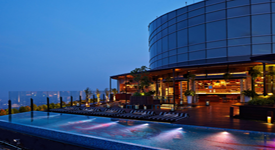 The first location is the SKYE Bar and Restaurant. You familiar with this one? We included this restaurant as one of many instagramable restaurants in the area of Jakarta city. And it's true. Located in the highest floor of BCA Tower making it looks more exclusive and fancy in the same time. Talking about the space, many poeple would usually pick the outdoor seats because they can see the view of Jakarta city from there.
Many will recommend to visit this awesome restaurant when the day's switching into the night. Many couples will come to this place in ordet to celebrate either their anniversary or other party with their love one. A romantic and gorgeous place to be, SKYE Bar and Restaurant is indeed very recommended. Surely one of the best venue beside things to do in Glodok Jakarta Indonesia.
Location : BCA Tower 56th floor
Price Range (per person) : Rp300.000,-
2. Jetski Cafe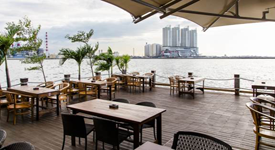 In Jakarta city, you may notice there are some beautiful beaches located around the town. Mutiara beach is one of them, and this beach there's one favorable place named Jetski Cafe. Not only enjoying a coffee or cake, in this venue you can also enjoying the seafoods that served with the best taste ever.
You can choose to have Wagyu Steak. The steak is like the highlight food on this Cafe. It's much better with Mushroom Sauce. It's very tender and easy to swallow. There's another thing to notice. Not only able to eat the cuisines, you can also rent a jetski here for a ride. But it's a little bit expensive though, so maybe you want to prepare your budget first.
Location : Pantai Mutiara street R number 57
Price Range (per person) : Rp175.000,-
3. JimBARan Lounge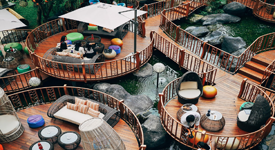 Talking about the best restaurants in Jakarta, we cannot walk away from a restaurant named JimBARan Loungue. With it's one of a kind design, many would feel amazed by how interesting it looks. Especially when you pick the outdoor seating, which is very much recommended to try than indoor seating.
For anyone who wants to try to come here, they can directly visit it in the area of Sudirman. Passing all those crowds, you can finally reach the Jakarta Midplaza. And then, you can have a Slow Cooked Braise which is very recommended by the people who already visited JImBARan before.
Location : Ayana Midplaza Lobby Level Kav. 10-11
Price Range (per person) : Rp225.000,-
4. Ocha and Bella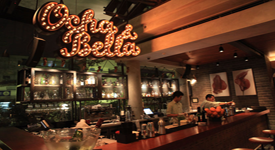 Aside from Jakarta late night dining spots, there's one thing that needed to be mentioned. Inside the Hotel Morrisey of Menteng, Jakarta, there's one restaurant called Ocha and Bella. The restaurant located just in the lobby side. Even though mainly it has many indoor seating, but there's some of the seats located outside, for the people who want to feel the fresh air. On the inside, you may notice the huge sine of Ocha and Bella, and some bartenders who ready to serve you.
The place is usually used as a place for hangout by teenagers. A crowd was seen gathering on the restaurant during weekend, especially Friday night. And about the food, the recommended one is the pizza. You can choose many kinds of pizza here, like Affumicata Pizza. The portion is a little bigger though, make sure you are capable to eat that before ordering.
Location : KH. Wahid Hasyim number 70
Price Range (per person) : Rp300.000,-
5. Yesterday Backyard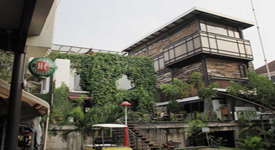 Yesterday backyard, is actually a  backyard. Feel the sentaion of eating on this part of a home, but with more beautiful decoration only in this outdoor cafe. The situation around is pretty calm, thanks to green vegetations that making the place more comfortable. Many clasic aspects can be found within, like old vespa and posters, throwing you back to the old days.
This cafe is also actually the one that has the best live music of all cafes in Jakarta. That's why the place is always crowded, because there's some portions of music enthusiast from total customers. About the foods, the most known one is Dori Matah. It's combining the Western and Indonesian taste in the same time, creating a unique flavored meal.
Location : Pangeran Antasari number 36
Price Range (per person) : Rp125.000,-
6. Cloud Lounge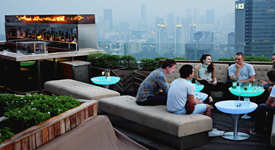 Welcome to the best lounge in Jakarta city (based on reviews). Thanks to the good reputation it has, many customers are coming not only from part of town, but also from other countries like America, Japan, and France. People would usually come to this place to feel the atmosphere.
Located up high on the 46th floor, it has one benefits, which is the ability to see beautiful view of Jakarta city clearly. The best seats are of course on the outside, facing the bar. Or you can pick the tables just beside the glass fence to see full view of Jakarta city. 
Location : Altitude The Plaza Office Tower 46th and 49th floor
Price Range (per person) : Rp325.000,-
7. Talaga Sampireun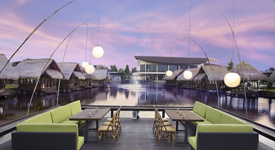 Beside the natural places preserved like best islands in thousand islands Jakarta, you can also find the same aspects on a restaurant in Talaga Sampiren. This restaurant can be said as the best natural restaurant you can get in such a busy town like Jakarta.
The seating that placed on the center of the "lake" are always be a favorite. Visiting this Sundanese restaurant wouldn't be a bad idea if you're taking your whole family. The place is also suitable for people who want to have  a very romantic candle light dinner.  One of the best Jakarta restaurants with outdoor seating.
Location : Rp100.000,-
Price Range (per person) : Lingkar Luar Barat street, Cengkareng
Other Good Jakarta Restaurants with Outdoor Seating
Of course the seven locations above are not enough to represent the number of Jakarta restaurants with outdoor seating and the best looks. So here we want to provide you with more options of restaurants that you can visit.
Omah Sendok
Mamma Rosy
Tanamara Coffe Roastery
Giyanti
Bebek Bengil
The Edge
Odysseia
Hause Rooftop
Twin House Coffe and Kitchen
That's the end of our topic for today, the Jakarta restaurants with outdoor seating for people who really love outdoor. These days, the restaurants that have this outdoor aspect is getting more popular, even in a short time. People really love the idea of eating outside the restaurant inner space because of many reasons.
Some of them areto be able to feel directly the city nuances and also be able to enjoy their meals in a very large space. Especially during the good wather, people would reather eat on the outdoor seating because they can have so many things they couldn't achieve inside.
Peak at JimBARan Lounge