Hello again, traveler! Meeting you again in this beautiful morning to talk some more about the Indonesian culinary. Yes, our journey in the world of meals can not end, especially in the country like Indonesia where you can find almost infinite number of them. After talking about the topic of previous article which is cheap Indian restaurants in Jakarta, we want to take you to a city located in the Central Java province called Solo.
Solo is also having some wonderful restaurants that you can visit, they also look as great as best chinese restaurants in Surabaya. In thic city, there's some popular restaurants that famous for their traditional foods like Pecel or Timlo. But, beside the traditional foods, you can also find the modern ones inside the instagrammable restaurants that also contained on the list below. So, here's the best restaurants in Solo Indonesia :
1. Marakez Cafe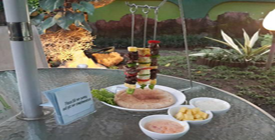 The first restaurant that we included as one of the best restaurants in Solo Indonesia is the Marakez Cafe. All of the cafes on the list, maybe this restaurant is the most modern one. This restaurant has some foods from Middle East like Nandhi rice, Bukhari rice, a steak called Shish Touk, and the others. Shish Touk is actually the most popular ofood in this Marakaz Cafe.
If you're not a fan of Middle Eastern cuisines, you can also get other ones like fried chicken, some kinds of sandwhich, and also the carbonara spaghetti. The portion of the foods is basically sufficient, not to much or less. With the oldiest styile it gives, the customers who're having their meals can feel comfortable in the restaurant.
Location : Untung Suropati street 76
Average Price (for two) : Rp120.000,-
2. Warung Orange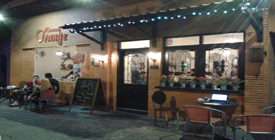 The next restaurant in Solo that also come with many uniqueness such as best restaurants in Plaza Indonesia is Warung Orange. It's not hard to notice this restaurant that located in the Kapten Mulyadi street of Pasar Kliwon area because of its bright orange colour. From the outside, you can see that this restaurant has some Italian accents on it.
Even though the place is not that large, there's some instagrammable spots that you can use as your background photos. And talking about the menu, in Warung Orang there's three kinds of meal, American, Italian, and Mexican. You should try their signature dishes, the Chili Con Come and also one popular italian foods, Chicken Cannelloni.
Location : Kapten Mulyadi street, Pasar Kliwon
Average Price : Rp150.000,-
3. The Halal Bro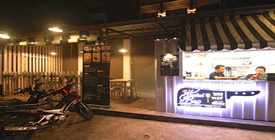 Moving from there we're going to a restaurant named Halal Bro. Not all restaurants are having halal foods for muslims. With a theme of the New York urban city, this Halal Bro can give you interesting varieties of foods that also halal of course.
This restaurant is like a brother from a known restaurant called Halal Guys, the real one in New York city. So what you can have in this place? This restaurant sells many types of sandwich like Tortilla Sandwich, and many more. You can also order the other stuff like Lasagna, Burger, and also one special meal called Gyro.
Location : Baturoni, Pasar Kliwon
Average Price : Rp100.000,-
4. EATernity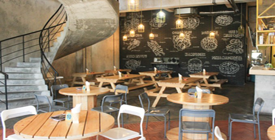 For anyone who wants to visit a restaurant that has a different yet unusual and unique visuals, you can come to the EATernity restaurant that located in Ir.Soekarno street number 27. In here, the decorations used are indeed interesting like bunch of tires hanged on the wall, and very classic windows.
The place is wide enough for parties. So, if you want to seek the best place for hangout around the area of Solo Baru, maybe this place is suitable for you. The menu is very random, you can choose from American to Indonesian meals. Even though the menu is random enough, the foods here are totally delicious.
Location : Ir. Soekarno street 27
Average Price : Rp120.000,-
5. Waroeng Pecel Solo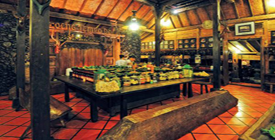 Beside the best restaurants in Garut that usually sell International types of foods like American, Italian, or European ones, there's also a restaurant that brought up the most loved traditional meal of Solo, called Waroeng Pecel Solo.
Bringing a concept of a warung or food stall, the restaurant gives a special menu of Pecel Ndeso to its customers. The Pecel Ndeso served by using a red rice instead of white. With such an interesting taste, this restaurants is always being a recommendation as one of the best restaurants in Solo Indonesia.
Location : Dr. Soepomo street 55
Average Price : Rp50.000,-
6. Timlo Sastro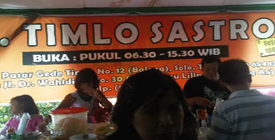 In the area of Pasar Gede, there's a small restaurant called Timlo Sastro. Standing on the street of Kapten Mulyadi, this restaurant has a very interesting menu, a Timlo. For you who don't know, Timlo is also included as one of many traditional foods of central java.
Timlo is a portion of liver gizzard, shredded egs, and a sausage that added with a clear soup. Even though it looks similar with bakso, it's way different. The taste is very good, and also there's a live music sometimes during a day. 
Location : Kapten Mulyadi street, Pasar Gede
Average Price : Rp90.000,-
7. Sate Buntel Mbok Galak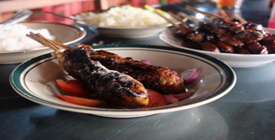 And the next one included as the best restaurants in Solo Indonesia is Sate Buntel Mbok Galak. Sate buntel is a type of meal that you can't find anywhere else, even Instagram worthy restaurants in Jakarta. It's a special food of Solo and the best taste you can get is only in this very city.
Satu Buntel  made out of goat meats, chopped, and then added with some spices to make it more tasteful. All the ingredients then covered or Dibuntel with goat fat. Usually, it'll be served with sweet soy sauce, slices of chilli, onion, and tomato.
Location : Mangun Sarkoro street 122
Average Price : Rp150.000,-
Exploring the Solo city is not enough if you only visit those seven places mentioned above. That's why we have the other list of best restaurants in Solo Indonesia if you want to have the full experience of Solo culinary.
Hikaru Dining
Rm Adem Ayem
Rumah Makan Kusuma Sari
Serabi Notsuman
Soto Gading
Bebek Goreng H. Slamet
Tiga Tjeret Cafe
8.Bengawan Solo restaurant
Bakso Beodjangan Cempaka Putih
So that's the list of the best restaurants in Solo Indonesia. Solo city has much potential to be a city that has a wonderful sets of traditional foods. Thanksfully there's some restaurants that still bringing the traditional menu in for the customers. It would be a great experience to visit them.
The Wonderful Sate Buntel Mbok Galak