Beside having a journey to the most interesting places include in things to do in Garut, in the form of waterfalls, lakes, beaches, and other natural attractions, you can also try to do anothe type of vacation, which is a culinary journey. Most of you already know that Indonesia has a very authencit can unique foods. Beside loved by locals, those meals are also being a favorite the foreign tourists who firstly try them.
In this article, we're not talking about the natural attractions like you can find inside the things to do in Cengkareng, but we want to introduce you to some best restaurants that you can find on the western part of Java island, which is the West Java province. In this province, there's an area called Garut, a location that pretty famous for its kinds of meal. So, here it is, the best restaurants in Garut :
1. Asep Strawberry Cimaragas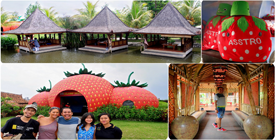 The first restaurant that worth visiting, which also quite popular nowaday is The Asep Strawberry Cimaragas Restaurant. Its location is in the street of Cimaragas number 95 in the area of Cilawu, Garut. Yes, there's a word Strawberry on its name. So what does it mean? Is this restaurant use any Strawberry aspect on the foods? Or is there anything else that you can do here like picking strawberries?
There's a lof of Sundanese meals that you can get in here. You can choose some of them available. So, always be prepare before visiting this restaurant, because all choices of food will spoil you. Also, beside having a large collections of menu, this Asep Strawberry Cimaragas also has a very calming view to offer, especially because it's located on the high land where the weather is a lot cooler. Clearly one beautiful spot as great as things to do in Cimaja.
Location : Cimaragas street, number 95, Cilawu
Average Price (for two) : Rp100.000,-
2. Sari Cobek Restaurant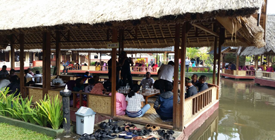 The next restaurant you can find as one of the best restaurants in Garut is Sari Cobek Restaurant. Unlike the other restaurants in this area, Sari Cobek built a very calming environment with all the Sundanese decorations. There's even a small lake located on the center of this location to create this village atmosphere to become a point plus of this restaurant.
With this very Sundanese concept of a restaurant, it'll fell like home. Especiallt because the buildings in there were built out of bamboo and palm leaves for the roof. And if talking about the menus, Seri Cobek Restaurant has some special ones like Nasi Timbel, Nasi Boboko, a complete set of Nasi Bakar, Fried Fish, and the other foods that completed with a very unique sambal cobek.
Location : Leles, Cangkuang
Average Price (for two) : Rp200.000,-
3. Dapur Setia Kawan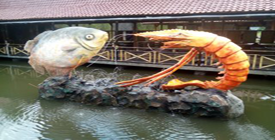 Aside from there, we also have this Dapur Setia Kawan that located in Cipanas Baru street number 45 in Pananjung area of Garut. Different than Sari Cobek above, this Dapur Setia Kawan has more modern arhitecture. But all that modernicity is combined with the best rice fields view ever. So, when eating meals in there, you can see clearly those beautiful view of mountains and rice fields.
This restaurant is also not located far from Cipanas attraction. So, if you feel tired during your journey to or from Cipanas, then resting in this restaurant could be the best option you have. The place is wide enough for group tour. So, it's not a problem if you have some friends with you. Dapur Setia Kawan has two floors for customers. Maybe the view is greater on the second floore. Try it.
Location : Cipanas Baru 45, Pananjung
Average Price (for two) : Rp150.000,-
4. Pujasega Family Restaurant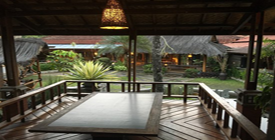 In Tarogong area of Garut, there's a famous family restaurant called Pujasega Family Restaurant. For you who want to visit it, it's located in the street of Otto Iskandardinata number 64, Tarogong. This place has several specialities of course, like its best Sundanese meals.
The location os pretty unique though. They combined both Sundanese model of architecture without foreting all the modern aspects. So, it feels so much comfortable when eating here. You can choose the favorable meals in here like Nasi Goreng, Gulai Lutut, and also roasted chicken. Clearly as great as things to do in Cimahi.
Location : Otto Iskandardinata 64, Tarogong
Average Price (for two) : Rp150.000,-
5. Cibiuk Restaurant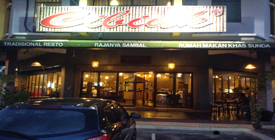 Like you may know already that Indonesia has a large collections of sambal. From Sabang to Merauke, there's a lot kinds of Sambal. And in the area of West Java, there's a Cibiuk Sambal which is pretty famous there.
If you want to try one, then Cibiuk Restaurant may be the best restaurant for you. Beside having a special Cibiuk Sambal for you, this restaurant also has a playground for kids. And the menus in here can spoil you, starting from the Ayam Bumbu, and also the Es Kopyor, which has coconut water and durian flesh combined.
Location : Cikuray 23. Regol
Average Price (for two) : Rp170.000,-
6. Graha Sindang Reret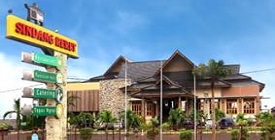 And for a restaurant that is suitable for large groups, there's Graha Sindang Reret that located in the Patriot stret number 13 and 14 Sukagalih area of Garut. The building is quite large and can hold up to hundreds people inside.
So, you don't to worry if you bring a lot of people will you. The point plus of this place beside its large building is the kinds of meals that you can choose. Of course it has some delicious Sundanese meals, but the customers can also choice different kinds of foods that made out of beef and fish meat. 
Location : Patriot street 13-14, Sukagalih
Average Price (for two) : Rp150.000,-
7. Jemani Resto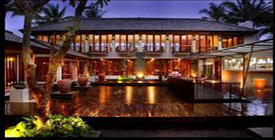 And then for the seventh location, we have this Jemani Resto, which looks as good as the other restaurants in things to do in Kuningan West Java. Even though the place looks very fancy, the price of the meals is surprisingly very affordable. The Jemanis Restaurant not only serves the Sundanese meals, but also Asian and Indonesian.
So, with the large choices of meal, the price of comfort and the taste of meals is very worth it. The foods that being favorite ones by customers are Gurame Bumbu  Berontak and a special Tahu Jemani. Jemanis Restaurant also offers beautiful spots for a romantic candle light dinner.
Location : Cipanas highway 88, Cimanganten
Average Price (for two) : Rp170.000,-
There's also some best restaurants in Garut that contained on the list below :
Mie Bakso Parahyangan
Sate Pa'Nur
Racik Desa Restaurant
Saung Pananjung Restaurant
Soto Ahri
Mulih Ka Desa
Seruling Bambu Restaurant
Senggol Garut Restaurant
Ceplak Market Garut
So that's the full information about the best restaurants in Garut, West Java. With the difference kinds of atmosphere, you can choose which is the best one between them based on your own interest. Have fun !
Inside Cibiuk Restaurant