If you seeking and thinking, what are the attractions that can be found in West Java, the snawer is basically the natural attractions. Having this balance of modern and natural ecosystem, West Javais indeed the best option for the people who seek natural attractions in the big city like Jakarta or its surroundings. In West Java, there's this place called things to do in Ciamis, that of course can't be found in Jakarta.
Beside having it, West Java has several good places for you to go, like things to do in Cianjur and the thing we want to talk about, like this location called Kuningan. The Kuningan in here and Kuningan in the Jakarta is very different. So what is the difference between them? The natural attractions.There are so many in here in Kuningan West Java, like the locations below :
1. Curug Putri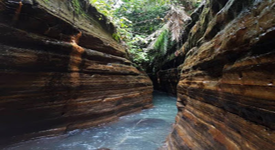 One of the best things that can be found in the area of Kuningan West Java is of course the waterfalls. In here, there are some spectacular ones that exist, especially this one waterfall, called Curu Putri. As you can see there, it has the beautiful asects like the attractions in other area like the things to do in Subang.
Well, maybe it's a little  bit hard to go in here, becuase the road ain't that perserve very well. Also because of that reason, so many people will think twice to visit the place. But, sadly they don't know what awaits them. The Curug Putri, is waiting for them beautifully.
Location : Cisantana, Cigugur
Tips : Don't bring foods, because there are some stalls in here
2. Remis Lake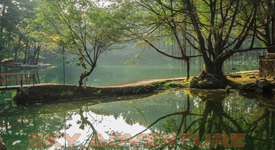 And the next location is also located not far from the location of Curug Putri, a great location that has the name of Remis Lake. This Remis Lake is another great choice for the people who want to sped their vacation in the Kuningan West Java.
This Remis lake is very recommended by the people of Kuningan as the best natural place. The water here is so clear, mirror like water that filled with thousand of Remis, shells that live in a freshwater like this. There are also some services in here like mosque, and also parking lot which will cost you for about Rp2.000,-
Location : Kaduela, Pasawahan
Tips : Spare some money to pay parking ticket
3. Bangkong Waterfall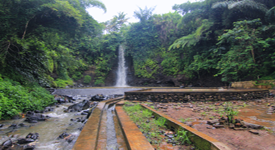 Another waterfall have the name of Bangkong Waterfal. It's the natural thing that you can't find in some locations like things to do in Braga Bandung. This Bangkong waterfall looks great because of its surrounding, which is consists of green vegetations.
Not so many people know this place yet, because it's a bit hidden beneath a small forest in the area of Kertawirama. Also, there's another myth here. In the waterfall, there's a frog with a big size, which believed to be incarnation of holy monk.
Location : Kertawirama, Nusaherang
Tips : With its myth, it's adviced to be always careful
4. Linggarjati Tourism Park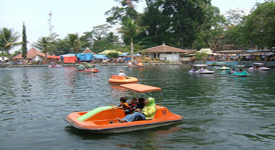 The next thing is the place that fit for family vacation. Like in the things to do in Garut, there are also some of the great edutainment spots in Kuningan West Java area, that can be used and also famous for its family friendly rides.
Like this one for example, a place which has the name of Linggarjati Tourism Park. Well, before entering the place, you need to pay the entrance ticket of Rp10.000,-. Inside, there are several kid rides. Some of them as have their own little cost, that will charge you for about Rp5.000,- per ride. It's very affodable, right?
Location : Linggasana, Cilimus
Tips : Come here early in the weekend
5. Darma Dam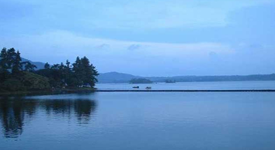 Beside the lakes, the waterfalls and other natural attractions, there's also one place here that can be considered as the best place for couple or the newly married couple called Darma Dam. Een though it's basically a dam, but it has many benefits to be the tourism spots
You can see the sunset in here clearly, plus, there are some vendors in here that will cost you some money to get some snacks or drink. About the entrance ticket, it's totally free to visit here. But, the thing is, you shiuld be careful at anytime, to prevent bad things to happen
Location : Kuningan, West Java
Tips : Be careful at anytime
6. Cibulan Tourism Park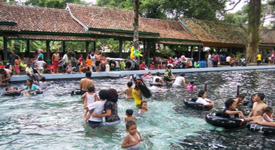 After visiting the natural built places, you can also visit this location, which is considered as one best location to have some times to bonding your family relationship, called Cibulan Tourism Park. Well, beside being a fun place, the Cibulan Tourism Park also has some myths.
With the entrance ticket of Rp15.000,-, you can see real myths in there. First, there are these big fishes that called as the God Fish or Tor Douronensis which considered sacred by the people. And second, there are some other seven water sources. Each of them has unique benefit, that also believed to be sacred spots in here. 
Location : Kuningan-Cirebon street
Tips : Be sure to always be careful when visitting those sacred spots. Don't make a mess
7. Sangkanurip Hot Spring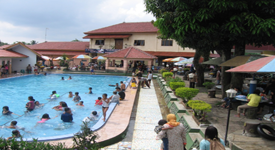 Ah, and then the time for relaxing is finally comes. In Kuningan West Java, there's this hot spring located in Cigandamekar area, called Sangkanurip Hot Spring. Well, it's a very good timeo releasing your body from stress and making it more healthy.
With paying only for Rp9.000,-, you can get all the benefits with the easiest way possible. Even thoush the water itself is warm and good, the place is decorated with some rides that can be used by the kids. It's totally a good place to visit.
Location : Sangkanhurip, Cigandamekar
Tips : Be sure to visit the place during a fine weather
Aside from that locations, we also provide the small list as usual to provide some more interesting places to visit. There are nine of them in total, that of course included in the things to do in Kuningan West Java below :
Cilengkrang Kuningan
Kuningan Conservation Forest
Keramat Darmaloka
Cicerem Kuningan Lake
Salsabila Park
Ciremal Mountain
Sitonjul Villages
Subang Hot Spring
Sangariang Swimming Pool
So, what do you think about West Java after seeing those spectacular places? Wonderful isn't it? Wes Java is serving as the best and comfortable province to find the natural attractions that hidden within. Because of that, taking a holiday in the province of West Java one of the must things to do in Indonesia.