In Indonesia, you should try so many things. The things like visiting the cultural places or attractions,enjoying wonderful cuisines of Indonesia, adventuring together in exotic islands like Lombok or Komodo island, and also hiking in several popular mountains. In the area of East Java, you can find some of them, including this Bromo Tengger Semertu National Park that has some things to do in Mount Bromo for anyone who wants to explore it.
To explore the mountain, you'll need a Bromo Tengger Semeru National Park Guide first, so you won't get lost in there. We will help you with the important information about it, so you can enjoy your trip with fully prepared in the first place. Like the other mountain inside the Mount Merapi, this National Park is always having spectacular things for you. So, here it is the Bromo Tengger Semeru National Park guide for you :
The Bromo Tengger Semeru National Park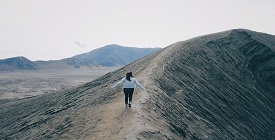 Before talking about the tips and tricks to do hiking in the mountain, we should know about the general information about the national park first. So, this venu called Bromo Tengger National Park is actually located in the East Java province, in Lumajang city to be exact. It was firstly built back in 1982 by the government.
Before being a National Park like today, this Bromo mountain with its things to do in Lamongan was actually a land that used for conservation. Inside the area, there's some species of plant and animal. The forest was also used as a conservation forest and production forest in the same time. Seeing the potential of this location, the Congress of World National Park inaugurated Bromo Tengger Semeru as a National Park during a converence in Denpasar Bali, October 14th 1982. And after some thoughts about the environment, the Indonesian government decided to make this areas as a National Park and helped to improved it for some years.
Like we mentioned on the information above. This Bromo Tengger Semeru National Park has a lot of things contained within. In here, you can see some plants like edelweis flower, pine trees, Jamuju flowers, dozens of orchid, and also rare grass. Beside rich of flora, the location also has some collections of fauna like deers, leopards, eagles, and the long tailed monkeys.
Where is it ?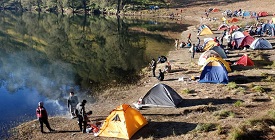 The location of this National park which is included as one of the best East Java Indonesia attractions is near the area of Lumajang, East Java. It's actually located inside three different areas, Pasuruan, Probolinggo, Lumajang, and also Malang. But, the nearest location to reach this National Park is in the city of Probolinggo.
It has a very cold temperature, especially during the morning and night time. So, a jacket is a must thing to war when you try to hike the mountain. Also, exploring the location during night time is less recommended, because it's very dangerous and very risky. So, when the sun goes down, it's better to set a camp for a while.
All The Things That Hikers Should Know
Beside all the things inside things to do in Mount Pancar Bogor, we'll tell you some great information inside the Bromo Tengger Semeru National Park guide. There's several tips to in the end of the road. Let's start with the check in time.
Check in Time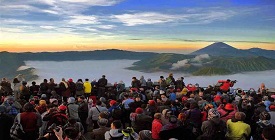 The first thing that is very important is doing check in. For doing it, you can do both on the spot or by booking it online. It's recommended to do an online booking first, because the administration will be a lot easier this way. Before doing the registration, there's some things that you need to know first. You should upload the proof of payment after succesfully transfered for the administration,
It should be done 1 X 24 hours. If not, you're ticket to Bromo Tengger Semertu National Park will be gone. And after doing a registration process, you can do check in to Ranu Pani Resort Office starting from 8 o clock in the morning until 4 pm. Then, for the check out time, it's started from 8 am in the morning to 6 pm. Remember, you should obey the rules when visiting the mountain. You should know the time to get in and get out from the area, because there's line of people waiting to enter.
Announcement
Also, you should hear about the announcement that's given in several occasions. These announcements are very important, especially for the tourists who are enjoying the venue. Even though the place looks really nice, you shouldn't miss the announcement to get out from the place. There's maybe an accident or dangerous thing happening like a tiger wondering around the National Park nar the tourists camp year ago.
The Quota
And one thing you should remember when visiting this park is the quota. In this Bromo Tengger Semeru National Park guide, we also want to tell you about the maximum amount of tourists that can enter the place. In a day, the maximum is 600 persons. And they'll go to to the national park via one way called Ranu Pani, there's no other way. So, if you really want to visit it, you can grab your ticket as fast as you can. And hopefully, you still far away from that quota limit.
Registration
Also, in this Bromo Tengger Semeru National Park guide, we also want to tell you some registration process. The booking can be done via online or directly. Anyone can do it, either locals or foreigners. You can access the form in the Bromo Tengger Semeru National Park official site. Usually, the registration is always open 3 months before the opening. The confirmation should arrive at least 3 days after registration process is done. The payment and confirmation should be done maximum one day after registration online. If not, you're ticket is gone.
Information about the Fees
There's a different free for local and foreig hikers. For locals, the fee is about Rp17.500 per day per person. It consists of the entrance ticket, asurance, and also permission to camp. For the foreigners, the price is different. It's Rp210.000,- per day and per person. The payment can be done via online too.
Restrictions
There's of course some restrictions in this area. Anyone who disrepect it will get a punishment or sanction. In this national park you can't abuse animals, picking rare flowers, destroying environment, doing immoral actions, doing any activity that can lead to forest fire, bringing musical instrument, having detergent or stuff that can destroy environment, doing vandalism, riding bycile or motorcyle during hiking, littering, making a new trek and erase the old treks, build anything new, bringing drugs, bringing explosives, and doing illegal hiking.
Sanctions
Well, the sanctions are quite tough. There's a lot of national constitutions that can be used to punish anybody who is against the rules and restrictions.
So that's the article about the Bromo Tengger Semeru National Park guide. Hopefully this information can help you during your trip to this special national park.