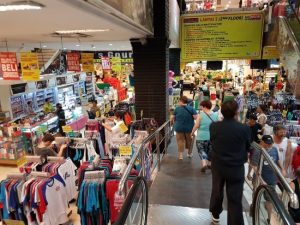 Hardy's Sanur is the famous department store in Sanur. Everybody from locals to foreigners loves to shop here. Hardy's Sanur has the concept of one stop shopping. You can get almost everything here. The store offers all kind of goods you can imagine, i.e. from groceries to souvenirs. That is certainly one of good reasons to shop at Hardy's Sanur.
There are hundreds local and imported goods displayed at every corner of the store. If by chance you need something to relieve your headache, you can even buy over the counter medicine at Hardy's Sanur. In addition, you can drop by to taste its delicious gelato as well. Have a plan to host a little party? Bring your wallet to Hardy's Sanur to buy snacks, liquor and wine.
Hardy's Sanur at a glance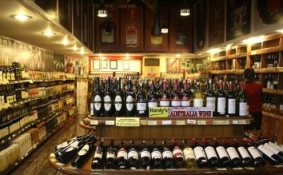 Hardy's obviously has been the landmark of Sanur. It is worth visiting while you are walking around in Sanur. Hardy's Sanur has two floors.
In the first floor there are supermarket, cloths, swimming dresses and DVD shop. The supermarket is great. You can find various fresh items such as fruits, vegetables, seafood, meats and breads. Still in the first floor, there is also a nice and cozy cafe.
The second floor is more amazing. There are lots of souvenir options besides cloths such as woodcarvings, bamboo handicrafts, beach sarongs, and an assortment of Balinese paintings
How to get there
Hardy's Sanur is located at Danau Tamblingan Street, No. 136, Sanur, Denpasar, Bali. Opening hours is 8 am – 10 pm.
Why you should stop by
There are inarguably reasons to shop at Hardy's Sanur.
1. Convenience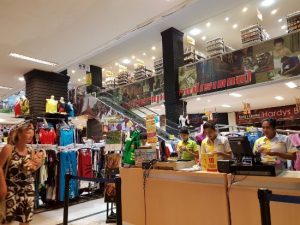 As modern market, Hardy's Sanur has fixed prices though some might say it is relatively a bit more expensive than to some other places. Thus you do not need to haggle or worry about scam or someone is cheating on you.
Hardy's Sanur is probably the only place which delivers all variety of Bali's souvenirs. Even if you don't buy here, it won't hurt you to get familiar with Bali's handicrafts and souvenirs. Another plus point is there is free shuttle from some hotels in Sanur to this store.
2. Quality goods
Hardy's Sanur is a good place to go to get fruits and food. Take time to taste its apple pie. You will love it. Hardy's Sanur is the right place to buy liquor as well. Don't take a risk to buy it at stalls. Fake liquors do exist. Anyway, it's good for you to know things to be careful of in Bali.
3. A good bookstore and office supplies
Hardy's Sanur has one of the best bookstores in Bali. You can find lots of Bali guidebooks and certainly a wide selection of bestsellers, from quick airplane reads to quality literature. It also has an excellent children and young adult section too.
Upstairs Hardy's Sanur sells various office supplies. Hence you can stay creative during your time in Bali. Isn't it awesome?
4. Plenty of variety
Hardy's Sanur has plenty of variety for those who do not want the helter skelter of the market stalls. Hardy's Sanur has a supermarket, food, cakes, cafe, bottle shop, clothes and souvenirs. It is definitely well worth a look and a walk around. Visiting Hardy's Sanur is surely one of mandatory things to do in Sanur Bali.
5. Price Comparison
Hardy's Sanur is a good place to get an idea of the price of souvenirs which you can then bargain for along the main road. Most of Hardy's souvenirs are priced more than the street stores but that is to be expected. Hardy's prices is your benchmark to get the best price you can afford.
6. Safe
Hardy's Sanur has a vast collection of goods. They are well stocked and a fascinating range. The most important thing is Hardy's Sanur is a non threatening and convenient shopping center with cheap prices albeit not as cheap as in the smaller shops.
The rumors
Rumors were spread about the closure of the Hardy's after it was acquired. The owner, Gede Agus Hardiawan, sold Hardy's to PT. Arta Sedana Retailindo due to bankruptcy. But the fact is, based on media report, 4 of the 9 Hardy's outlets are still operating. One of them is Hardy's Sanur.
The Commercial Court in Surabaya in 2017 decided PT. Hardys Retailindo, owned by Gede Agus Hardiawan, was bankrupt. In an interview with the media, Mr. Gede admitted that there were several causes of Hardy's bankruptcy.
First, Hardy's was bankrupt because it could not pay its debts totaling Rp 2.3 trillion. Of the Rp 2.3 trillion, Rp 40 billion is tax debt. To complete the payment to the creditors, Mr. Gede admitted that he sold Hardy's assets with the help of a team of curators appointed by the Commercial Court. The value of Hardy's assets as collateral is estimated at Rp 4.1 trillion.
Secondly, Hardy's was bankrupt because the purchasing power of the people fell which was further aggravated by the expansion of minimarket and the development of e-commerce. The rapid and aggressive penetration of minimarket, even to the rural areas, gave birth to fierce competition. People seem to prefer the minimarket because it is close and has various goods. This slowly eroded Hardy's sales.
In addition, Hardy's was late in anticipating the changing of times, i.e. the trend of e-commerce. With the strong growth of the online business, Mr. Gede said that conventional retail business would surely collapse.
Third, Hardy's was bankrupt because of the ambition to expand its business. Hardy's aggressively built its outlets in various regions of Bali. This strategy was implemented to pursue Hardy's IPO target in 2020. Almost 70 percent of the financing for expansion came from debt. Unexpectedly, the global economy experienced a slowdown which ultimately affected retail business. Sales dropped, production costs soared and competition got harder. All contributed to the recipe of disaster. At the end of the day, Hardy's had no sufficient cash flow to pay its debt.
However, Hardy's Sanur is still in business. You have plenty reasons to shop at Hardy's Sanur. Hopefully Hardy's Sanur will be there for the rest of the time.