The thing that you should find in Indonesia, beside the natural attractions or the other unique buildings in Indoneisa is the National Park of Indonesia. In the country, you can find some popular national parks located from the easten part to the western part of Indonesia. Each of them has their own unique identity and focus, and of course they look beautiful, just like things to do in Way Kambas National Park.
One example of them is this National Park called Tanjung Puting. This National Park is one of many interesting attractions that you can find in the area of Central Kalimantan province, If you don't know where is the island of Kalimantan, it's only on the north side of Java island. The Central Kalimantan has a central city called Palangkaraya. And also in the province, you can find the Tanjung Puting National Park and other venues that as great as things to do in Komodo National Park included in the things to do in Tanjung Puting National Park.
1. Tanjung Puting National Park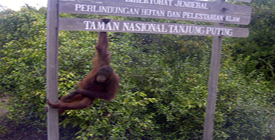 The first location that we're gonna talk about first before explain to you further about the other locations located around this location, which looks as beautiful as things to do in Bontang, is Tanjung Puting National Park, In the first place, this location was a conservation park, built in 1936 by the government. And then, it was improved to be a National Park in 1984.
The Tanjung Puting National Park is rehabilitation center for many Orangutans in the area of Kalimantan island. So, you may notice some of them hanging around the location greeting the coming tourists. They are very friendly though, the tourists are just like friends to them. Beside Oragutans, this National Park also conserves deers, bears, red monkeys, and wild cats. To enter the place, you only need to pay for about Rp2.500,-.
Location : West Waringin, Central Kalimantan
Tips : Visiting this National Park during June til September is very recommended
2. Kumkum Park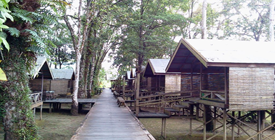 The next place which is also a park is Kumkum Park. KumKum Park is located on the city center of Central Kalimantan, which is Palangkaraya city. It's just about 5km from town center. That's why, the place is very crowded with many visitores, even in weekdays. The Kumkum Park also located near the icon of Palangkaraya city, Kahayan bridge.
Like Tanjung Puting National Park above, Kumkum Park is like a little zoo that filled with so many kinds of animal. So, in this place you can see some animals like bears, crocodiles, enggang bird, and also monkeys. There's also some supporting facilities like free wifi, home theater, live music, and also some food stalls. To enter this zoo, you only need to pay for about Rp2.500,-.
Location : Pahandut Seberang, Pahandut
Tips : You can come to Kumkum Park from 8 am to 5 pm
3. Sebangau National Park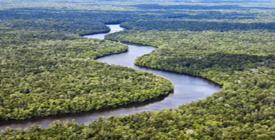 The next location after Kumkum Park is Sebangau National Park. From the Riwut River of Palangkaraya, the time required to visit this attraction is about 20 minutes. In the forest of this Sebangau National Park, there live about 9.000 populations of Orangutans. With its wide of 568 thousand hectares, they can take more than that number.
Beside having thousand of Orangutans, this Sebangau National Park has about 808 species of plant, 15 species of mammals, 182 species of bird, and also 54 species of snake. Because of how riche the place is, the price to enter it is somewhat expensive. There's some packages that you can choose though, with the cheapest price of  Rp500.000,-.
Location : Palangkaraya, Central Kalimantan
Tips : Because of there's some options of package, please choose wisely based on your interest and budget.
4. Bukit Raya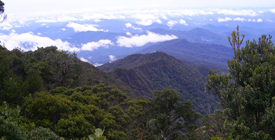 And then there's Bukit Raya that looks as great as things to do in Tarakan. The Bukit Raya attraction spot is located in the border between West Kalimantan and Central Kalimantan. This area has the hidrology function for basically all area in Kalimantan. There's about 817 species of flora in here which then used for decorations, potions, medicines, and also handicraft.
There's also Rafflesia Arnoldi flower, which is the largest flower in the world. And it's stink. This place has a lot of improvements. Bukit Raya is actually a combination of Bukit Baka Natura Reserve in West and Central Kalimantan. The good thing is, there's no entrance fee for everyone, so you can enjoy this place freely anytime you want.
Location : Mount Raya, Central Kalimantan
Tips : Please don't vandalize or harming anything in there including the animals
5. Lake Tahai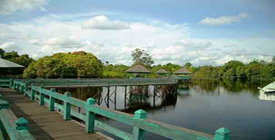 Next attraction that also included as one of the things to do in Tanjung Puting National Park is Lake Tahai. The word Tahai actually means Lake in  Dayak language. Around the lake, there's syncronized wooden bridge and forest.
The bridge is actually the only access to go to the center of the lake. Many people would go there to enjoy its wonderful view. You can find one interesting animal called Uwak-uwak, which is a very rare monkey that protected. However, the place has a free administration ticket.
Location : Tahai Village, Tumbang Tahai, Bukit Batu
Tips : Harming Uwak-uwak or other rare animals can lead you to jail
6. Ujung Pandaran Beach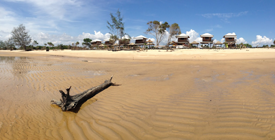 And then, we're gonna talk about the beach type attraction that looks as wonderful as things to do in Samarinda. From the city of Sampit, Kalimantan, this location is about 80km. The beach is famous for its wonderful sea creatures.
Every year during the 10th days after Eid Fitri, there's a special ceremony that held on the beach. The ritual's name is Kaleng Laut or Sea's can. In this Kaleng Laut, people will work together to clean the beach and then giving offerings to the sea. It only takes about Rp2.000,- to enter the place. 
Location : Teluk Sampit, East Kotawaringin, Central Kalimantan
Tips : You can also join in the ceremony,or just take pictures of it.
7. Balanga Museum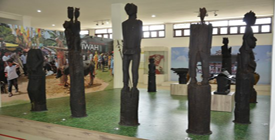 And then on the 7th place we have this Balanga museum. Balanga Museum was firstly built by the government of Central Kalimantan back in 1973. It's inaugurated as a province museum in 1990. It has collections of culture and nature displayed as permanent exhibitions.
The guide will tell you so many interesting things, like the unique stuff that made by Dayak Tribe. This Balanga Museum has about 1,000 weapons that were used during conflicts in Sampit 2001 as collections of history. To enter the museum, the ticket is very cheap. It's only Rp2.500,- for public,and Rp1.000,- just for students.
Location : Bukit Tunggal, Jekan Raya
Tips : The museum also serves public or private trip if you book it first if you want.
The seven locations above are not the only things that you can find around here as the things to do in Tanjung Puting National Park. Please take a look at these beautiful attractions below :
Nyaru Menteng Arboretum
Kubu Beach
Tengkiling Hill
Camp Leakey
Muara Teweh
Betang Ethnical House
Arut River
Mentaya River
Sampit Town Park
That's our article for today about the best things to do in Tanjung Puting National Park. The Kalimantan island is always a great place to visit, especially because you can meet the friendliest animal on earth, Orangutans.
Tanjung Puting National Park