In Bali island, there are so many things to visit. If the places like Sanur beach, Kuta beach, or the bars are too mainstream for you, maybe you can switch to another type of attraction, which is a religious travel. As you know already, beside filled with so many temples that always used by the locals every single day to pray like things to do in Balinese temples, Bali island is also having a very interesting background about its Kingdom history.
In Bali, there was a great kingdom that feared by many, even colonials. They left heritages in the form of buildings or architectures. One of them that you can see today, that is also being one of popular attractions in Bali is Tirta Gangga. Tirta Gangga is only just one of many examples of the Bali island's greatness. Some of them are included in the things to do near Tirta Gangga below which also look as great as things to do in Pandawa beach Bali Indonesia :
1. Tirta Gangga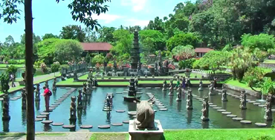 The first attraction in the list of things to do near Tirta Tenggara is of course the place itslf. It looks as beutiful as the things to do in Seminyak Bali. Tirta Gangga is can be said to be the most popular attractions in the area of Karangasem, because there's no such place like this one. There's three important aspects of this attration, the garden, pool, and also the statues. A place like this is suitable as a place for pre wed photo session.
Tirta Gangga has about 1,2 hectars in wide, spreading from the east to the west. It has three parts of the building. On the top of it, which is the tallest building, there's a water spring that exists near Banyan tree. This location has a very interesting history. The name Tirta Gangga actually means Holy Water. The word Gangga means river. It was destroyed back in 1963 because of Mount Agung erruption. But then it's improved and restored again. To enter the place, you need to pay for about Rp10.000,-
Location : Ababi, Abang, Karangasem
Tips : A camera is a must have thing when visiting places like this
2. Pengalon Bamboo House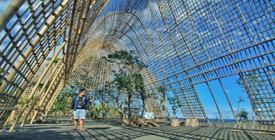 The next attraction has the name of Pengalon Bamboo House. This attraction or venue is very eye catching, and because of its interesting form, many people coming in just for taking pictures with it. Even though the development of this archictecture was stopped long ago, the place is still famous today. It offers a very unique building as an attraction.
The Pengalon Bamboo House is actually not an official attraction for people. During its establishment, the place was meant to be a venue for an event called Bali Unite. But then, the building still exists until today and becoming one of many interesting venues in the area of Singakerta, Bali. The view around is also completed this venue.
Location :Singakerta
Tips : It's a little bit hard to find the location, be sure to ask locals around when you're lost
3. Luhur Lempuyang Temple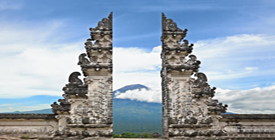 Not only visiting the famous places in Karangasem like Tirta Gangga, the tourists can also visit one temple called Luhur Lempuyang Temple. Even though the temple looks very simple, but during some occasions, you can witness how great the temple is because it can offer something that you can't see on the other attractions.
The location of this temple is in the Bisbis hill area or maybe known as the Lempuyang Mount in the part of Karangasem area. To reach the top of this temple, you need to take about 1700 steps. But when you finally reach the top, it'll be all worth it. The combination between the gate of Lempuyang temple and Mount Lempuyang is nothing but incredible.
Location : Bunutan, Abang
Tips : You need to pay for parking ticket only when visiting this temple
4. Charly's Chocolate Family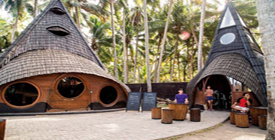 Have you hear about the name of Charlie's Chocolate Factory? Yes, it's the name of a famous movie about the sweet thing that loved by everybody called chocolate. You can visit a place with the same name, at least identical called Charly's Chocolate Family.
Like in the things to do in Batur, this place is very interesting to visit. With an interesting looking building, this place serves the tourists with dishes of chocolate. You can enjoy the foods and drinks that made out of dark chocolate, independently planted by the owner. You can also buy a chocolate soap too!
Location : Jasri Beach, Karangasem
Tips : You should prepare Rp10.000,- as an administration fee
5. Pasir Putih Beach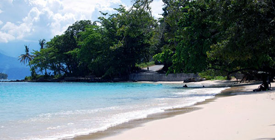 Visiting Bali island is not complete without visiting its beaches. One of them is Pasir Putih Beach. Pasir Putih basically means white sand in Indonesian. So, you can expect to see and feel the white soft sand on this beach.
It's located a bit from Denpasar city, so you'll need at least 90 minutes ride from that city. Unlike the famous Sanur or Pandawa beach, this place is calmer and peaceful. Even though the beach looks very virgin, there's some stalls near the beach that sell some foods or drinks for the tourists. To enter, you need to pay for about Rp10.000,- .
Location : Peninsula, Pecatu
Tips : You can prepare some money for having extra meals or drinks
6. Taman Ujung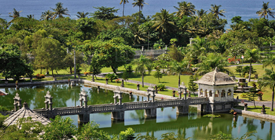 Like the things to do in Abang Bali, Taman Ujung is also very recommended to visit. The Istana Air or Water Castle of Taman Ujung may look as interesting as Tirta Gangga. It has several specifications that look the same with that attraction.
The place was built in 1919, it is actually known as The Karangasem Kingdom. If you are careful enough to notice, you can see a touch of Chinese, Europe combined with Balinese culture. In the part of this attraction, you can even see a bridge that has a very European style. To enter Taman Ujung, you need to pay for about Rp10.000,-. 
Location : Ujung Village, Taman street
Tips : You can also fee the deers in here
7. Padang Kecag Restaurant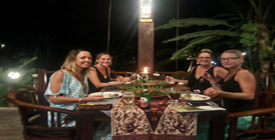 The next one is a restaurant that located in the area of Sengkidu, Manggis called Padang Kecag Restaurant. This restaurant is famous for having a delicious serving. Many people from aboard love this place.
You can enjoy some wonderful Indonesian traditional meals from all areas. But, the signature dish of this place is its Bebek Betutu. But if you don't like ducks, then maybe you can try the other meals with chicken, shrimp, or fish.
Location : Sengkidu, Manggis
Tips : You need to order a day before if you want to ear Bebek Betutu, because the cooking time of it is 8 hours.
Beside the attractions mentioned above, you can also visit these recommendations :
Goa Lawah Temple
Lotus Gagoon
Kertha Gosa
Lezat Restaurant
Gili Tepekong
Sumbarine Odyssey
Apneista Yoga and Freediving
Tulamben Beach
Besakih Temple
So that's our article about the things to do near Tirta Gangga. The area of Karangasem has so many kind of unique attractions. Be sure not to miss it !
Tirta Gangga