Bali is indeed interesting island. Many people would come to spend their days or weeks in this beautiful island. Some even start to buy an apartment and then live there. Why? Because Bali is always be a good place to live, that completed with its beautiful attractions like things to do in Hanging Gardens of Bali.
Beside the specific locations that have been told in the hidden places to stay in Bali, Mount Batur is one sacred mountain that people in there always respect. The thing is, around it, there are some notable attractions that are so interesting to visit. So here we want to introduce to you to the Things to Do in Batur Bali Indonesia:
1. Mount Batur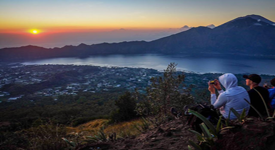 The first location that included as things to do in Batur is of course the mount Batur itself. Having the same physical appereance with the things to do in Mount Bromo, Mount Batur which is the second highest mountain after Mount Agung which usually used by some people for hiking.
It's still active though, and sometimes the condition is getting worse from time to time. If you want to do hiking, please do check the mountain condition first by looking at the data provided by BMKG. To enter, one should pay the administration fee, which is Rp75.000,-
Location : Bangli, Bali
Tips : You should do the registration first at Mount Batur Hiker Spot if you want to do hiking in here
2. Penelokan Village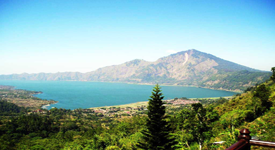 The next one  is Penelokan Village. The tour to visit these three spots around Batur which is this village, and the lake, and also Mount Batur itself can't be miss. Many people would love to come to this area after they exploring the greatness of Mount Batur.
The reason is, there are many restaurants in here who can serve you the best foods with the best view of Batur Lake that completed with a view of either sunset or sunrise. Also, entering the village would be free, no entrance ticket needed.
Location : Penelokan, Kintamani
Tips : You can come to the village way before the sunset to make it on time.
3. Batur Lake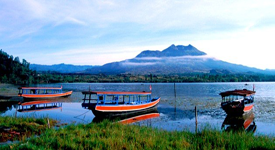 Beside things to do in Abang Bali, there's also one beautiful attraction that people really love about this island. That thing is called Batur Lake. The lake claimed to be the most beautiful vulcanic lake in Indonesia by some foreign tourists who already visited it.
With the parking ticket of Rp5.000,-, it's very easy to reach the place. Some people would like to rest in the restaurants on Penelokan village while looking at how great the lake is. But also, some of them are doing this little exploration by using a boat to circling the area.
Location : Kintamani, Bangli, Bali
Tips : You can bring some money if you want to rent a boat.
4. Toya Bungkah Kintamani Hot Spring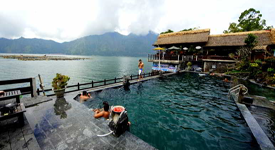 Another great place for relaxing is the Toya Bungkah Hot Spring. If you are still full and only want to see the greatness of Mount Batur by doing anything pleasurable, then coming to this place might be the best choice you have.
This Hot Spring is long known for its benefits to cure some of the skin diseases. With its 50 degree celcius water that coming from Mount Batur itself, people love it being in here. Foe the ticket, the adults can pay Rp60.000,- per person, and for the kids is half of it.
Location : Pekraman Batur Village, Songan B
Tips : Coming here during the clear weather on evening would be great.
5. Ulun Danu Temple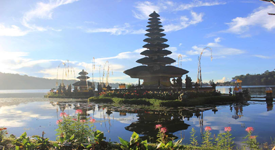 The next thing after things to do in Gretek Bali is to visit the temples in Bali. The temple which is located near Mount Batur is this Ulun Danu Temple. For Indonesians, this temple is very familiar because they can even find it as a symbol in currency.
It's actually one of the Kahyangan Jagat Temples, like Luhur Uluwatu temple, Tanah Lot Temple, and Taman Saraswati Temple. With the entrance ticket of Rp10.000,-, many people would love when they entering this place.
Location : Shores of Lake Bratan
Tips : You can bring some money if you want to rent a boat.
6. Trunyan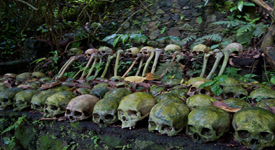 The next attraction is very scary, and only recommended if you're brave enough to see it. For the people who want to seek "another kind" of an attractions, there's an area called Trunyan where the dead are not buried. But they just laying them up on the ground and covered them with bamboo strcuture.
The images there are maybe can be disturbing for some people, because you can even see the condition of the corpses there. The thing is, crossing to the area from the nearest port can be expensive enough. The tourists can rent a boat. It's Rp750.000,- up to one million rupiah based on the people who ride it. 
Location : Eastern shore of Lake Batur
Tips : As you know about the price, you can bring some money if you want to rent a boat.
7. Kedisan Resort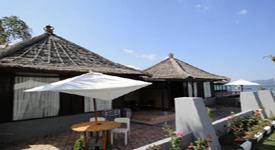 And also, one location just beside the Toya Bungkah Hot Spring which is can be used for relaxation is this Kedisan Resort. If you're so tired after visiting Mount Batur and the other things around it, then resting in here would be a good idea.
But you don't have to spend the night in here if you want. In the other hand, you should try the floating restaurant that it has. It's one of a kind, and so rare that you can find a restaurant with a concept like this in Indonesia.
Location : Kedisan Village, Lake Batur
Tips : Visit here during lunch or dinner time, those times are the best.
Other Places Around Batur
Aside from the seven locations, things to do in Batur above, we also want to tell you that Batur area has some places that can be used for resting. Some of them are also unique, unlike the other casual hotels or resorts. Here are more Things to Do in Batur Bali Indonesia:
Surya Hotel
Cave Hotel
Toya Devasya Hotel
Ayu Kintamani Villa
Kintamani Floating Villa
Ancient Village
Uma Dewi Kecak and Sanghyang Dance
Samadbali
Kedisan Port
So that's the list of Things to Do in Batur Bali Indonesia. Well, maybe it's time to explore the other locations around Bali, not only the famous ones like Kuta, Pandawa, and such. With exploring the other hidden parts of Bali island, maybe you're the first people who can grasp the experience of hidden attractions in here.
Well of course, those attractions are always have pros and cons. The good thing of them is they are exclusive, and the cons are there are not enough supporting facilities for you. But whatever it is, going to Bali island to looking for its wonderful attractions is the best choice to do.
Mount Batur