Sampit is the capital city of Kotawaringin Timur, Central Kalimantan. Sampit is known to be the largest timber port all of Indonesia due to its area of timber producing forests. Sampit is also basically a planting area and as a result, the most income of this city is from palm plantation.
Besides getting famous for its timber producing forests and plantation area, Sampit is also known for having some of the best tourist attractions.
It has a large river called Mentaya River that is mainly used for transportation. You can also find some orchid gardens at the upstream drainage area at the end of Sampit City. Let's note these 5 best tourist attractions in Sampit.
Mentaya River is also called Sampit River. It is one of the rivers in Central Kalimantan, Borneo. The river got its name from the town of Sampit which is located on the river not far from the Java Sea. Near the river, there is a beach park named Pandaran Beach.
Mentaya River may be only a river, but you can do some interesting things here. You can enjoy the beautiful sunset by using a small boat from the city along the river.
Along the river, you can see the beautiful jungle on the other side too. The cost is very cheap. If you wish to ride a boat and enjoy the sunset here, you can go here at 5 p.m.
Still in Kalimantan, you can also consider visiting these tourist attractions in Tanjung Selor, North Kalimantan.
Sampit City Park is basically a park that is strategically located near the port, market and river. This city park is also the center of trade in this city. In the past, this city park used to be surrounded by street vendors and seemed to be a mess. However, after all the street vendors were relocated, this city park has been more organized.
If you love visiting parks, then put these amazing hidden National Parks in Kalimantan Island on your list!
This city park is very suitable for you who love jogging or just strolling around. Late in the evening, you will find some food and snack stalls that are located in the culinary center at the back.
You can enjoy relaxing and chilling with your family or friends here. This park is also noticeable by its high statue representing Dayak tribe.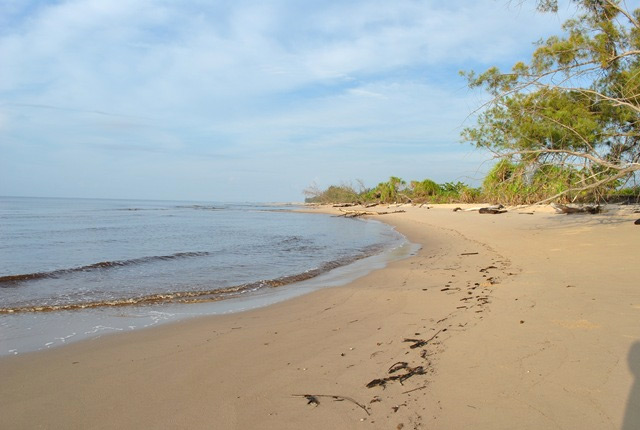 After visiting Mentaya River, then you can proceed to the beach located in Ujung Pandaran Village, Sampit. This beach is called Ujung Pandaran Beach, the most popular and favorite tourist attraction in Sampit. You will need around 2 hour-drive from the city center.
That's quite a long time to go, but once you arrive there, the beautiful panorama of the beach will welcome you. It will make you forget about the long drive. Ujung Pandaran Beach is listed as the member of best beaches in Kalimantan (Breathtaking Scenery). So, it is a must to visit this beach!
This beach offers clean white sand and calm sea water, along with the cool atmosphere, creating a very peaceful and comfortable nuance. You can just enjoy relaxing here and take some pictures and selfies here.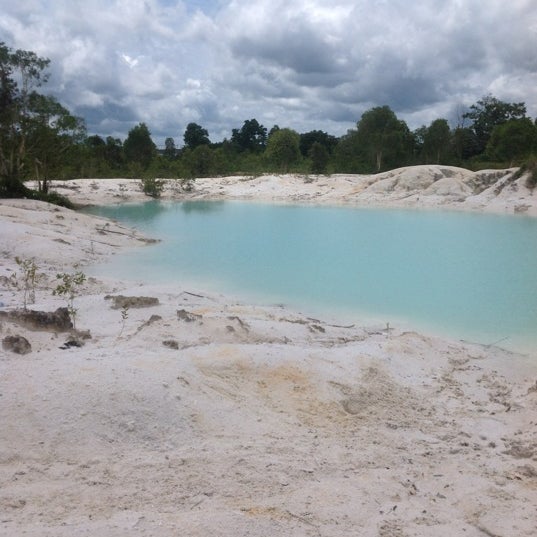 Wait, what do you say, there's a blue lake in Sampit? Yes, there is. The locals call this lake as Danau Salju. Does this lake have some snow? Of course not. This lake was not a tourist attraction before, instead it is a fishing place. This lake is named that way because of the white sand covering the lake just like snow.
You will feel the calm and cool atmosphere here as this area is surrounded by shady trees and the clean white sand. You can also bring your family and kids here as you will find some slides and swings for your kids to enjoy.
There are also some restaurants too where you can enjoy the local food. The facility of this place is quite good, but unfortunately, due to lack of promotion, this place is not visited by many tourists yet.
Rumah Betang Tumbang Gagu
After you finish visiting the nature tourist attractions like lake, river and beach, then you can visit this house. The house is called as Rumah Betang Tumbang Gagu. This is the traditional house of Sampit that is very unique and different from the other traditional houses.
Consider these 14 Top Things to Do in Pontianak Indonesia #Beautiful Spots to do while you're in Kalimantan too!
This place is considered as the historical site in Sampit. To reach this place, it will take a long time, around 10 to 12 hours. If you wish to go from Sampit City by car, it will take around 5 to 6 hours to Antang Kalang Regency.
Then you can continue to Tumbang Gagu Village by kelotok (motor boat) for another 5-6 hours. It may sound tiring, but all the tiredness will be paid off by the amazing structure of the house.