Nusa Penida has become really popular among both the local and international tourists. It gains its popularity due to its epic beaches. All those beaches seem to be at the bottom of monolithic cliffs and have some of the bluest waters in all of Indonesia.
Due to this fact, some of those beaches are considered as the nicest beaches in Bali. While you plan to go here, make sure to put these things to do in Nusa Penida, Bali on your list.
Lombok is Bali's neighbor and it also has some amazing 6 Best White Sand Beaches in Lombok too!
If you're looking for the best place to swim, snorkel, sunbathe or just admire fantastic scenery, then these 6 must-visit beaches in Nusa Penida will be perfect for you!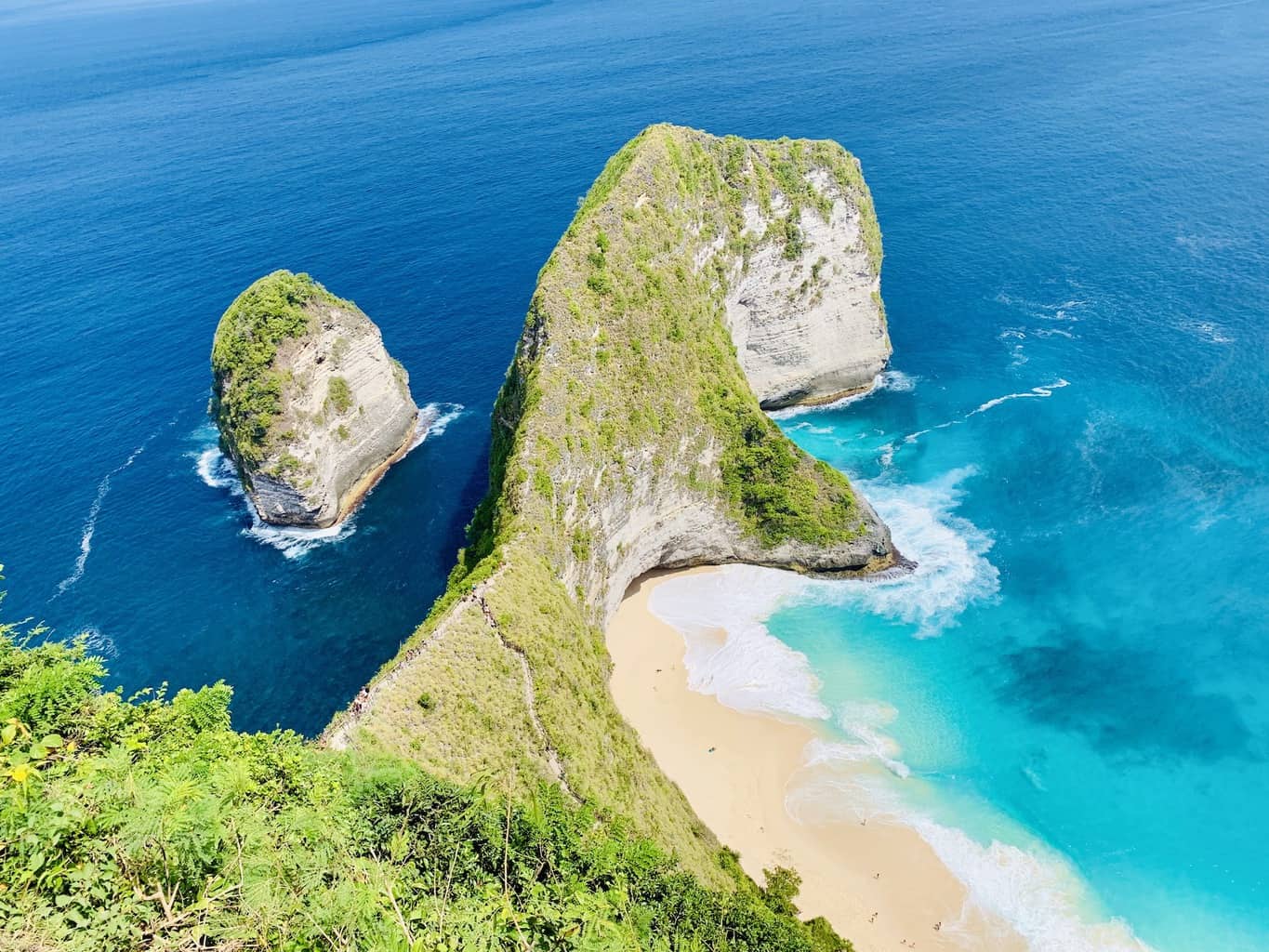 Kelingking beach is the most popular beach on the island and even listed as one of the beaches in Nusa Penida to visit. This beach is located in the west coast of Nusa Penida island.
The reason why Kelingking Beach is popular is due to the cliffs that form the shape of a T-rex dinosaur. You can see the head of the T-rex from the left side of the beach and the body and tail wrap around to the right.
Kelingking Beach has multiple viewpoints around the edge of the cliffs. All of them offer spectacular views up and down the coastline of Nusa Penida.
This beach can be visited anytime of the day and it is best to watch sunset here. There are some food stalls opened by the locals where you can purchase some local Indonesian snacks and beverages as well.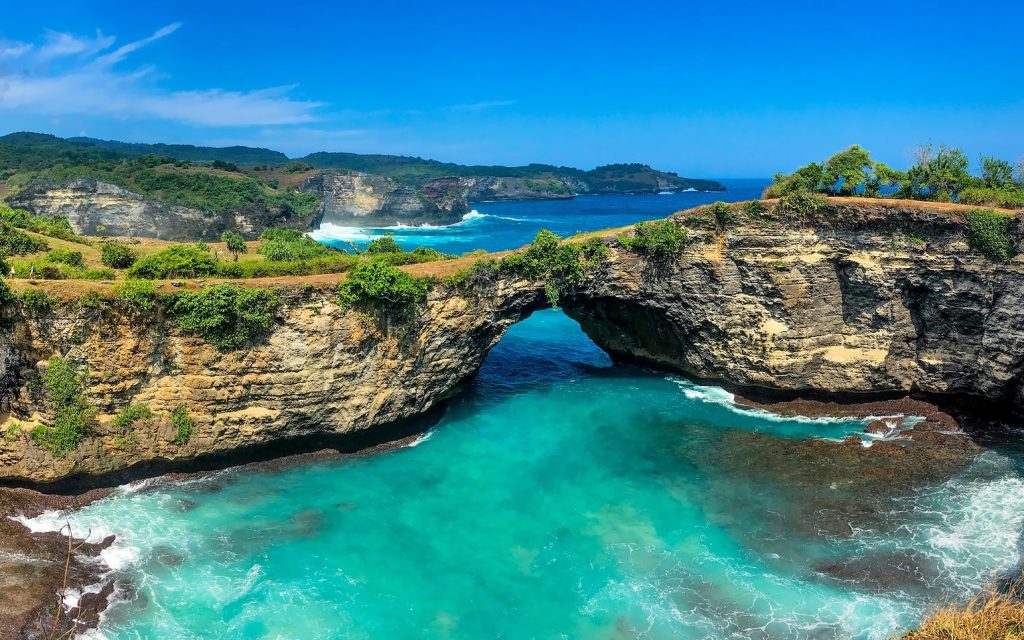 The next must-visit beach in Bali is Broken Beach. It is called that way because of the archway wrapping around the bay which allows water to flow in and out from the ocean. This beach features a natural rock bridge which stretches over turquoise water.
It is not recommended to swim here, but you still can take a panoramic walk all the way around the beach. Each of the viewpoints offers an incredible view of this natural attraction.
While being perched on the cliffs, you can enjoy some food, such as fried rice, morning coffee or even a refreshing coconut.
This beach is very popular among tourists and locals, so that's why it is a bit crowded. It is recommended to visit this beach early morning for sunrise, which is around 6 a.m. to 7 a.m.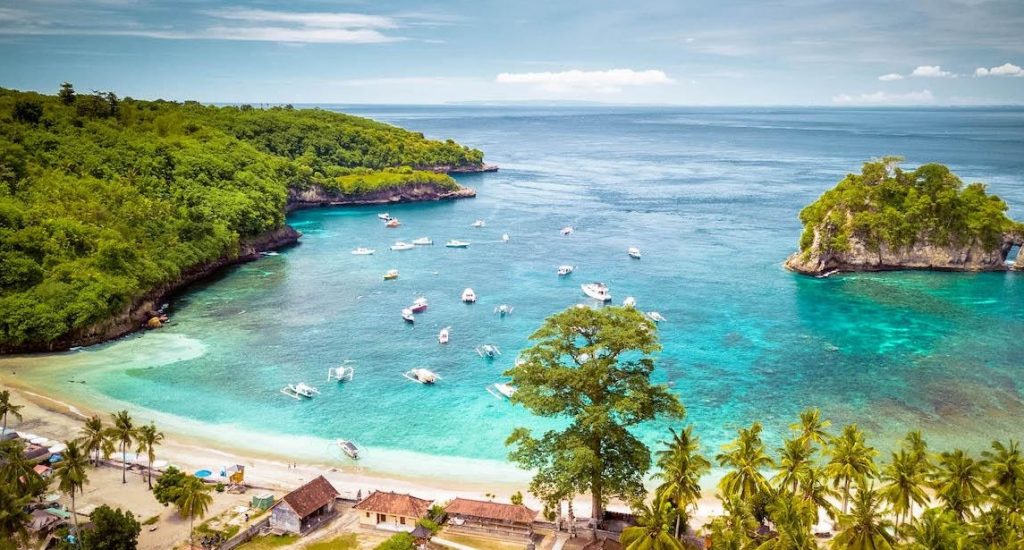 Crystal Bay is located on the west side of Penida. This spot is good for hanging out or suntanning. There are plenty of food and drink stalls for refreshments. Tourists can also try snorkeling here, and snorkeling gear can also be rented here.
If you don't want to snorkel, then you can just sit around and chill out while eating some food, such as chicken satay. Also try these halal foods in Bali and fulfill your tummy!
Crystal Bay is also popular as one of the best spots to catch sunset. There are some other best things to do in Crystal Bay, such as going for a refreshing swim at the beach, sitting in the shade of a palm tree, or even sipping on a fresh coconut or cold beer while waiting for the sunset.
Tembeling Beach is another popular beach in Nusa Penida. It features a pristine white sand beach, tropical forests, natural lagoons, hidden caves, and cliff jumping spots. Who can resist these amazing features available on the beach?
Located on the west coast of Nusa Penida Island, Tembeling Beach has the freshwater blue lagoon as its main attraction. The freshwater natural pool is a perfect spot for you to swim. Besides, there are also two cliff jumping spots into the lagoon at this beach. One is three meters high and the other is five meters high.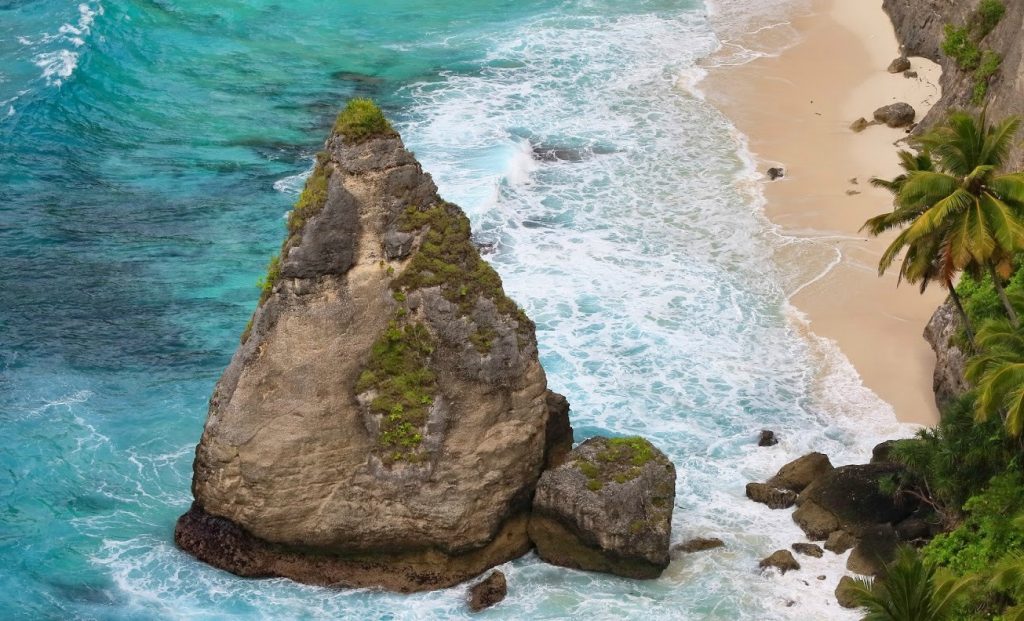 Suwehan Beach is well-known for having perfect white sand and turquoise water. Suwehan is also one of the hidden beaches in Penida. This beach also features limestone cliffs and a tall photogenic rock called the Jineng stone.
You may see manta rays, sea turtles, monitor lizards and even a small shipwreck on the beach. If you love diving, you should try diving in Indonesia and choose your favorite spots!
Known as one of the most secluded beaches in Nusa Dua, Atuh Beach is surrounded by beautiful green cliffs and limestone rock formations. It serves the wonderful respite from the hustle and bustle.
This beach is perfect for adventure seekers as they may climb on the rugged cliffs on the beach and see the enchanting turquoise blue water from the above. Besides, this beach also features white sand. If you're a beach lover, then you should visit Atuh Beach!
Bali is full of amazing tourist attractions. Make sure you read about hiking trails in Ubud and white sand beaches in Bali.