Lombok is known as one of the best destinations in Indonesia due to its amazing and breath-taking tourist attractions. Many people who love exploring nature or learning culture will be pleasant to stay here.
You can spend time thinking of these things to do in Lombok 4 days. Besides, Lombok is also known for having some best white sand beaches.
Because of having some wonderful beaches, many tourists love to do water sports or even just relax near the beach. Snorkelling, scuba diving and surfing are most favourite water sports done in Lombok. If you are into white sand beaches, then you should put these 6 best white sand beaches in Lombok into your itinerary.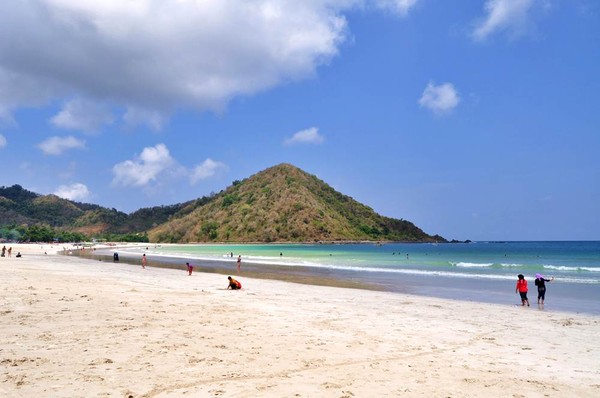 Selong Belanak Beach is located on the bay with the same name. This beach is a kind of place you would like to visit if you love white sandy beaches. One of the best features of this beach is its crescent shape.
This beach is not very long, but it is close to a fishing village. So, while you're visiting this beach, you can buy some refreshments or rent a boat to try fishing.
This beach features clear water and waves that are not as high as the other beaches in Lombok. That's why it is nice to swim here. This beach is quite crowded during holidays, but other than that, it is a quiet place to relax too.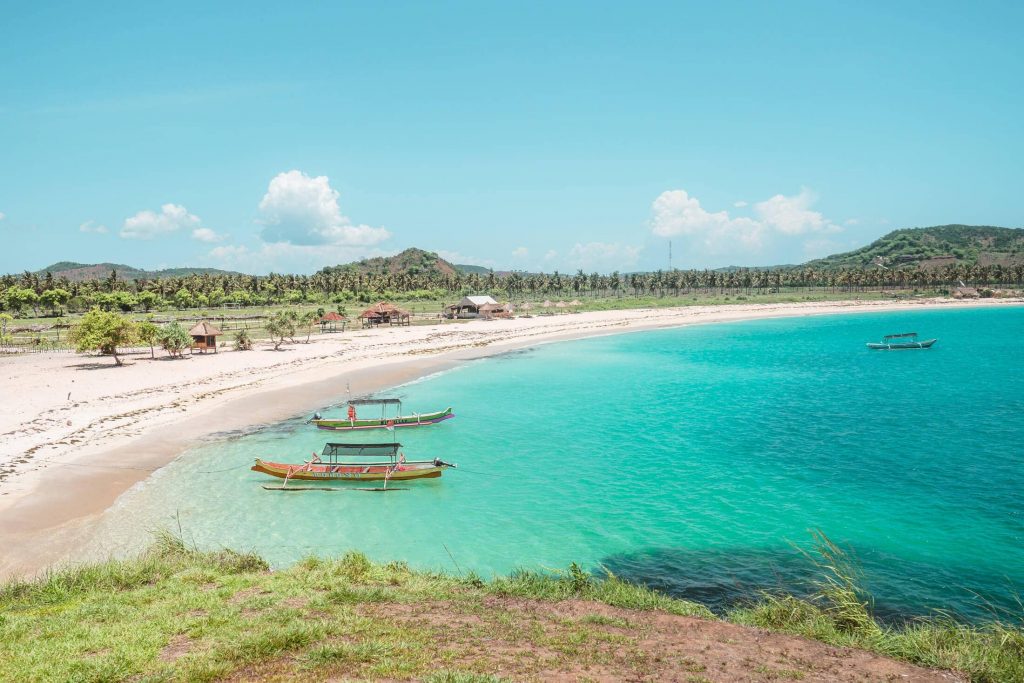 Another white sand beach to explore is Tanjung Aan Beach. This beach is special because it faces Indian Ocean. This beach may be a perfect place for you if you want to have fun both on the beach and in the water.
It is really pleasant to lie out in the sun on the fine and white sand. The white sand is as soft as pepper, and it is comfortable to walk and lie down on it.
The waves in this beach are not that big, so it is safe for swimming and snorkelling. There is an annual ritual done in this beach, called Bau Nyale. This ritual is done for commemorating a princess who jumped into the ocean instead of getting married.
Senggigi Beach is located in the west coast of Lombok. This beach is the island's closest thing to a resort town. This beach is a long strip of sand which hugs the bay.
As the main beach in the town, Senggigi Beach is lined with hotels and restaurants, so the facilities are quite complete and developed.
This beach is a picturesque beach due to its white sand which is placed between gorgeous blue water and swaying palm trees.
If you want to take a break from the beach, you can visit Pura Batu Bolong, a Hindu temple which has 14 altars overlooking the beach. You can also consider these things to do in Senggigi at night while you're here.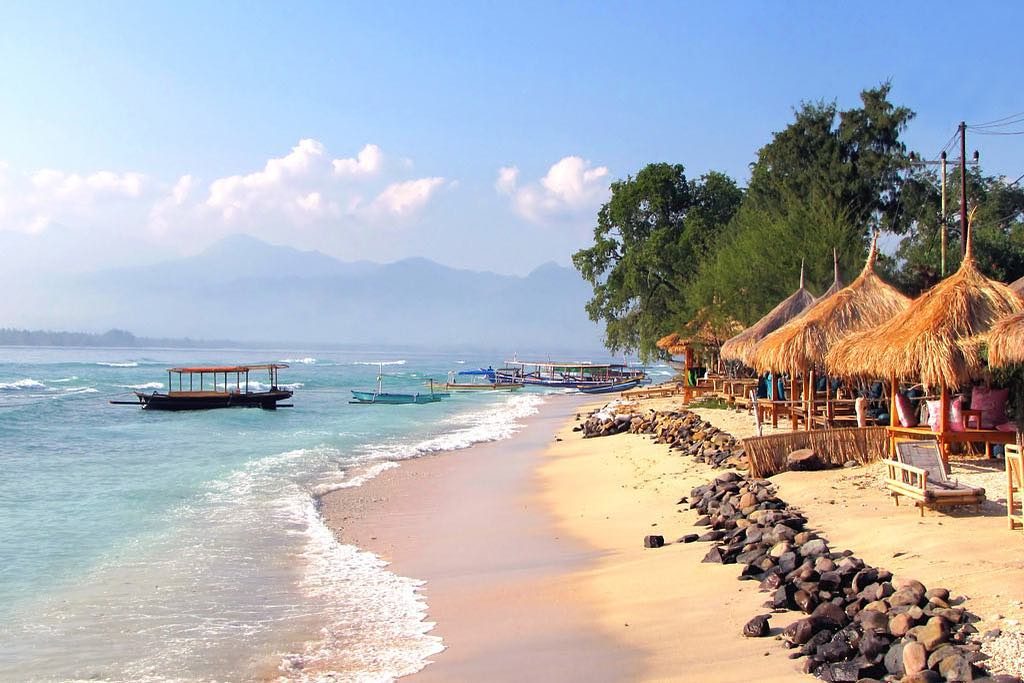 Many people call Gili Air as an island paradise. It is not overrun by many tourists, even though it is really popular among backpackers. Gili Air is the closest of the three Gili Islands of Lombok. Get the complete best diving sites in Gili Islands Lombok.
If you wish to chill out on the beach or go snorkelling, scuba diving or surfing, then Gili Air is a good choice. Just make sure you bring comfortable walking shoes as there aren't any vehicles on the island.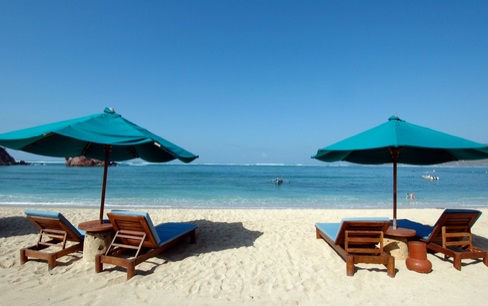 Kuta Beach is located in south Lombok and is popular for its white sand and turquoise water. You can even see the coral reefs from the top of a nearby hill. This is the most famous beach in Lombok, so it is crowded with tourists most of the time.
Due to its popularity, this beach has a wide variety of accommodations and restaurants. The accommodations range from backpacker offerings to 4-star luxury resorts. Kuta Beach also offers world-class surfing.
Many people also come here just to chill out on the beach or to enjoy the view of evening sunsets. Besides, many tourists also prefer to go snorkelling here as it has the amazing underwater life.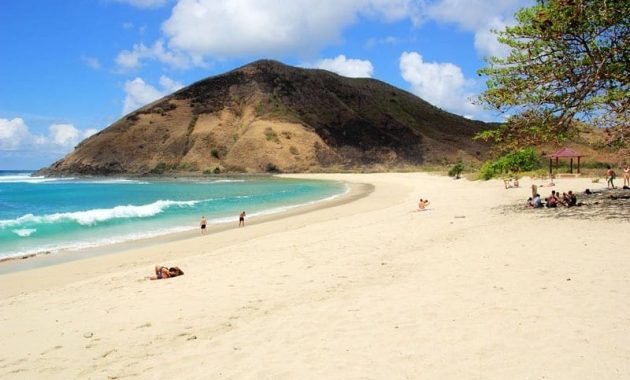 Another white sand beach to explore in Lombok is Mawun Beach. It is also listed as one of the top beaches because it is so picturesque. This beach has a unique shape, which looks like a horseshoe with hills on both sides.
The sea water in this beach is also safe for swimming and snorkelling as the water is calm. However, if you just want to relax, you can just spend the whole day sunbathing.
You can also have some pineapples here. The locals will peel and spiral cut baby pineapples so they will look like an ice cream cone.
While you're in Lombok, make sure you also consider these romantic honeymoon destinations in Lombok and tourist attractions in West Lombok. Have fun!