Bintan Island is part of the Riau Archipelago, which takes around 45-minute ride southeast from Singapore.
Once you arrive at this island, you will be greeted by gorgeous white sand beaches, tropical rainforests, and beautiful wildlife. You can consider these things to do in Bintan Island Indonesia while you're here.
Bintan Island is around 1,173 square kilometers, and it offers dozens of pristine coastal lines and beautiful beaches. If you desire for a warm and calming vacation, then Bintan Island is a perfect choice for you. Let's take a look at these 6 best beaches in Bintan.
Trikora Beach may be the most popular beach in Bintan Island, though you still can find plenty of places too. This beach consists of 4 separate beach sections, and each of them has different and unique charm and scene.
You may visit the local fishing village to see their unique houses (stilt houses) which are built by the local fishermen. You may also visit one of the makeshift shacks which sell delicious treats, such as seaweed dodol.
While you're in Trikora Beach, don't forget to rent a cabana to spend your entire day sunbathing on the white sands. You can also go snorkeling to see the beautiful native marine life. If you wish to stay here, you can book some clubs and resorts nearby.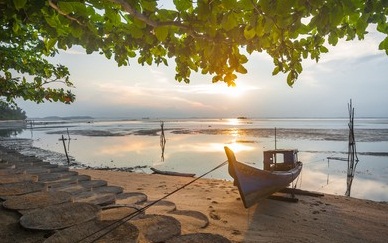 Sakera Beach is perfect for those who travel on a budget as they do not have to pay admission fees to enter this beach.
Additionally, this beach is easy to reach as it only takes around 13 minutes to drive from the heart of Tanjung Uban (the second largest town in Bintain Island). Visiting Sakera Beach is listed as one of the stress-relieving things to do in Riau Islands.
Similar to the other beaches here, Sakera Beach features soft, white sand and blue wave-less sea. It is perfect for you who seek for tranquility.
You will also get the chance to see the locals gathering at the beach in the search of various marine creatures, such as fish, clams, and snails for their food. They usually do that during the low tide.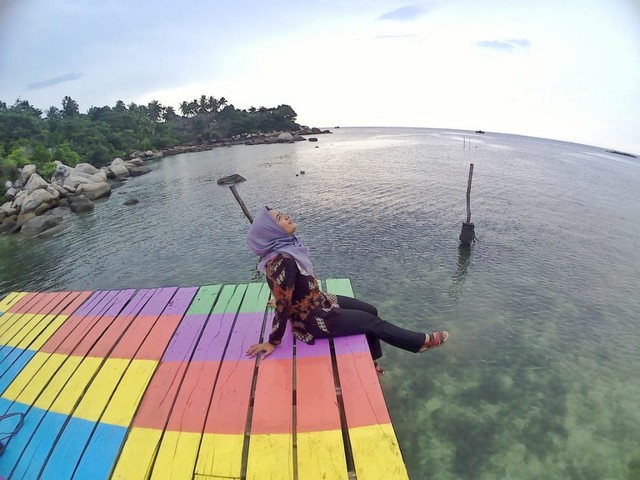 This beach is located inside the Bintan Resorts area. However, it is not part of any resorts. Kampung Baru Beach is not crowded most of the time, as there are only the locals visiting. Hence, it is perfect for those who seek peace and tranquility.
One main attraction in this beach is the presence of the Bintan Sea Turtle Conservation. Interestingly, you can participate in any sea turtle conservation movement. The locals manage this conservation and if you are lucky to come at the right time, you will be able to see or even join the baby sea turtle release.
Lagoi Beach is another beaches in Riau Islands and a public beach in Bintan Resorts. It is located right beside the vibrant Plaza Lagoi. No wonder, Lagoi Beach is one of the busiest on Bintan Island.
While you're here, walk down the promenade that lines the beach to enjoy the fantastic views of the South China Sea. You can enjoy the fine dining establishments, designer shops, and lively bars which offer lively entertainment.
Hamid Beach is among the top places people look for a tranquil swim on the island. Hamid Beach features clear waters and lush trees which provide a picturesque tropical setting.
You can simply pack your picnic basket and enjoy the quiet afternoon here. Take your family here and enjoy the solitude.
There are several charming cafes nearby the beach for you to taste the local cuisine before heading to the shore.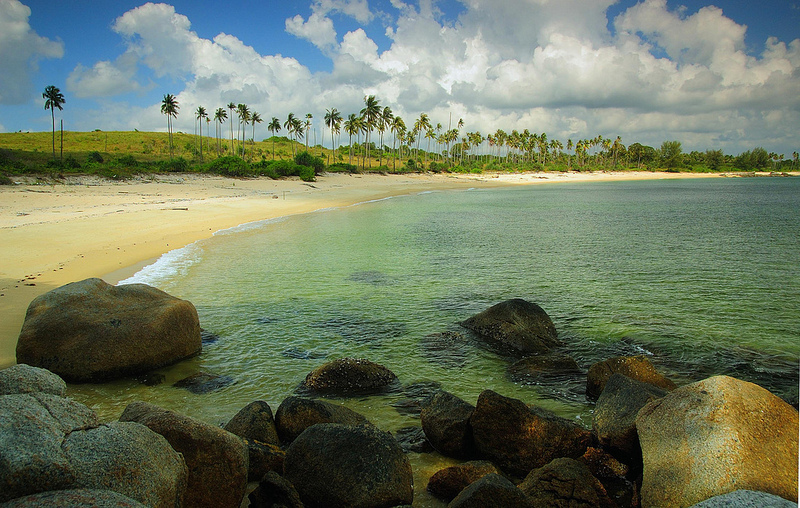 Senggiling Beach is one of the hidden paradises in Bintan Island. It is located in the northernmost part of Bintan and it directly faces the South China Sea. Senggiling Beach also features numerous palm trees, white sand, and beautifully-shaped rocks.
Compared to the other beaches mentioned before, Senggiling Beach does not have easy access. The best way to reach this beach is by using motorcycle because you will need to pass several clove plantations on a dirt road. This route is not accessible by car.
The journey doesn't stop there as you have to leave your vehicle and walk through the bushes to reach the beach. Don't worry, as you pass through the bushes, you will be greeted by the breathtaking view of the beach. It is totally worth your effort!
Indonesia is full of amazing beaches. Make sure you highlight these beaches in Uluwatu, Bali and beaches in Papua, Indonesia.