East Java is a perfect place for explorers who love to learn about history, besides for having fun of course. One of the histories you can find in East Java is Hinduism.
You can explore Hinduism by hopping on some Hindu temples there, such as Penataran Temple, Singhasari Temple, Jago Temple and Surawana Temple. You can also explore these Magical and Historical! 4 Temples in West Java to Marvel at.
Talking about Hindu temples in East Java, Hindu temples in East Java is totally different with the ones in Central Java. Most Hindu temples in Central Java are served as monuments, while in East Java they are served as a mausoleum for deceased kings in the past.
The story behind each temple is also interesting. While you're visiting a temple, make sure to Follow These 8 Etiquettes while Visiting Temples in Bali and East Java as well. Get to know more about these 4 most famous Hindu temples in East Java.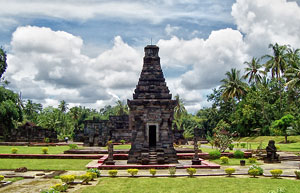 The first famous Hindu temple in East Java is Penataran or Panataran temple. This temple is one of the largest ruins of Hindu temple located in East Java. It is believed that this temple was constructed between the 12th to the 15th century. This temple was really important, specifically during the era of Majapahit Kingdom under King Hayam Wuruk.
Penataran temple is a Shiva temple as it is notable for including the largest Indonesian collection of reliefs showing life stories of Vishnu, the Hindu god in different avatar. The temple site also includes the story of Rama in the Javanese version of the epic Ramayana, as well as Krishna story.
There are some studies that compared reliefs related to the Hindu epics between Penataran and Prambanan temple in Yogyakarta. These studies have attracted the archaeologists' attention too.
The UNESCO World Heritage Tentative List has included Penataran temple on October 19, 1995 in the Cultural category. This temple was reported ever being visited by King Hayam Wuruk during his tour across East Java.
Visitors usually conduct photography session and spend time learning history about it here. You can also spend your time having relaxation here during weekends or learning history. Don't worry, there will be a local guide telling you about the history about it.
The site is a complex of temples where many tourists are able to find more than one temple there. You will feel the nuance like the old kingdom era here. The complex temple resides in a rural area, so it is surrounded by villagers' houses. The environment is really peaceful too!
Singhasari Temple is located in Singosari district, Malang Regency, East Java. This temple can be accessed about 10 kilometers from Malang city. Make sure to visit these 4 Temples in Malang to Immerse Yourself in during Holidays to fulfill your curiosity of the history of Indonesia.
The temple was mentioned in Nagarakertagama, a Javanese poem, and in Gajah Mada inscription dated in 1351.
It was found in the temple's yard. According to these resources, the temple is made as the funerary temple of the last king of the Singhasari dynasty, King Kertanagara who got killed by Jayakatwang of Gelang-gelang that led to the establishment of Majahapit rule.
There are 3 significant features of this temple:
A pair of colossal Dvarapalas giant monolith statue – the guardian of the royal cemeteries of Singhasari
A well-carved Kala located at the west upper face
A large original statue of Shiva as Batara Guru in the lower southern cella
Visiting Singhasari temple will enable you to explore about the routines of the community activities in unique traditional cultures. You can also explore special dishes and food as culinary tours that are very delicious.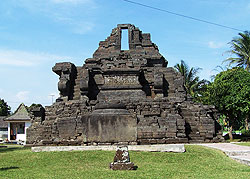 Jago temple is known as a 13th-century Hindu temple from the Singhasari kingdom in East Java. It is located around 22 km from Malang. This temple was mentioned as Jajaghu in Nagarakertagama which was written in the 14th century. This temple is also one of the temples King Hayam Wuruk visited during his royal tour across East Java.
This temple is similar to Penataran temple in Blitar, East Java. It was built by using andesite stones along on the ornaments on the foot and the body areas. Jago temple is also listed down in the 16 Pulchritudinous Temples in Indonesia for Tourist Attraction. That's why it's worth visiting.
If you plan to visit Jago temple, you need to bring camera to capture the beauty of the ancient nuance as it has some unique-shaped and small temples in the complex.
You also don't have to be worried of the facilities in this place as the facilities are quite complete, such as parking lot, gazebo, hotels, toilet and restaurants.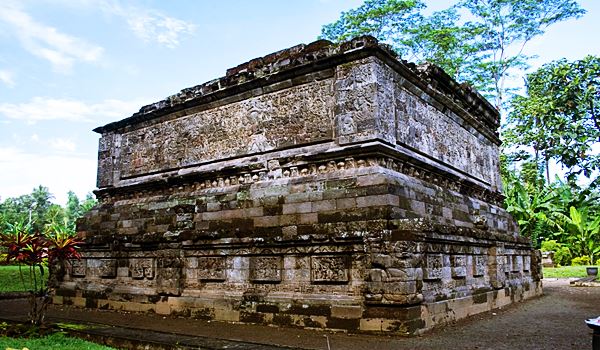 Surawana temple is a Hindu temple of the Majapahit Kingdom. It is located in the village of Kediri named Canggu near Pare district in East Java. Surawana temple was built in 1390 AD but it was not officially completed at that time until the inception in 1400.
It was built as the memorial of Wijayarajasa, the Prince of Wengker. After visiting Surawana temple, you can also do these 14 Things to Do in Kediri Indonesia #Top Natural Spots. Kediri is a nice place to explore!
The size of this temple is not too big, it is only 8 x 8 m2 facing to the west. Unfortunately, the roof and the body of the temple are completely destroyed and nobody knows what causes it.