Scientia Square Park provides entertainment with a natural concept or in simple words, a giant playing field. Everyone of all ages can have fun here. With an affordable admission, Rp 30,000 on weekdays and Rp 50,000 on weekend, certainly there is something for everyone here. Let's see the top thing to do in Scientia Square Park Tangerang ..!
1. Picnic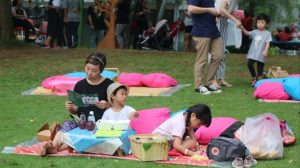 It is not easy to find green open space in urban areas. Fortunately, Scientia Square Park answered the challenge by providing a comfortable green park. Not only spacious, the park also has a neat arrangement and eye-catching.
Here you can make a fun picnic with your family. Children can play and run around the vast park without worrying about passing vehicles. Scientia Square Park also provides big pillows that you can use for your seat or whatever you like.
2. Jogging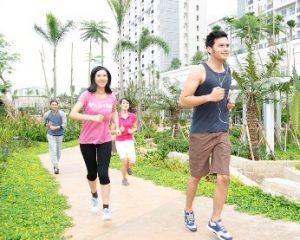 A park is a good place to exercise. Therefore Scientia Square Park is also equipped with a good and high quality jogging track. The track has a flat surface, no gaps and no wavy, thus minimizing the risk of injury to the foot.
The best time to jog at Scientia Square Park is before 9 am, before the sun's rays start to sting. Since Scientia Square Park is open from 5 am, you can jog to start the day or before leaving for work. Jogging can make your body healthy and give you the spirit to face the challenges of life. Another favorite place to jog is Jombang City Forest. Jogging there is one of the fun things to do in Serpong Tangerang.
3. Feeding Koi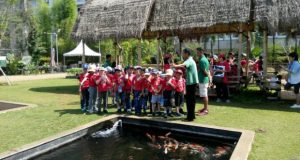 Koi has a beautiful and fascinating color. In addition, seeing koi going back and forth in the pond is believed to relieve your stress. No wonder koi become one of the most popular ornamental fish in the world.
Scientia Square Park invites children to participate in koi feeding. This fun activity always attracts children and their parents. Usually they will laugh and amazed to see the fish move agile to scramble for food. Once in a while, it's good to see fish in its natural habitat, the ocean. Then take time to visit Tanjung Pasir Beach. It's one of mandatory things to do in Tangerang.
4. Playing Remote Control Toys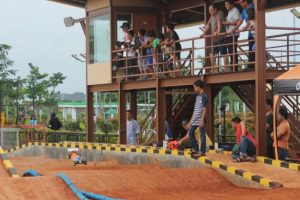 Remote control cars are popular toys for both children and adults. But this game requires a wide place to be enjoyed optimally. Good tracks are also needed to add to the excitement of the game.
If you are a fan of remote control cars, you should take the time to bring your toys to Scientia Square Park. It has challenging tracks for remote control cars. It does not matter if you come alone. You will always find someone to play against here.
5. Wall Climbing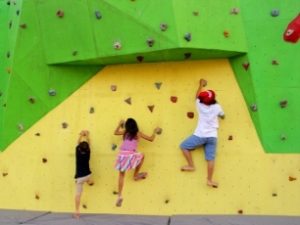 Some might say wall climbing is an extreme sport. You start from wall climbing, then switch to rock climbing, and end up climbing a skyscraper. It's amazing to see how one thing leads to another.
But in Scientia Square Park, wall climbing is a fun sport. The wall can be climbed by both children and adults. There is safety gear that you can rent for Rp 35,000. In addition, there are mattresses at the bottom of the wall for extra safety. So why do not you try this fun sport?
6. Bike Trail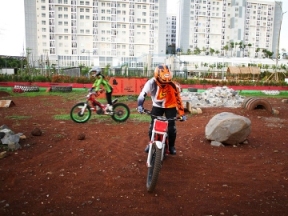 Tangerang is an urban area. It consists of settlements, schools, malls, offices, and so on. Obviously there is no muddy road, or a rocky terrain.
So if you happen to be in Tangerang and want to feel the excitement of crashing the off road terrain with a dirt bike, then your best option is to come to Scientia Square Park. You can rent the bike and the safety gear at Scientia Square Park. Kids can also try to ride the bike because Scientia Square Park provides mini bike. However, if you prefer to be on water rather than in dusty ground, you need to try canoeing in Tanah Tingal. It is located in South Tangerang. Go there, you have many things to do in South Tangerang.
7. Playing Skate Board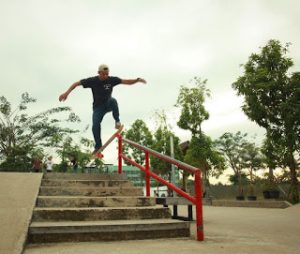 From flower generation to millennial generation, skate board is still considered a cool sport. It is even included as one of the extreme sports and the leading skate board athletes are respected like other sports celebrities. Certainly it takes practice and dedication if you want to master skate board.
Scientia Square Park has a nice skate park. Not only ramp, the skate park is equipped with obstacles such as stairs and poles. For beginners, Scientia Square Park also provides experienced instructors who will teach you the ins and outs of skate boards.
8. Enjoying Night View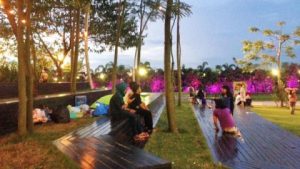 The night is probably the most comfortable time in Tangerang. The heat of the sun is replaced by the cool of the night wind. So why do not you take the time to enjoy the night?
Scientia Square Park inarguably has an amazing night atmosphere. Colorful lights adorn every corner of the park. Visitors are also entertained with free light show. You can spend the night chatting with friends or just sitting alone looking at the beauty of light. By the way, another park that has beautiful lights is Karawaci's Photo Park. Come to Karawaci, you will have lots of things to do in Karawaci Tangerang.
9. Seeing Butterflies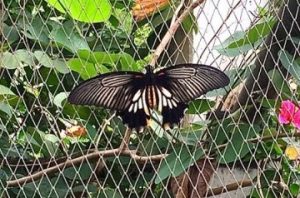 It is not complete to visit the park if you have not met butterflies. Lucky for you, at Scientia Square Park you do not have to circle the vast park to look for butterflies. You just need to step into the Metamorphosis of Butterfly Park.
You'd better come here in the morning, when the butterflies are looking for nectar in the flowers. There are various types of beautiful butterflies that inhabit the Metamorphosis of Butterfly Park. If you're lucky, a butterfly will land on your shirt.
10. Playing Giant Swing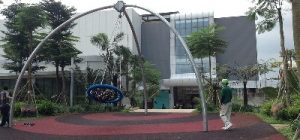 Giant Swing is one of the favorite rides in Scientia Square Park. Not only children, adults also love it. Playing swing is indeed a fun activity.
Scientia Square Park provides a helper to push the Giant Swing. So you can feel the excitement of swinging without having to exert energy. You just need to hold tight and enjoy the moment.
More things to do in Scientia Square Park
11. Exercising using bars (street workout / freeletics)
12. Playing ping pong
13. Exploring rice fields
14. Riding a bicycle around the park
15. Playing at the playground
16. Having lunch or dinner in the food court
That's all guys. Now you have the list of things to do in Scientia Square Park Tangerang. It seems there is so much to do, yet so little time. Don't worry. Take your time, one thing at a time. Enjoy Scientia Square Park..!