Padma Hotel is probably Bandung's most famous hotel. In addition to the beautiful location, Padma Hotel has various events to entertain its guests. But, just in case you are tired of spending all day at hotel, there are lots of pleasurable things to do near Padma Bandung. Let's find out ..!
1. Visiting Keraton Cliff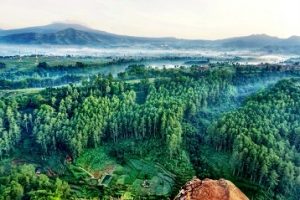 Keraton Cliff is one of Bandung's instagramable spots that must be visited. In fact, the popularity of Keraton Cliff has surpassed Mount Tangkuban Perahu and Gedung Sate, especially among young people.
Keraton Cliff offers a bird's eye view of green forest with a backdrop of rows of mountains. The morning sunshine and the enveloping fog are the lucky gifts that enhance the beauty of the landscape.
How to Get There
Keraton Cliff is located in Taman Hutan Rakyat Djuanda, Ciburial Village, Dago, North Bandung. The admission is Rp 11,000.
2. Visiting Curug Dago (Dago Waterfall)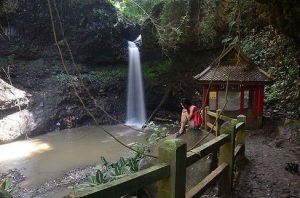 Curug Dago is more famous as a historical site rather than a tourist attraction. Here there is a big stone with the Thai language that explains two Thai kings had meditated at Curug Dago during the Dutch colonial era.
Apart from that, Curug Dago has a natural beauty that deserves to be enjoyed. Although the height of Curug Dago is only 12 meters, with the right angle you can have a wonderful photo for your instagram.
How to Get There
Curug Dago is located in Taman Hutan Rakyat Djuanda, Dago, North Bandung. The admission is Rp 5,000. Opening hour is 8 am – 5 pm.
3. Visiting Farmhouse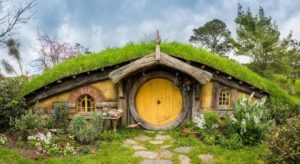 Farmhouse is a popular tourist attraction for families. Here you can enjoy the rural atmosphere of Europe and the beautiful flower gardens. You can even take pictures with traditional Dutch costumes.
Farmhouse has many instagramable spots. Almost every corner of the farmhouse offers uniqueness. One of the most sought after for selfie and wefie is a Hobbit house.
How to Get There
Farmhouse is located at Lembang Street, Lembang, West Bandung Regency. The admission is Rp 20,000 which you can exchange with milk or grilled sausage. Opening hours is 9 am-9pm. Visiting Farmhouse should be on the list of fun things to do in Bandung with family.
4. Visiting Jendela Alam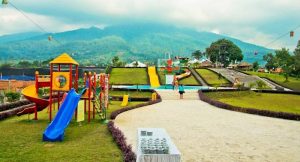 Bandung has a beautiful nature that can hypnotize the visitors. Coupled with the cool weather, visitors are more than happy to linger in this city.
One of the attractions with the concept of nature is Jendela Alam. Here children can play while learning. They will be taught how to plant, milk cows and feed animals such as rabbits, chickens and ducks. In addition to fun activities, there are also flying fox, horse riding, wall climbing and water ball.
How to Get There
Jendela Alam is located at Sersan Bajuri Street, Lembang, West Bandung Regency. The admission is Rp 15,000. Opening hours is 9 am – 4 pm. Visiting Jendela Alam is just one of things to do in Lembang Bandung.
5. Culinary Tour at Maxi's Resto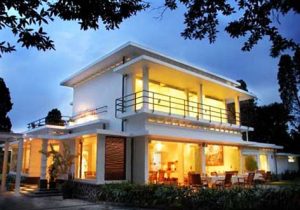 Maxi's Resto has a garden that is famous for its beauty. Therefore, this restaurant is often used as a place for garden party. Its elegant interior also provides a comfortable atmosphere for customers.
Maxi's Resto serves Western food, Indonesian food and seafood as well. Friendly service and reasonable prices make customers not hesitate to come again.
How to Get There
Maxi's Resto is located at Gunung Agung Street, No. 8, Ciumbuleuit, Bandung. Opening hours is 7 am – 10 pm.
6. Culinary Tour at Chef Epi Seafood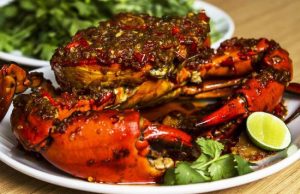 If you love crab dishes, you should stop by Chef Epi Seafood. It is the best place in Bandung to enjoy crabs. Chef Epi Seafood serves a variety of crab menus ranging from savory to spicy.
To maintain its quality, Chef Epi Seafood only uses a Papuan crab which has a thick meat. In addition to seafood, it also serves Vietnamese food, e.g. pho bo and goi cuon, and Vietnamese coffee.
How to Get There
Chef Epi Seafood is located at Ciumbuleuit Street, No. 152, Bandung. Opening hours is 10 am – 10 pm. Inarguably Chef Epi's crab can be one of delicious things to eat in Bandung.
7. Strolling at Cihampelas Walk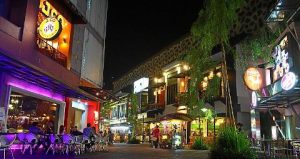 Cihampelas Walk is definitely an instagramable mall you must visit. Its classy interior blends perfectly with its unique outdoor concept that ultimately creates a cozy ambiance.
Stroll around Cihampelas Walk can be a simple and fun entertainment. Cihampelas Walk is also a great place to hang out. There are a variety of restaurants and cafes here.
How to Get There
Cihampelas Walk is located at Cihampelas Street, No. 160, Bandung. Opening hours is 10 am – 10 pm. Needless to say, Cihampelas Walk is one of best shopping destinations in Bandung.
8. Visiting Teras Cikapundung Park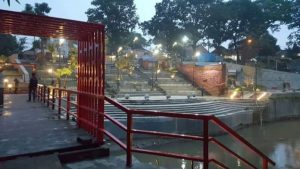 Teras Cikapundung Park is on the rise. This park turned the riverside of Cikapundung that had been slum to be picturesque.
Teras Cikapundung Park is enhanced with the amphitheater, fountain, fish pond and bridge. Visitors can also feel the excitement of crossing the Cikapundung River by inflatable boat.
How to Get There
Teras Cikapundung Park is located at Siliwangi Street, Hegarmanah, Bandung. The admission is Rp 10,000 for adults and Rp 5,000 for children. Opening hours is 7 am – 10 pm.
9. Visiting Nu Art Sculpture Park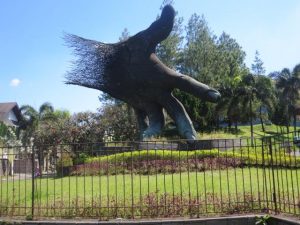 Nu Art Sculpture Park is an art gallery that holds dozens of sculptures made by Nyoman Nuarta, Indonesia's most famous sculptor. Besides indoors, the sculptures are also on display in the garden.
Nu Art serves not only as an art gallery, but also as a venue for dance, music and theater. Here visitors can also learn to make artwork through fun activities such as shaping clay and painting umbrellas.
How to Get There
NuArt Sculpture Park is located at Setraduta Street, Bandung. The admission for adults is Rp 50,000 while for students and children is Rp 25,000. Opening hours from Sunday to Thursday is 10 am – 5 pm while from Friday to Saturday is 10 am – 9 pm.
10. Pampering Yourself at The Lammar's Spa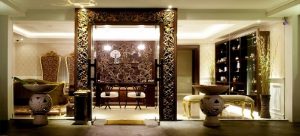 Driving on the streets of Bandung which is often jammed will certainly make you tired. Therefore take some time to relax and indulge at The Lammar's Spa.
You should try their flagship service, Ayuverdic Spa. It can restore your body balance and soothe your mind.
How to Get There
The Lammar's Spa is located at Dr. Setiabudi Street, No. 256A, Bandung. The price starts from Rp 225,000. Opening hours is 8 am – 10 pm.
More pleasurable things to do near Padma Bandung
11. Strolling at Paris Van Java Mall on Sukajadi Street
12. Shopping at Rumah Mode Factory Outlet on Dr. Setiabudi Street
13. Hanging out at Dago Tea House on Bukit Dago Selatan Street
14. Relaxing at Spa Zen Family on Sukajadi Street
15. Dining at Miss Bee Providore on Ranca Bentang Street, Ciumbuleuit
16. Visiting Punclut Area on Rereongan Sarupi Street, Ciumbuleuit
Well, apparently there are various pleasurable things to do near Padma Bandung. Inevitably you have more reasons to extend your holiday. Enjoy Bandung..!