In months within this year, there are some holidays that maybe can catch your attention. Even though you're a worker, but at least you can have some free days to spend. It's too bad if you spend them all only with dong activities inside your house. Maybe you can explore some locations, like the perfect ones in things to do in Bandung for five days
Even though the holidays is not that long, Bandunc city can offer you some places that are really worthy to visit. For three or four days, you can even visit them all if you want. Some of them are also included as free things to do in Bandung which is good. So, if you're still confused where are the places you should visit within this short holiday, you can see our picks below that filled with some things to do in Bandung for 4 days
1. Cibadak Street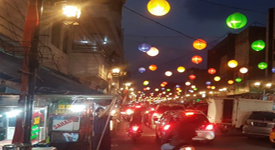 The first place is actually not a place, but more like a spot that exists in one big city of Bandung. The name is Cibadak Street, of course the people in Bandung already very familiar with this unique and colourful road of Bandung.
First, it's better to come here during the evening, because you can see all the lights will be lit up. Beside enjoying the lights, you can also treat yourself with so many kinds of entertainment that located around Cibadak Street.
Location : Cibadak, Astanaanyar, Bandung
Tips : Better come hereon the night
2. Trans Studio Bandung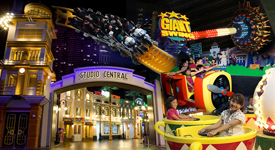 The name of Trans Studio shouldn't be forgotten. Of course, if visiting Bandung city, it'll be a waste if you're not visiting Trans Studio Bandung yet. This places is like the the biggest theme park in West Java province, that of course must be visited.
Anyone who wants to enjoy the venue, they should pay the entry ticket first, which is around Rp100.000,-.  With that, you can enter and exploring the place fully til your heart's content. Aside serving so many fun rides, Trans Studio Bandung also offers some venues that are great for the kids with their educational rides.
Location : Gatot Subroto street 289
Tips : Visiting the place during evening would be great.
3. D'Moners Home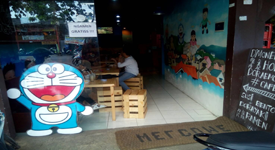 For the 4 days long in Bandung, you must visit the uniqe ones right? And maybe, this place can be used fo that. Being one of the unique things to do in Bandung, D'Moner's Home is really suitable for the people who love the character of Doraemon.
You know Doraemon? This cute and stubborn cat robot surprisingly having its own theme restaurant in Bandung. Inside, you can take pictures with him, and also getting the unique Doraemon theme foods while enjoying the nuances of Nobita's Home.
Location : PH.H. Mustofsa street, Sukapada
Tips : Really suitable for lunch
4. Glamping Lakeside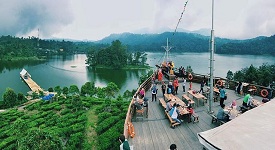 In this location, you can see two main things, the big ship called Pinisi Ship, and also the lake beside it, called Patenggang Lake. Well of course, the place is become more popular because of the unique architecture that this place has.
Combining the natural things like things to do near Padma Bandung with the uniquely made building is something wonderful, especially the building itself also pretty awesomely made. For only Rp130.000,-, you can enjoy some things there, including the view of tea garden.
Location : Situ Patengan street, Rancabali
Tips : Visiting this place during the morning would be awesome
5. Dusun Bambu Family Leisure Park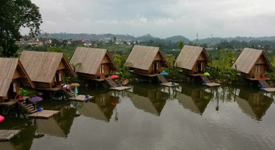 The next fun things to do in Bandung with family is the Dusun Bambu Family Leisure Park. When you know  there's Bamboo word on a name of a place, you can expect that a place should have this balance of nuances with the natural surroundings.
And in this place, that is perfectly true. As given in the picture, this leisure park is surely can be a refreshing attraction for family. Even though you can not find some adrenaline pumping attractions in here, at least be one with the nature is something that must be good for you. The entrance fee is only for Rp50.000,-.
Location : Kolonel Masturi street, Situ Lembang
Tips : Perfect for family vacation
6. Eurad Pingping Peak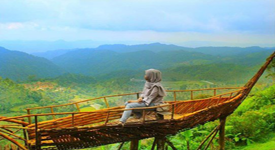 This one is new, but it's already famous for its location and again, the unique architecture. People really love architecture, don't they? Even though the place is covered with the bamboo and wooden architecture, it's still save for everybody.
With the view of hills, mountain, and also kinds of trees, the people can really enjoy them all by just standing in the venue. Of course, don't want to waste the moments, tourist are love to take pictures from this peak. Because, the view in here isn't like the view you can get everyday. 
Location : Lembang, West Bandung
Tips : Don't forget to bring your camera
7. Ciater Tea Plantation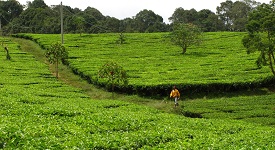 Seeing in so many references, either via social media, or just by mouth of your friends, you can imagine that Indonesia has many tea plantations. And Bandung city, is one of the cities who has a wide areas of them.
One of them is this Ciater Tea Plantation. Many people love it, and often use it for either commercial or their video project, because the background is so awesome. With the entrance ticket for about Rp22.000,-, anyone can enter easily.
Location : Cigereng Village, Cicadas
Tips : Better bring jacket
Other Places in Bandung
Those are not all the spots or venues that included as things to do in Bandung for 4 days. You can also visit the options that we picked before on the list below that contains about 9 other locations in the Bandung city.
Keraton Peak
Cileunyi
Floating Market
Moko Hill
Gambung Tea Plantation
Citarum River
Pawon Cave
Saung Angklung Udjo
Bandung Princess Cake
That's the end of the things to do in Bandung for 4 days right there. That's the proof that can tell us, even though you only spend some days in Bandung, you can have the greatest experience of enjoying the unique and yet remarkable venues.
Aside from the fact that the Bandung city is fairly accesable, the price of the venues are also quite affordable for many people. So, with that you can save a lot of money, because you'll only need some portions of it for the holidays in Bandung
Attractions in Bandung