There will be some holidays again in this month, finally. Maybe, it's the perfect time to visit any place you want to go, but you haven't before. But for the alternative, you can try for once some of the best spots in the things to do in Bandung for five days.
The things is, sometimes, having some kids with us can be a little bit harder to go somewhere. If you do care much about yours, you should think about the condition of the place, and is is the perfect place and suitable for the kids? Even though they are included as things to do in Bandung for 4 days, but maybe you still confuse that what kind of place in Bandung that are suitable for them. Don't worry, we got you. Here is the list with a lot of things to do in Bandung for todderls that you can use as the options. Let's see here/
1. Taman Lalu Lintas ( Traffic Park)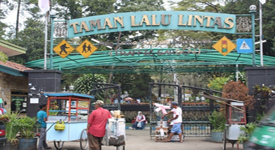 If we take our kids, of course we want to take them to the useful and also entertaining places. One example is this Taman Lalu Lintas, or Traffic Park that exists in Bandung. The place is very suitabke for character building, especially for the kids and introduce them to what traffic is.
The park was built in order to give the children with so many useful information about traffic in Indonesia. About  the signs, the light colours, and others thing that they should already know when they reach teenage years. Kids can play with so many things in here, like bicycle and stuff, only with Rp7.000,-
Locations : Belitung street 1, Merdeka, Bandung
Tips : You can take them in the evening, so your kids can play with the others who already present on the park before you.
2. Bandung Science Center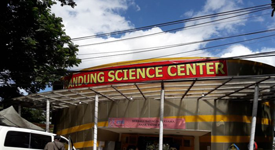 Many say that science is really boring. When the kids learning in their class, they always come home complaining about how boring it was. But things are different in this BSC or Bandung Science Center, when the people of Bandung, especially kids an teenagers can learn some more stuff about science.
Not only for kids, but adults can also learn something new from this place. Because of that, parents and their kids can learn together. There are several good rides in here like Earth room, Astronomy Room, Geology Room, and many more. Only with Rp45.000,- you can get the full experience
Locations : Simagalih street 15
Tips : Take the kids here during weekend for more pleasurable experience
3. Strawberry Garden in Ciwidey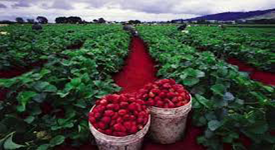 Who doesn't love strawberry? Every kid in this world loves strawberry. In Bandung, there's one specific place where you can take your kids to the new experience of enjoying strawberries in The Strawberry Garden of Ciwidey.
With the entrance tickets that starting from Rp5.000,-, you can ready to explore the garden in any way you want. The kids can also learn about how a fresh strawberry look like, the development, and how to harvest them. You can pick some for you too, with additional cost of course.
Locations : Ciwidey, Bandung
Tips : Come here in the morning would be good.
4. Trans Studio Bandung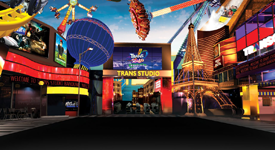 And of course, we couldn't separate our list from this Trans Studio Bandung. This place is always bee a choice, for everybody. Especially, beside the place looks amazing, it has a lot of features, a lot of things that visitors can enjoy.
Beside the thing like restaurants and shops, the place is also has some rides that very suitable for the kids. For example, there are Trans Science Center, Trans Broadcast Museum, and many more. All you can get with paying Rp150.000,-
Locations : Gatot Subroto 289 street
Tips : Make sure that the kids have healthy condition first, because surely they wil exhausted from many rides in here
5. Saung Angklung Udjo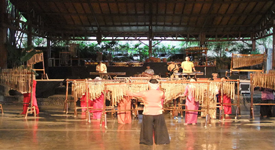 The next one is Saung Angklung Udjo. One of the unique things to do in Bandung, Saung Angklung Udjo is indeed not only famous for locals, but also for foreign tourists who want to take a tour at this musical rich place.
With the entrance ticket of Rp40.000,-, visitors will enjoy the thing called Angklung, the traditional musical instrument of Indonesia. Kids can learn how to use them, and along with the other visitors making the harmony to sing a very beautiful song.
Locations : Padasuka street 118
Tips : It's really calm here during evening
6. Jendela Alam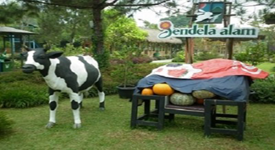 For the love to the nature, we as parents can also tell our kids with the suitable place with much entertainment like this Jendela Alam. It means, the Nature Window, which metaphorically connecting us to the nature.
As one nature things to do near Bandung airport, the kids will know how to love the nature, by doing something like gardening. By planting something, The Earth can give us something. The atmosphere around is really supporting to do it, only with Rp15.000,- of administration fee. 
Locations : Sersan Bajuri street 4,5th km, Cihideung
Tips : Make sure that you come here on the morning
7. De Ranch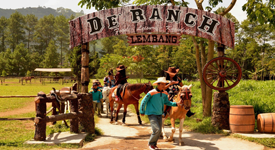 As one place, that even though not included as one of the free things to do in Bandung, that can be a choice still, is De Ranch. If the attraction above, provide improving knowlegdge of the kids by telling the way of gardening, in here, the kids will be told about all the things of farming.
Taking the cow boy theme, De Ranch is known for having all the things that related to the life of farming. You can even hop on a horse and see the garden, farm, cows, horses, and the other things. Aside from there, varieties of rides or attractions giving so much colour and vibe to the place. You can enter, with paying the fee for about Rp10.000,-
Locations : Raya Maribaya street 17
Tips : Make sure that you're in very remarkable condition before visiting here
Other Attractions
Aside from those locations things to do in Bandung for toddlers that you may visit for the next holidays. But, if those places still can not suitable for your expertise, maybe you can see at these places we already provided for you.
Padepokan Dayang Sumbi
Begonia Flower Park
Lembang Farmhouse Bandung
Bandung Carnival Land
Natural Hill of Cisarua
Pawon Cave
Hong Community Bandung
Stone Garden Geo Park
Culture Park of West Java
So that is the list of things to do in Bandung for toddlers. Some of them are even very educational for the kids, so they can have fun and studying in a very unique way. Learning won't be boring anymore because they can also enjoy all kind of rides in there.
With our options, we hope that you and your family can enjoy the family friendly and educational locations that actually exist in Bandung city. Some maybe even unpopular, but still they are really worthy to visit.
Educational Attraction in Bandung, Taman Lalu Lintas