Sultan Palace of Yogyakarta – Tourism – Facts – Tradition
Welcome to Sultan Palace of Yogyakarta! Have you ever been in Yogya? Well if you have, have you visited the Sultan Palace of Yogyakarta? 
If you didn't, then you must visit Yogya again and go straightly into the Sultan Palace!  If you want to feel the sensation of the ancient legacy of Yogyakarta, feel the sensation of how Yogyakarta Sultanate runs it kingdom back at the time. Sultan Palace of Yogyakarta is the best option if you want to feel such sensation!
History of Sultan Palace of Yogyakarta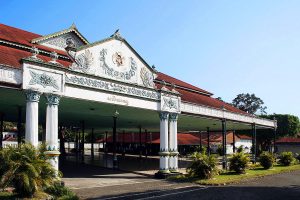 People of Javanase called the palace as Keraton. The palace was established by Sultan Hamengku Buwono the First, a few months after Giyanti Agreement in 1755. People say, this place was built from the ruins of Garjitawati Castle. This castle was used as a resting place for the Old Kings of Mataram Kingdomg (King Kartasura & Surakarta) which were burried in Imogiri.
Another sources said that it was built from Umbul Pacethokan Fountain which was located in the middle of Beringan Forest. Before residenting the palace, Sultan Hamengku Buwono the First residented at Ambar Ketawan Castle which is now is a part of Gamping District, Regency of Sleman. Here's more beautiful spot and Instagrammable Spots in Yogyakarta
Feel the Sensation of Living at Sultan's Palace
Back at the time, the palace was used as governing centre and where the Sultan's Family live. Nowadays however, the governing centre is moved and the palace has turned into tourism spot. If you planning to spend your holidays in Yogyakarta, we recommend you to visit Sultan Palace of Yogyakarta. Where else you could feel the sensation of living at Sultan's Palace except here?.  Then you might also wondering, how much is the ticket price and what is the uniqueness of this palace?.
For your information, the palace is easy to access, just make sure you don't forget to bring your GPS. Here's more beautiful spot and The Historical Places in Yogyakarta
A Priceless Place but Everyone can Access It
This palace is priceless, it's an ancient palace that was built many ages ago and has significant contribution for Indonesia's Independence. However the ticket to access the palace is quite cheap, everyone could access it because of this. The ticket would be around 7k rups for domestic tourist and 12.5k rups for foreign tourist. What a cheap price right?. You are visiting a place where Sultan govern Yogya back at the time and you could learn everything about their legacy for a cheap price directly. So what are you waiting for?.
For your information the palace open at 08.00 AM to 02.00 PM, except for friday whereas the palace only open until 12.00 AM. Here's more beautiful spot and Don't Leave Yogyakarta before You Come Here
The 3 Main Buildings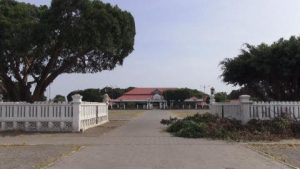 The first thing you will find is a large open field called, Alun-alun Lor. Alun-alun Lor is a front yard of the palace. In this field we could find many interesting attraction such as ancient warriors battle, extreme warriors attraction, a mini gladioator fight with a lion.
At night we could find a Sekaten Carnival around the field which offers many interesting souvenirs such as key chains, stickers, miniatures, not only that we could find many delicious cullinaries such as gudek, bakpia, krecek walang, nasi tiwul, and many more. This carnival has been held for over hundred years.
Also uniquely, we don't need to buy a ticket to just accessing the Lor. 
The Great Mosque of Sultanate/Mesjid Gedhe Kauman Ngayogyakarta Hadiningrat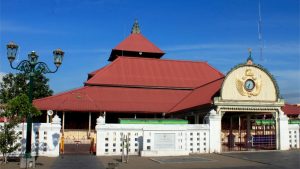 The Great Mosque of Sultanate or Mesjid Gedhe Ngayogyakarta Hadiningrat is a great mosque on the Sultan Palace. Located on the west side of north plaza of Sultanate.
The mosque was established by Sri Sultan Hamengku Buwono I along with Kyai Faqih Ibrahim Diponingrat and Kyai Wiryokusumo. The mosque was established on Mei 29th 1773.
This mosque has an Ancient Javanese Architecture which makes it more unique compared to any other regular mosques.
The mosque is like an ancient silent witness that witnesses how the sultanate developed and govern the kingdom. As the mosque was the center of the sultanate back at the time (Sultanate used mosque as the center of their kingdom back at the time) which is why the mosque has a great historical value which is so worth to visit. Here's more beautiful spot and Breathtaking Photo Spots in Yogyakarta That Prove It Is A Photographer's Heaven
The Kadipaten is a palace where the Crown Prince resided. Kadipaten originally made from a Crown Prince named
Pangeran Adipati Anom. Kadipaten is located on Northwest of  Taman Sari and Ngasem Traditional Market. 
Nowadays, the palace has changed it's function from a palace into educational college named Widya Mataran University.
Even though Kadipaten has changed it's function, tourist still could visit it and see how a Crown Prince used to live and how the Sultanate prepare the sultan's successor. Here's more beautiful spot and Gay Places in Yogyakarta Indonesia
Unique Interesting Ceremonials Among the Palace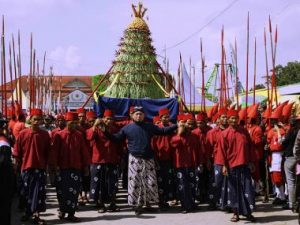 Gareber or Grebeg ancient ceremonial of Javanese to celebrate particular historical event, for example to celebrate the birth of Prophet Muhammad. Grebeg usually being held at Sultan Palace of Yogyakarta. Grebeg is a part of Sekaten Ceremonial which is a yearly celebration of Javanese people.
In this ceremonial, the comittee will celebrate the success of Sultanate's Government by giving free foods which would be decorated before, the decoration of the food would be scenic and unique as the foods usually forms a mountain shape. The foods will be paraded through out the Sultanate, then the foods willbe given to the entire people who followed the ceremonial freely. Well tourist also allowed to join the ceremonial, interested?.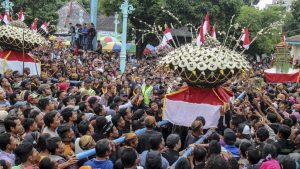 Sekaten is a carnival which purposed to celebrate the birt of Prophet Mumahhamd that is held by the Sultanate of Yogyakarta. The carnival would last around a week before the birthday.
Sekaten originally adopted from Arabic word that is "Syahdatain" which means "Witnessing of the Two". The means has deep meaning, what the people believe that Sekaten means improving our moral values and always praying to God.
In the first day of Sekaten there will be a night parade from Sultanate's Entourage who will perform a musical orchestra using Javanese Gamelan Kyai Nogowilogo and Kyai Gunturmadu. This parade start from Ponconiti and will be finished at The Great Mosque in North Plaza. The parade will be guarded by Sultanate Warrior. The parade will be paraded for a week and the last day the parade will returns to sultan palace for Grebeg Ceremonial.
Wow!. Yogya's Sultan Palace surely has a rich cultures and values that we could learn as modern human nowadays. The unique meaningful ceremonial surely picked out your interest is it not?. How about the ancient buldings? Do you want to feel the sensation of entering the Ancient Sultanate of Yogya?. Come visit Sultan Palace of Yogyakarta and enjoy the sensation and cordiality of Yogya's People. Visit Sultan Palace of Yogyakarta Now!
Sultan Palace, Yogyakarta