New Year is coming up. It's not that very long now, two months ahead, and we're entering the new year of 2019. So what's your plan for celebrating new year's eve? Do you have an exact plan to do it? Do you have somewhere to go to spend the night of changing year? If not, maybe Indonesia is a great place for you.
You can take your family to this country and enjoy all the attractions while waiting for 2019. As you may know already, this country is also included as a tourism country where you can spot any attractions easily. It has hundreds of attractions ready to be visited. We collected all of them and put them on the things to do in Indonesia on New Year's Eve that you can see right in the section below :
1. Jatim Park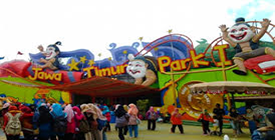 The first attraction is Jatim Park. Do you know what kind of place is Jatim Park? Jatim Park is a recreation location located in Batu city, near Malang and also one of the best attractions in things to do in East Java. It was built by Jatim Park Group, the creator of Jatim Park 2, now under development Jatim Park 3, Museum Satwa, The Bagong Adventure, Batu Night Spectacular, Predator Fun Park, and many more.
Celebrating the new year in Places like this would be very fun, especially Jatim Park has a large collections of ride, such as Superman Coaster, Sky Ride, Waterboom, Ethnic Gallery, and many more. Because it closes at 4.30 pm, there's so firework show during the night. But, there will be some event or discounts during the 31th of December. The entrance ticket of this place is Rp75.000,-
Location : Kartika street number 2
Tips : You can take your family here during the morning to avoid the crowd in the afternoon.
2. Toba Lake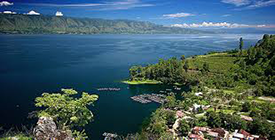 From East Java province, in Batu, we're moving to the area in the Sumatra island to visit one of many icons like things to do in Northern Sumatra of this island, called Toba Lake. During the day, you and your relatives can have this boat rid to circle the lake and the small island located near it. The price to enter and price to renting a boat for a ride is always very affordable.
In the evening, you can prepare yourself for the new year celebration by eating some kinds of seafood in restaurants located near the lake. There are some places to choose, and none of them have such a high price. During the night, there are fireworks in order to celebrate the new year done by the locals. For entering the lake, you can pay about Rp5.000,-.
Location : North Sumatra
Tips : You can bring your own foods to the area to save some budget
3. Taman Impian Jaya Ancol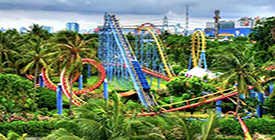 In Jakarta, there are like a lot of places as things to do in Indonesia in the new year like things to do in Old Town Jakarta. Inside that very area, you can visit one of the best attractions in Jakarta called Taman Impian Jaya Ancol, which became a popular attraction in the city.
To celebrate the New Year, this is like the central place. The excitement even began since evening time. Usually, the government will hold some kind of concert, and then on top of the schedule, there will be fireworks celebration right after midnight. Usually, there will be a costume parade there, which is really interesting. It's Rp22.500,- to enter.
Location : Kota Tua, Lodan Timur street number 7
Tips : You can order the ticket online for a cheaper price.
4. Alun-alun Malang (Malang city square)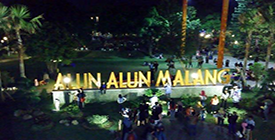 Back again to Batu city, we're moving down some kilometers to a city called Malang city. Malang city is the city that grew to be as big as the capital city of East Java, Surabaya. In the city, there are some notable malls like Matos and MOG.
Also, there's a location that still being a favorite one called Alun-alun Malang or Malang city square. This place can always be a perfect one to celebrate the new year. Besides the place is really crowded, the firework show is also quite good. The parking ticket is only Rp2.000,-
Location : Merdeka street, Malang
Tips : If you're hungry, there are some restaurants located near Alun-alun
5. Bali Bird Park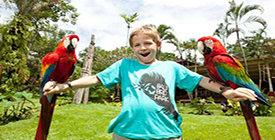 Besides things to do in Bali Safari and Marine Park, there's an attraction in Bali that is suitable to enjoy your free day in the last day of the year, called Bali Bird Park. It's located in Gianyar Bali, and became the best place to interact with lots of exotic birds.
With the entrance ticket of  Rp75.000,-, you can enjoy some activities like 4D theater, watching Komodos, taking pictures with the birds, giving food to them, and the others. If you want to watch fireworks, you can visit the nearest beaches such as Lebih beach and Purnama beach. 
Location : Serma Cok Ngurah Gambir Singapadu
Tips : The beach is really crowded during midnight, always be careful
6. Selamat Datang Monument/Bundaran HI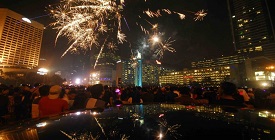 Besides known as a city that has a lot of malls like things to do in Mall of Indonesia, Jakarta city is always becoming an icon to celebrate the new year. Even some television networks are always covering the news about the celebration.
The most iconic spot is in the Selamat Datang Monument or the round fountain area right in front of Hotel Indonesia. Each year, there's a firework show, the big one right on that very spot. People are always gathering around it to watch it.
Location : right on front of Hotel Indonesia, Jakarta
Tips : There are some warnings about thievery during a real crowd event like this, be careful of your belongings
Beside those seven locations, you may be wondering how many attraction is there to celebrate this grand event of the year. Don't worry we also include these things to do in Indonesia in the new year that of course, you can visit.
Bunaken Island
Fort Rotterdam
Tanjung Puting
Tanjung Benoa
Derawan Island
Mount Bromo
Mount Agung
Bandung city squares
Simpang Lima Semarang
Alun-alun Yogyakarta (Yogyakarta city squares)
That's the total of 16 things to do in Indonesia on New Year's Eve. As you can see, even the natural attractions such as Mount Bromo, Mount  Agung, and Derawan Island are the great places to be. Make sure that you're booking the nearest hotel from your destination at least a week or three days before actually visiting it, because during the date, most hotels are already full.
Celebrating 2018 in Selamat Datang Monument