Welcome to Maribaya Hot Spring!
Well, there are many Free Things to Do in Bandung. If you are planning for holiday in Bandung and want to feel the sensation of fresh air and the nicety of Bandung's natural pesona, then you must visit North Bandung. In North Bandung, there is a tourism spot who once called as Maribaya Lembang.
Nowadays, the name has been changed uniquely, which is Maribaya Resort Bandung. Not only the name has been changed into something unique, the place also has many new features which are more interesting than before. Curious?. Let's check it out the things to do in Maribaya Hot Spring!
History of Maribaya Resort Bandung
Uniquely, the name was originally come from Sundanese Language which are constructed by two different words, "Mari" means healthy and "Baya" means happy so in other words Maribaya is a healthy and happy place. The name was originally given by Bandung's Regent at the time, R. Aria Martanegara. At that time, there was a chief called K.H. Hasan ustama ,a Sundanese Poet, who originallly invented the name Maribaya.
The history of Maribaya will always be associated with a farmer, named Eyang Raksa Dinata. A poor farmer was had a daughter named Maribaya. Maribaya is indeed remarkably beautiful, because of this the farmer feared of something terrible might happen to his beautiful daughter. He Afraid that his daughter will become a "trophy" and will be hunted by the entire young men from his village. Feared, the farmer decided to visit Mount Tangkuban Perahu and will meditate there.
While on meditation, suddenly there was an old man, the old man gave the farmer 2 pieces of bowl. The bowl was filled with water. The old man gave a message, "You must bring one of the bowls to the east and another one to the west and spill them dry." The farmer obeyed the old man message, he gave Maribaya one of the bowls and and keeping one of the bowls for himself then they splitted up to the east and west thus spilling the bowl dry. The spill from farmer's bowl created Situ Lembang and the spill from Maribaya's bowl come a how water spring which nowadays called Maribaya Hot Spring.
An Interesting Unique Tourism Spot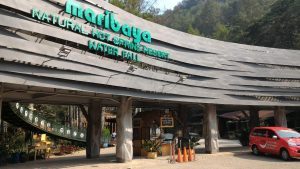 Maribaya Lembang nowadays has changed into Maribaya Resort Bandung has been a tourism spot for quite some time. If you are a native then you might have visited Maribaya or you ever heard about it at least. As for you who want to spend your holiday in Bandung, you might be wondering, Where is Maribaya Resort Banding located? How much is the ticket price? And what kind of unique interesting activities that we can do there?.
So, Maribaya Resort Bandung is a natural tourism spot which is recommended for local tourist or even foreign tourist. Over there you could enjoy the beautiful green view. We guarantee you, the sensation will comfort you and chill you out. Not only that, there's also a scenic waterfall. Furthermore, you could enjoy a comfort chilling hot spring. For your information, after being renovated back in 2015, thus a rebirth of Maribaya Hot Spring that could make tourist does want to stay there for a long time. 
The Maribaya Location
For a native, it would not be hard to find Maribaya Resort Bandung. However, it might be quite challanging for domestic tourist or foreign tourist to find it. In this article we would like to give you a detailed instruction of how to get there. To cut things short, the resort is located at 105/202 Maribaya Street, Lembang, Bandung. If you need further information then you can contact (022) 828 8228. The resort is located about 22 kilometers from Bandung City and there are 4 route which you could take to access the resort. Which are :
First route is you could just easily drive from thebig main road.You just need to drive to Dago, then trough Setiabudi Street, from Setiabudi you could simply drive away to Lembang before arriving on Maribaya. However, the annoying things about choosing this route you need to travel way farther than any other route;
Second route is you could use the smaller main road. From this you must be careful and aware as there are many ascending roads which is quite difficult to drive. When you arrive on Dago then you need to go up until you reach Dago Terminal, then you go left to Dago Giri, from there you must take the road to Lembang then through Maribaya;
Third route is you could pass through Punclut Tourism Site. However this route takes way more difficult road than the second route. From Dago, you must drive to Ciumbuleuit, then go to Punclut. After arriving on Punclut, drive to Lembang before arriving on Maribaya;
The last route is more suitable for you who love hiking. You just need to go to Djuanda Forest Park. From there just simply hike and arrive on Maribaya. 
Ticket Price
For the ticket price, the Maribaya Resort Bandung management set 35K rups per ticket or around 2.5 dollars per ticket. Remember, the ticket is only valid for accessing the resort. Well it's quite expensive for sure because the resort only opens on friday and weekends. The resort opens from 08.00 AM to 08.00 PM
Tourism Area
Just like we explained before, there are many facilities for tourist such as waterfall and natural hot spring. However, this place has many interesting facilities that could make your holiday is an ace!
Maribaya Waterfall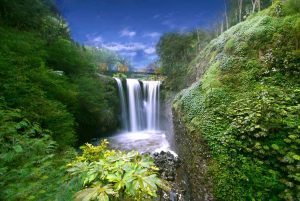 At least, there are 3 waterfalls that you could enjoy at Maribaya Resort Bandung (for your information waterfall was named as "Curug".) which are Curug Cikawari, Curug Cigulung, and Curug Cikoleang. 
These three waterfalls are a scenic combination between Cigulung River and Cikawari River. Also there's a caffe called Twig Cafe near the waterfalls.
Here are more to visit ini Bandung:
Tapak Halimun Skybridge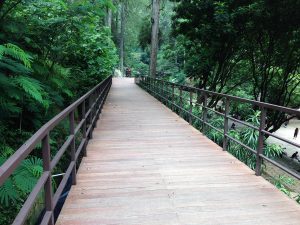 Tapak Halimun Skybridge passes through the entire resort. From the bridge, tourist could enjoy a remarkable scenic view of Maribaya Resort Bandung.
This bridge is a linear bridge which has a wooden brown color which gives natural sensation towards the area.
Usually tourist visited the bridge for photo hunting because the elegant scenic natural sensation that the bridge has to offer to them.
Here are more to visit ini Bandung:
Ampitheatre Bale Pinton
Ampitheatre Bale Pinton is an amphitheathre which has capacity around 200 people. This amphitheathre was purposed for tourist who wants to held an event in an open field which offer natural sensation. Maybe you could pick Ampitheatre Bale Pinton as your references if you want to held an event such as wedding party or etcetera.
Hot Spring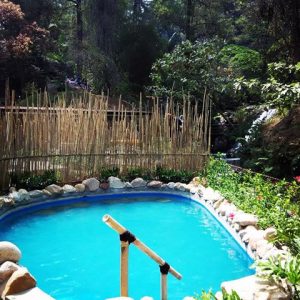 The hotspring which originally comes from Maribaya contain sulfur that could be treated as a cure for particular disease.
Tourist could choose which hot spring they want to enter. Every pool has different prices.
For deluxe pool you need to pay 75K rups per person or around 5 dollars per person. For the VIP pool you need to pay 150K rups per person or around 10 dollars per person.
If you just want to get a feet massage then you just need to pay 30K rups per person or 2 dollars per person.
If you want to use the bathing room then you could use Tirta Raga Private Bathing Room which cost 90K rups per person or 6 dollars per person  
Talaga Giri
If you love fishing then you could visit Talaga Giri. You just need to pay 20K rups per hour or 1.5 dollars per hour for fishing and if you want to keep your fish then you just need to pay 15K rups per 15 minute or 1 dollars per 15 minute. Interested?
Food Court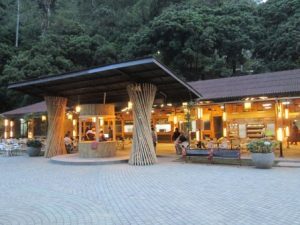 Inside Maribaya Resort Bandung itself, there are many food court areas. So tourist does not need to think about bringin food very much.
There's a caffe called Twig Caffe which location is near the Curug Cigulung.
Also there's a food court called Langlang Buana which is located near the outer gate of Maribaya Resort Bandung. This food court offers many foods especially local foods. Uniquely, if you just need to buy a food you don't need to buy a ticket to Maribaya Resort Bandung.
Are you interested visiting Maribaya Resort Bandung? As there are many beautiful things to do in Maribaya Hot Spring. If you are then make sure to choose proper route that is suited to you and don't forget to check your car as we know the road is tough and rough to go there. Happy Holidays in Indonesia!