Indonesia is located on the lane of the Ring of Fire, making Indonesia has many active volcanoes on almost every region. One of the most active and famous volcanoes in Indonesia is Mount Merapi which can be literally translated as Fire Mountain.
It is located on the border between Central Java and Yogyakarta provinces, specifically 28 kilometers north of Yogyakarta city. It is famous as one of the mountains in Central Java to hike where you can catch beautiful sunrise on your hiking day in this mountain. Check this article to know more about Merapi sunrise trekking.
Mount Merapi has been erupted for 68 times since 1548. Large eruptions occured in 1994, 2006, 2010, and 2013. The latest explosions so far was on 3 March 2020 and 27 March 2020. Despite these explotions, the government of Indonesia has announced that it is still safe to visit the area of Mount Merapi as long as it is 3 kilometers far from the red zone.
Even though you are not able to explore the things to do in Mount Merapi, Yogyakarta during the mean time, you can always have some fun in some areas near this Fire Mountain where you can be also enjoying the beauty of this mountain as well as witnessing the eruptions history of the fire mountain from a safe distant.
We have prepared list of things that you can do and find in some areas around Mount Merapi disaster tourism to witness the big explotions of Mount Merapi. Check it down below!
1. Have Fun in The World Landmark Merapi Park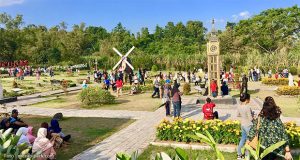 Located in Sleman Regency, the World Landmark Merapi Park showcases the miniature of landmarks from numerous countries around the world. In this park, you can view the figure of Mount Merapi as well as miniature landmarks like Eiffel Tower, Big Ben, Dutch Windmills, and the Leaning Tower of Pisa.
It features traditional concept of restaurant and you will only need to pay IDR15,000 as an entrance fee. This is a fun way to enjoy the beauty of Mount Merapi as well as travelling the world in only 10 steps. The concept offered makes this site becomes one of the instagramable places in Yogyakarta.
2. Learn More about the Mountain in Mount Merapi Museum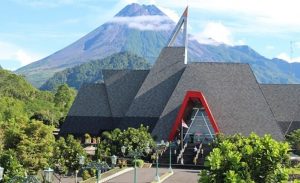 Situated in Sleman Regency and inaugurated in 2010, you can visit and learn many things about Mount Merapi in this museum. As soon as you enter the museum, pictures of Mount Merapi from time to time will welcome you and you can see how the characteristics of Mount Merapi changed from time to time due to the constant eruptions. The large explosion in 2010 was one that caused the major change.
There are also rocks that were resulted from frozen lava and graphics that explain about the eruption of Mount Merapi. There are also some sophisticated multimedia that show you the simulation of eruptions, eartquakes, and tsunami. You can also watch a documentary film about Mount Merapi that lasts for 25 minutes.
Not only showcasing Mount Merapi in particular, Mount Merapi Museum also shows the evolution of Earth's crust, the list of active volcanoes in Indonesia and the world, the type of eruption and how to mitigate if an eruption occurs.
With a background of Mount Merapi, this museum is a must visit one if you want to know more about Mount Merapi and its eruption. It opens from 8AM-4PM and you only need to pay IDR5,000 as the admission fee.
3. Visit Kaliadem Bunker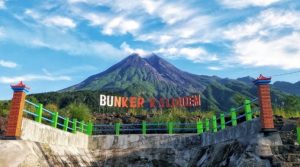 Kali Adem Bunker is one of the witnesses that testified the great explosion of Mount Merapi. It is located in Kepungharjo Village, Cangkringan, Sleman Regency, Yogyakarta, and was built in the colonial era as a shelter from Mount Merapi eruptions. As time goes, it was also used by the villagers of Kepuharjo Village to protect themselves from the hot clouds of the eruptions.
However, it left a tragic and sad story where two people were killed because of the 2006 big eruption which made the bunker burried for a bout three years before finally functioned as a tourist site.
It will be an emotional trip as you will be presented with sad stories related to the bunker. You can also view the great figure of Mount Merapi from this bunker.
4. Have an Adventurous Merapi Lava Tour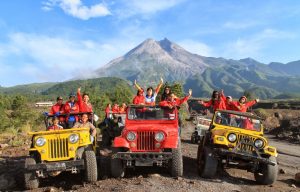 After a sad experience in the bunker, you might want to lift up your mood with an adventurous and fun Merapi lava tour by driving a rented jeep. It is located near the bunker and you can always see many tour operators that offer Merapi Lava Tour with a price that starts from IDR350,000.
Your adventurous tour will include driving a jeep through the path of Mount Merapi lava where you can see the ruins of buildings that were broken as the results of the eruption and the rocks that came out of the eruption with the magnificent view of Mount Merapi.
5. Visit Omahku Memoriku-House of Memory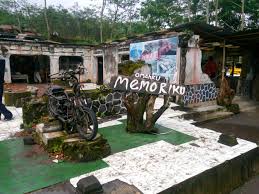 Situated in Kepungharjo Village, Cangkringan, Sleman Regency, Omahku Memoryku, which can be translated as House of Memory, portrays the deadly eruption of Mount Merapi in 2010. You can see the remainings of a house that was bombarded by the eruption.
There are television, computer, motorcycle, bicycle, cow bones, and even a wall clock that stops at 12.05, indicating the time when the hot cloud swept out the area.
Visiting this place will surely break your heart as you can witness by yourself how deadly the eruption was and how terrifying it must have been in the situation.
Through this visit, you can see that the nature always holds its spirit and shows its greatness through things that you can never imagine.
6. Witness What Was Left from the Eruption in Sisa Hartaku Museum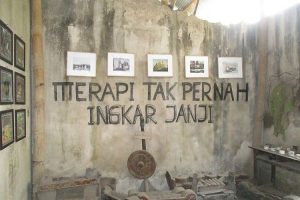 Similar to the House of Memory, Sisa Hartaku Museum, which can be translated as My Remainings Museum, preserves and showcases the remaining goods from the deadly eruptions of Mount Merapi.
The building of the museum is also a remaining house from the eruption with the remaining goods inside. What makes this museum becomes way more saddening is the handwriting on the walls from the owner of the house which expresses how sad the people were when and after the eruption occured.
Well, Mount Merapi really has great figures and beauty that you can enjoy through hiking. Even after its deadly eruption, you can always find things to see and witness that could build both joy and emphaty. Mount Merapi is surely one of the reasons why everyone should visit Yogyakarta, Indonesia.
If you want to visit Mount Merapi in the near future, always remember to stay within the safe distant as suggessted by the governemnt of Indonesia. Happy holiday!