Indonesia has a lot of beautiful spot for visits. The most famous place to visit is Bali Island. As an international tourism icon, Bali has a lot of beautiful objects, from the mountain through the iconic beach. One of the famous objects is Tegalalang Rice Terrace in Ubud. This place is Rice Terrace that giving you a condition of a natural and beautiful farm village.
Tegalalang Rice terrace in Ubud Bali Indonesia – The Ultimate Guide for Tourist
Tegalalang is a beautiful scene of rice paddies involving Subak. Subak is a traditional Balinese cooperative irrigation system that according to the history was passed down by the revered holy man named Rsi Markandeya of the eight century. This Terrace is located in the villages of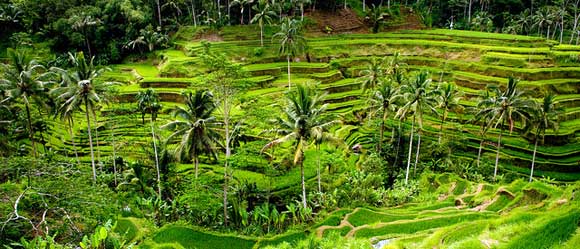 pejeng and Campuhan of Ubud, Bali.
This place offers you a scenic outlook that spreads down before you farther to the rice paddies on the slopes across the valley. This place is well known with the breezy and cold wind as well as the beautiful spot for the tourists to take a picture and also loved by the photographer and the painter.
You may also want to read: Things to Do in Goa Gajah Ubud Bali
Facilities of Tegalalang Rice Terrace
As the rice trekking is considered as the thirst trip, so there are also some café that will help you get rid of the thirst feeling. You may also take some photo in the area with the local people that working in the field, but as you know that those people may ask some money since their photo is taken.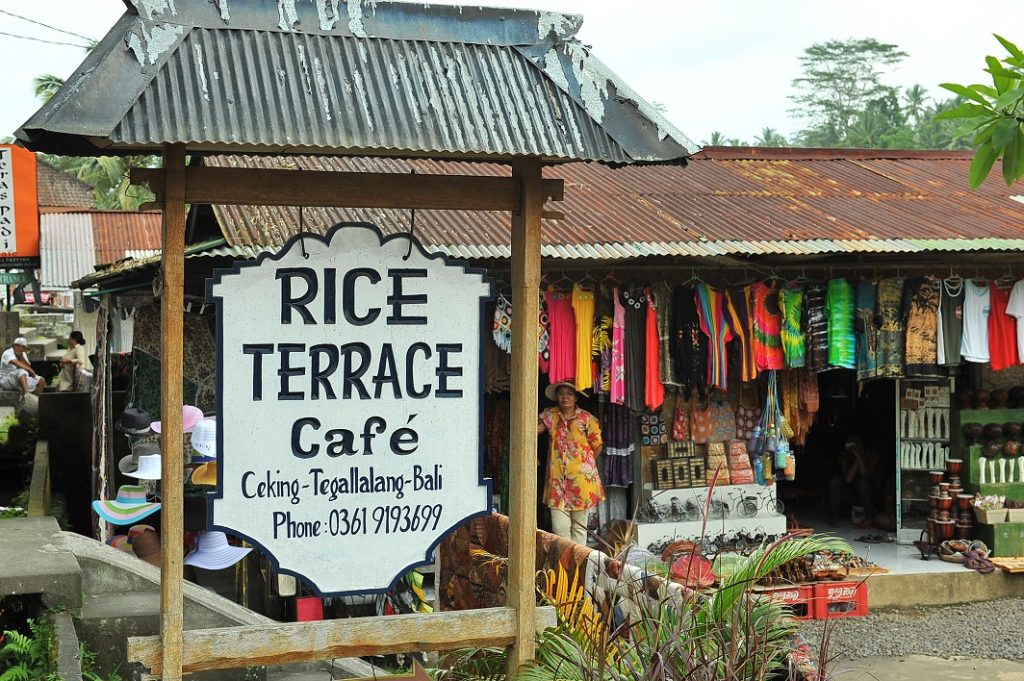 There are also souvenir shops around the places, so we can take the souvenir home. They mostly sell the local handy craft such as a bamboo hat. The price is also not that expensive and still at the standard level. So, besides enjoying the beautiful view of the rice terrace you can also enjoy the cultural side of Bali.
You can also read: Best Party Hostels in Kuta Bali: Recommended Ones
How to get to Tegalalang
Tegalalang rice terrace is located 20 minutes north of Ubud. You just need to dive straight to the north from Ubud. The street is pretty straight and easy to reach. You may come to the place driving the car or scooter for easiest access. So, it recommended rent some vehicle.
When you arrived at the location, you will see a big parking area close to the rice paddies, the area where you can drop your vehicle with a small fee for around Rp.10.000. on the other way, if you are not someone who want to rent a vehicle, you may take the taxi with more expensive fee. But, before you hop on the taxi, make sure to agreed about the fee with the driver first.
You can also read: Solo Trip to Bali from India – Sunset Viewing Points in Kuta Lombok
Ticket Price and Open Hours
Actually, there is no ticket entrance to the Tegalalang rice terrace. We just need to pay some donation before entering the location, so it doesn't determine how much we should pay for entering the place. But commonly, the visitors give a donation of around Rp.10.000 per person.
The place is open for almost 12 hours. Because there is a rice field, so the farmer will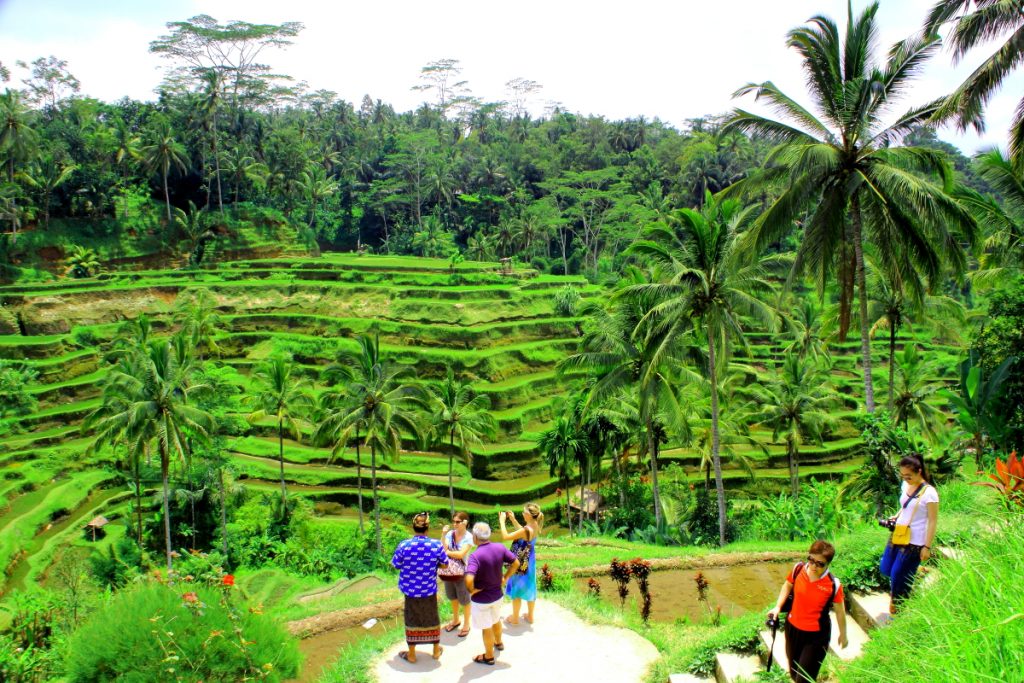 work all day long as well as the place will open all day long. You may take some photo there with the background of the working farmer. But don't forget to give them some gift or pay for their handmade souvenir.
You can also read: What to Do in Dreamland Beach Bali
Tips for Visiting Tegalalang Rice Terrace
After discussing what tegalalang rice terrace, the open hours, even the way we can get there, now we will discuss about some tips you may need when visiting the place. There are,
Bring small change for the donation (entry fee)
Arriving at from the road, you will follow the main path that leads you to the rice field. Along the path, you will find small wooden shacks where locals will ask you for a donation to enter the location.
It is not an entry fee, but let's considers it as a donation for the farmer since it also their livelihood.  Commonly, the donation is Rp.10.000. but its okay if you want to give them more. There are many points to give a donation, so if you want to go as farther to the terrace, you may give more donation.
you can also read: Snorkeling in Pandawa Beach
Visit early, to avoid the heat and crowds
As we know that this location is a rice field, we must understand that there will be heat and sun burning that involved the visiting activity. So, if you want to avoid to become burned by the sun, consider to come early, so the heat won't burn you too much. You may also get some beautiful photo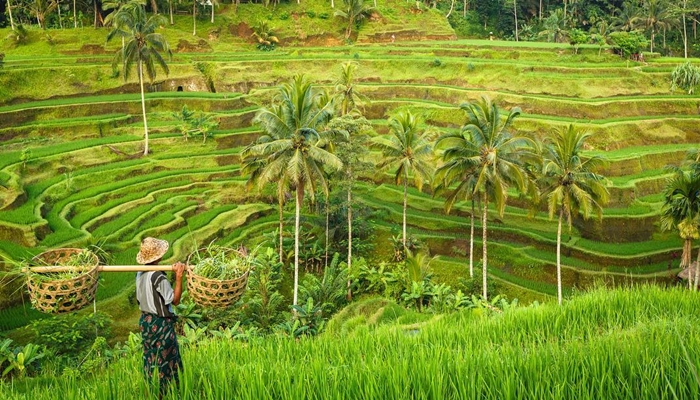 background if you come earlier.
And because tegalalang rice terrace is the most famous terrace in Bali, of course, there are many tourists want to come to visit the place. So it is not surprising if the day is getting crowded. So, it will be better if you can come earlier before the visitors are coming in a big wave.
Bring water and snacks.
Walking down the terrace should exhaust us. We will feel hungry and thirsty. Even if there are some shops around the location, it will be better to bring our own foods.
Most important is nit t forget to bring the water. Since it will be very hot and the thirst from being walk all along, water is what we need along the walking street. 
Be friendly and don't disturb the working farmer
As we visiting a working area for the farmer, you better not ask them too much but still, you need to be friendly with them. You also may take some pictures with them and don't forget to give them some money.
Consider it as you thank you for their hard working. It also will be best if you can buy some of their handmade souvenir such as the bamboo hat.
Take the "love Bali" sign in to your picture.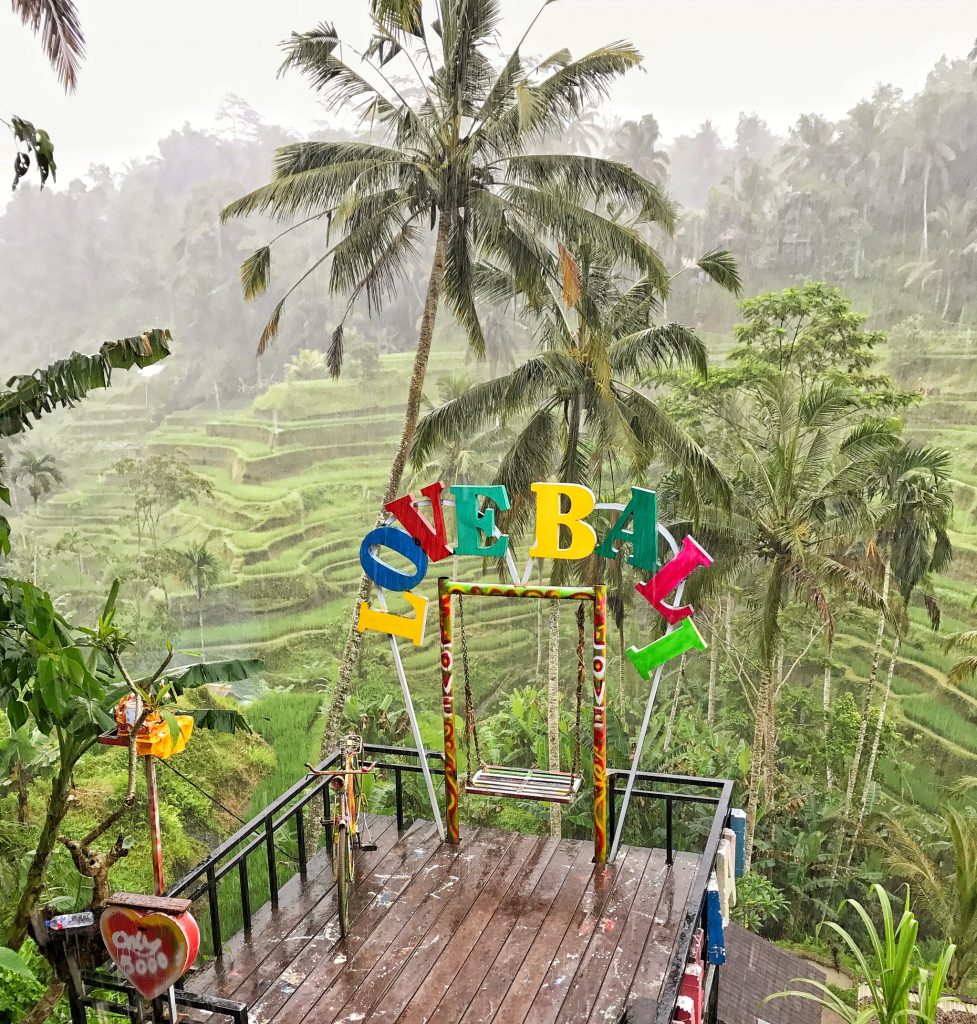 This sign is most likely must spot to take into your picture. This sign is right at the starts of the rice fields, it will be incomplete if you just go home without posing in this spot.
But consider, that there will be a group of children that crowding the sign and won't let you sit on to take pictures before you give them a donation.
You may also want to read:Where to Go For Single Woman in Bali : Exotic Places for a Lady
From those explanations above, we know that this place is worth to visit.