So, like we all always said, the island of Bali is always a wonderful place. In fact, we already cover so many things about it like magical things to do near Besakih Temple, attractions around Sanur Beach, the complete info of Bali Safari, and many others. But now, we're not talking about those interesting attractions again. Instead, we want to give you some traveling tips.
In the previous article, we gave you the reasons you need to solo travel in Bali once in your life time, where you can find the reasonable reasons of why you should do that activity. Traveling solo can be really troublesome, especially if you're a woman. You need to prepare for anything, like your private stuff, and the others. But, going to the dream location is what every person wants, no matter what their gender is.
In this article, we want to help all the women out there who want to have a solo travel to Bali. We're gonna mention some of the best places in Bali that you should visit to give you an oustanding experience of vacationing in Bali. Without further ado, let's start with the first one in where to go for single woman in Bali.
1 – Angel's Billabong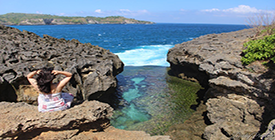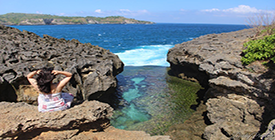 The first place inside the article of where to go for single woman in Bali, is the Angel's Billabong. All angels, including you, should at least visit this unique place in Klungkung, Nusa Penida, at least during your visit to Bali Island. Usually, the place is highly visited by women. Why?
The reason behind this is they can try to taking a bath in here, while seeing the wonderful view of the sea. The place has several "pools" that you can enjoy. All of them were created naturally, so you can't expect to find any supporting facilities. Instead, you can find one beautiful god's creation that's not easy to find these days.
Location: Klungkung, Nusa Penida
Tips: Try to swim and capture your moments. Then post it on Instagram.
2 – Marigold Flower Field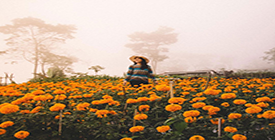 Moving from there, we're going to approach an attraction in Badung, Bali called Marigold Flower Field. The flower field in this Balik village of Petang, Badung does look amazing, just as the other attractions Badung area has like things to do in Badung Bali. However, the fields here are covered with the Marigold flowers or Calendula Flower.
It's not a usual thing to find something like this on the island of Bali. In fact, there's only one in Bali, which is this one. You can easily find it on the way from Kintamani to Bedugul, or vice versa. The fields will show you how beautiful the flowers of Marigold exclusively in several months a year. So make sure to come in the right time.
Location: Balik village, Petang, Badung
Tips: Come here from June to August, which is the perfect time for flower to bloom
3 – Waterblow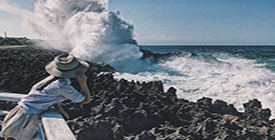 If you want to splash some water again, then this place can't be suitable for you. Instead, you'll get splashed by it. The Waterblow attraction that location in the area of Nusa Dua can always inviting everyone to visit it. As a place inside the where to go for single woman in Bali, Waterblow surely can give you an experience unlike others.
Usually, the people who are coming to this place are the hotel customers who would like to see and try to take some pictures at the right moment, when the waves are crashing the corals. There will be some people who can help you to take your pictures. Visiting it either with friends or alone can be a very entertaining experience.
Location: Nusa Dua (just behind Grand Hyatt Nusa Dua Hotel)
Tips: You can order a room at the hotel to get neared distance from the attraction
4 – Anand Ashram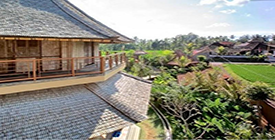 Want to visit a calm place where you and yourself alone can have a time for doing your activity, the Anand Ashram can be a perfect place. Located in the Sri Wedari street number 3 of Ubud, Gianyar, this place looks so natural, unlike others.
However, Anand Ashram that included as one of many wonderful places inside where to go for single woman in Bali is really suitable for relieving some stress. You can do your favorite activities like Yoga, reading books, jogging, and many others. As long as you're not disturbing others, any positive activities should be fine.
Location: Sri Wedari street number 3, Ubud, Gianyar
Tips: Come here in the morning to be able to breath in nice fresh oxygen.
5 – Kelan Beach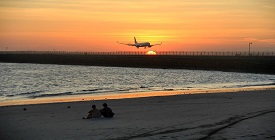 As one of the best places aside from things to do in Kuta Bali, we want to include the people's favorite beach in the area of Badung, Kuta called Kelan Beach. Unlike others, this particular beach can give you a one of a kind environment of beach.
In Kelan beach, you can always see the planes come and go. It's because the location of it is just beside the airport. It's only few meters from the beach lips. That's why, many girls would like to take very nice pictures from the combination of sunset, plane, the sea and their best pose.
Location: Badung, Kuta
Tips: If you looking for a place to stay, around Kelan beach there are numbers of hotel and resort that can be suitable for you.
6 – Tulamben Beach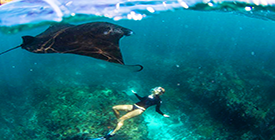 Tulamben beach is surely one of some famous beaches on the island of Bali. It actually has some things interesting that may look good to be your destinations, like things to do in Karangasem Bali. If you're a woman who has a decent snorkeling equipment, it's not a bad idea to visit this beach.
You can save much more money if you have them. But, if you even don't have any of it, you can also rent them for a price. The underwater environment actually has the most beautiful biota around the area of Tulamben. There's also a sunken USS Liberty Ship that you can also explore (should be extremely careful).
Location: Karangasem, Tulamben
Tips: Sometimes you can meet other travelers who have the same snorkeling hobby, which can tell you a lot information about it.
Just like usual, if you're a new reader, we always prepared the other list that containing numbers of beautiful location that anyone should visit after describing long description about the other places. Here's the other spots in where to go for single woman in Bali
1. Pengalon Candisasa Bamboo House
2. Yeh Leh Beach
3. Tegal Wangi Beach
4. Campuhan Hill
5. Pandawa Beach
6. Kuta Beach
7. GWK Statue
8. Waterbom Bali
9. Sanur Beach
So that's the article of where to go for woman in Bali. No matter what your gender is, you can always visit all the places that exist around Bali island. There's no restriction at all for women to visit specific place in Bali. But there's only one small restriction, that's maybe already known by tourists. If a woman is having her period, they can't enter the holy places like temples. Other than that, there's nothing as a border.