Bali is blessed with heavenly beautiful natural scenery, great waves to ride, warm temperature, and unique traditions and religious ceremony which make it stands out as an astonishing tourist destination in Indonesia.
Most of the Balinese are Hindu but their traditions and ceremony differ from Hindus in India, the origin of the religion.
Sometimes, tourists are welcomed to visit temple and follow their religious ceremony under certain conditions are fulfilled. Many find that following meditation or traditions in Bali is amusing and pleasing.
You can always feel a new insight whenever you follow it or hear the philosophical beliefs behind it.
To enjoy this pleasing atmosphere, you can go to Ubud which offer many pleasing things during the day and night. If you are wondering of the things to do in Ubud at night, you must try it since it's amazing.
Or, you can also visit Tampaksiring where many pleasing things are situated. From enjoying the beautiful scenery, relaxing yoga and meditation, to following a Balinese tradition, you can find another side of tourist attractions in Bali where you are led to peacefulness.
Tampaksiring, Bali
There are many things to do in Gianyar, Bali. If you feel like you want to explore another region beside Ubud to find peacefulness, then Tampaksiring is the answer. Located in Gianyar regency, the same regency as Ubud, Tampaksiring Sub-district is actually quite close from Ubud. It is the home for spiritual and pleasing journey as well as local culinary exploration.
If you like to have a pleasing vacation where you try to appreciate life and connect more to the nature and the holy spirit, then take these 7 pleasing things to do in Tampaksiring, Bali onto your bucket list because we are going to explore the peaceful side of the island.
1. Visit Tirta Empul Water Temple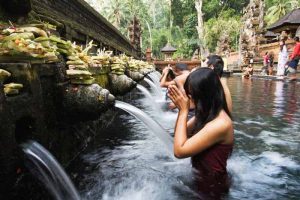 Heading to the north of Ubud for 30 minutes, you will find Tirta Empul, a holy spring temple that is highy revered by Balinese as it is the place to have cleansing and purification bathing ritual. Unfortunately, holy bathing ritual is only for the devotees. But still, you can enjoy exploring the complex and witness for yourself how the ritual is conducted.
The temple was built around the 10th century AD during the Warmadewa Dynasty and the water in the purification baths is from a spring next to the baths.
The spring also feeds pools and ponds in the temple. In the purification baths, there are ko that swim freely without feeling threat by the presence of the devotees.
To enter the temple, you are required to wear sarong or kamen covering your knees as one of the etiquettes while visiting temples in Bali.
You don't need to worry if you don't have any since you can rent one on the entrance of the temple. You can also hire a local guide who will help explaining the ritual for you. Tirta Empul opens daily at 9AM-5PM. It's typically crowded on Hindu big ceremonial days.
2. Take a Look at the Temple's Architecture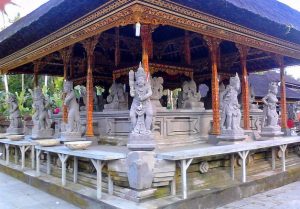 There are things to do in Balinese temple, including Tirta Empul Temple. As you are exploring the temple, you can take a look at the magnificent, traditional architecture of this ancient Tirta Empul Temple.
Besides the pool, spring, ponds, and purification baths, there are also some praying area where Balinese Hindu are praying after having the purification ritual.
The architecture mostly involve the use of natural stones and Balinese clasic carvings. During your exploration, you will notice that the Hindu Balinese temple area is typically divided into three sections: jaba Pura or the front yard, Jaba Tengah or central yard, and Jeroan or the inner yard where the Balinese Hindu are praying.
You will also notice that on a hill overlooking the temple, sits a modern and well-managed villa with may be hundreds of stairs to go there. It was built for the first president of Indonesia, Ir. Soekarno in 1954. Unfortunately, tourists, including the locals, are not allowed to enter the palace.
3. Shop for Souvenirs and Sarongs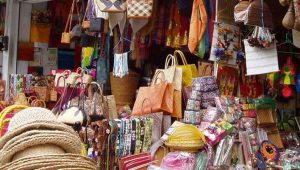 After witnessing the purification ritual and taking a look at the traditional yet magnificent architecture of Tirta Empul, you can shop souvenirs and sarongs outside the temple. There is a long line of shops that sell these items there which are locally made by the handcraftsmen of Bali. There are also woody items that you can buy as souvenirs.
By buying the products, you have supported the local business in Bali to keep going and breathing. Remember to bargain if you feel like the item is overpriced. The sellers are usually open for bidding and it's even one of the characteristics when buying souvenirs in Balinese traditional markets.
4. Visit Mount Kawi Temple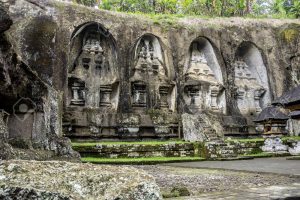 Mount Kawi Temple is another ancient temple in Tampaksiring that was built around the 11th century. Kebo Iwa, a warrior demi god, is believed to be the one who built the temple in one single night. It is surrounded by lush greenery and river that gives pleasing and peaceful atmosphere as the sound of the river stream can be heard from the temple.
If you feel like to explore another peaceful place near Tampaksiring and Ubud, then you can visit Goa Gajah. It is an ancient cave and temple that is characterised by menacing faces that are carved into the stone . Check out these things to do in Goa Gajah to organize your tour itinerary.
5. Have a Sip of Coffee in Segara Windhu Coffee Plantation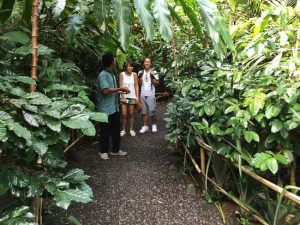 When you book a Tampaksiring Tour, visiting Segara Windhu Coffee Plantation is usually included as an add-on. In this coffee plantation, you can have another round of pleasing things to do as you will be introduced to the process of growing coffee trees and provided with a demo on how coffee is made and how to brew it.
You can also learn how luwak coffee, the prominent and luxurious coffee from Indonesia is made. Plus, you can walk around the plants and animals in this coffee plantation. You will have a guide who explains everything you need and might want to know about coffee.
To top it all, you can have a sip of coffee from a complimentary tasting platter of about 14 different flavoured coffee and tea. The surrounding of the coffee plantation is quiet and calming, a perfect place to enjoy your coffee and remember the spiritual and pleasing journey you have been experienced in Tampaksiring, Bali.
This coffee plantation opens everyday from 8AM-5.30PM so make sure to organize your tour itinerary in order to have the time to visit this plantation, especially if you are a fan of coffee.
6. Visit Museum of Art Jero Bang Pinatih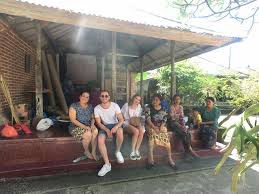 If you want to take a deeper look into the life of Balinese Hindu, then you can visit this Museum of Art Jero bang Pinatih in Tampaksiring. It is the place where you can see and enjoy the complete building of Balinese house that mainly consists of four main buildings called bale dangin on the east, bale daja on the north, bale dauh on the west, and bale delod on the south, plus a kitchen called paon that isusually built near bale delod.
Balinese house is built by following a traditional belief that is derived from the religious belief of Balinese, called Asta Kosala Kosali.
Besides the buildings that are commonly used as residents, you can also see the family temple of the Balinese where a family usually pray. Each Balinese family in a house usually have a temple in their house that is commonly built on the northeast side of the house.
7. Try Balinese Local Cuisines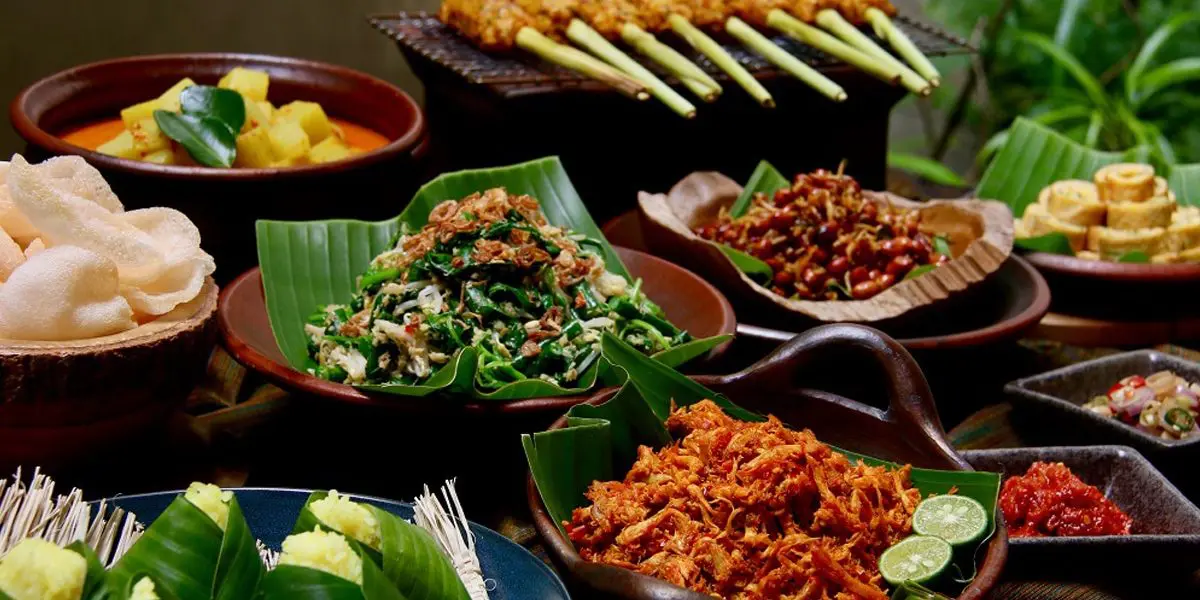 Besides the spiritual journey, Tampaksiring also has wide selections of local food vendors called warung where you can enjoy tasting the delicious local foods of Bali. You can try lawar, pesan, sate lilit, babi guling, and many more. Balinese are allowed to eat pork, so most of the time the local foods are made from pork or chicken.
If you cannot eat pork, there are always selections of halal foods in Bali or vegan foods, so you don't need to worry since the island is completed with all the accommodations that you need, including foods.
As you can see, the small Sub-district of Tampaksiring is not a great place for those who like to throw party and enjoy the night life of Bali. Rather, it is a great spot for people who long for peaceful and pleasing experience offered by the traditions, culture, and nature of Bali.
The area of Tampaksiring is quite small, so you could actually done all of the things on the list in 1 to 2 days. Remember to book a hotel around Tampaksiring or Ubud and prepare everything you need. And then you will be reading for a pleasing and calming experience in Tampaksiring.