In Bali island, it's not a new thing that you can find so many beautiful beaches, like one of them in things to do in Pandawa beach Bali Indonesia. Those beaches are great, and so calming. But in the other hand, visiting the same spots again and again would be pretty boring.
Well in this island, you wouldn't get boring, because if you're curious enough to find another type of attraction, then you'll always have something new to explore. Like the hot springs for example. Even though it's not included insided unusual things to do in Seminyak Bali, this one hot spring in Bali called Banjar Hot Spring is one of a kind. Why? Learn it facts on the things to do near Banjar Hot Springs below :
1. Banjar Hot Spring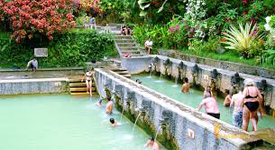 The first location we want to introduce to you is of course the hot spring itself called Banjar Hot Spring. The place is already famous because it has this unique looking that very Balinese and showing the art of Balinese culture.
Because of its popularity, no wonder that there's so many people visiting it every single day. You can find the foreign tourists too in this venue. In fact, most of the tourists are coming from other countries. To enter the place, you only need to pay for about Rp5.000,-
Location : Banjar street, Banjar, Buleleng Bali
Tips : Better visit it in the morning for better atmosphere
2. Sekumpul Waterfall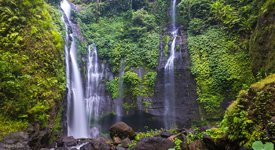 The other thing beside things to do in Lake Batur Bali to find in this island that located around The Banjar Hot Spring is Sekumpul Waterfall. The name Sekumpul came from the word "Kumpul" which means gathering. The reason behing the naming is, because there's not only one waterfall in here, but some.
There are two waterfalls in total that "gathering" in this place. Both of them have the same height of hundred meters. When rainy season comes, one waterfall has different colour than the other. Administration ticket is needed for entering the place. You can pay for about Rp15.000,- plus Rp10.000,- for it.
Location : Sekumpul, Sawan, Buleleng Bali
Tips : It can be a slippery in there, always be careful of your step.
3. Dalem Jagaraga Temple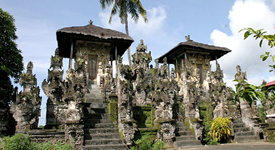 In Bali, you can find so many temples. There are some noticable temples in here that always becoming a perfect tourism object for the tourists and a very majestic spiritual places for Hindu people.
One example of them, which is also located around the area of Banjar Hot Spring is Dalem Jagaraga Temple. It's included inside the environment of Kahyangan Tiga Jagaraga which basically have the same specifications as the Dalem temples. Basically it's free to enter a temple in Bali, but you still need to pay the parking ticket though.
Location : Jagaraga, Sawan, Buleleng, Bali
Tips : You can rent a cloth there to cover your body if you happen to wear thin clothes
4. Yeh Sanih Pool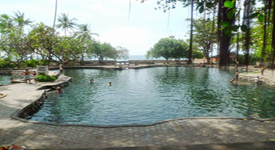 The other spot you can find around the island of Bali beside hidden places to stay in Bali is Yeh Sanih Pool. This pool is natue made one that located around 17 km from the city of Singaraja. There are two pools in here, one for adults and the other for kids.
Yeh Sanih is really suitable for family vacation, because beside it's very natural, it's also a very affordable yet wonderful attraction to visit. There are also some facilities that very supporting the tourists there like some hotel and restaurant. Administration fee is Rp10.000,-.
Location : Air Sanih street, Kubutambahan, Buleleng Bali
Tips : Always respect the place with not doing things like littering and some other bad activies
5. Kirani Salon and Spa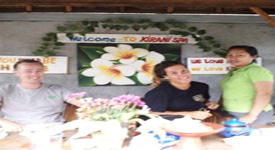 Vacationing in Bali is very tiring. It's fun too of course, but at some points within a day, the body condition can reach its lowest level. There are some ways to restore it, like visiting salon and spa. And there's one located near Banjar hot spring like Kirani Salon and Spa.
The place is really suitable for the tiring tourists who already have very tight schedule and activities that make them need a refreshment. The facilities, the services are pretty complete and surely will be loved by women.
Location : Seririt-Singaraja street, Buleleng, Bali
Tips : Prepare your budget first before visiting it. High quality services come with high price.
6. Aling-aling Waterfall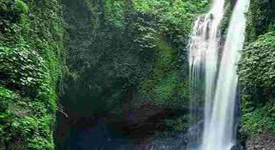 In the area of Buleleng, there are some famous waterfalls that always visited by tourists. One example we want to introduce is Aling-aling Waterfall. The venus is still natural and can be said as virgin because the condition is still very green.
It has 35 meters high and around it, there's a cliff where people, who love a challenge, will jump into the water below from top of the cliff. It's satisfying actually, but in some way, it's also really dangerous. But, it's still a very good waterfall that you can visit around Banjar Hot Spring.
Location : Sambagan Village street, Sambangan, Buleleng, Bali
Tips :
7. Gitgit Waterfall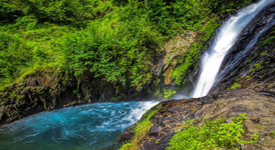 There's one beautiful waterfall, beside the things to do in Abang Bali named Gitgit Waterfall. This waterfall is often called as a twin waterfall. It has two streams of water, just like the other waterfall we already talked about on paragraph above.
The thing is, the streams have different temperature. One has warmer degree, and the other is colder. Many Balinese call this waterfall as a sacred place because of the spiritual reason. To enter, you need to pay about Rp5.000,-
Location : Bedugul – Singaraja Highway, Gitgit, Buleleng, Bali
Tips : In the place that considered to be a sacred one, don't forget to always respect the culture there.
Other Things to Do Near Banjar Hot Springs
After telling you about the seven locations we provided on the list above, we also have the other points of interest that located around the location of Banjar Hot Spring. So, for you who want to have the perfect experience of vacationing in The Hot Spring, check the list below :
Beji Temple
Sambangan Waterfall
Lovina Beach
Lemukih Waterfall
Singaraja Chinese Temple
Gedong Kertya Museum
Ling Gua Kiong Temple
Eks Beach
Les Waterfall
That's all for today with the list of things to do near Banjar Hot Springs Bali. The place is very useful for the people who are really tired and stress, and looking for a simple and yet a beautiful place. Beside, the place is very reachable.
So, the area around the hot spring are also very relaxing. Things like Kirani Salon and Spa and some examples of majestic waterfalls there like Aling-aling waterfall and Gitgit waterfall are also eye catching. Don't forget to visit while you have a chance!
Banjar Hot Spring View