Bali has a charm that lured tourists from all over the world. White sand beaches, green rice terraces, exotic culture, mystical temples and bustling nightlife are some of the things that can be enjoyed in Bali. No wonder Bali is in the bucket list of most people, including single females. Is Bali safe for single females? There are things to be considered as a single female before travelling to Bali. Let's find out ..!
1. Transportation is Safe, Girl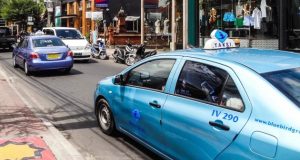 Transportation is the number one issue to get around Bali. Bali has no subway. To be honest, Bali is lack of public transport. The cheapest way to explore Bali is on a motorbike/scooter. You need guts, skill and good fortune. The cost to rent a motorbike is from Rp 50,000/day. If you can't ride a motorbike, you can use Gojek (motorbike taxi). Just download the Gojek app to order their service. The cost is affordable and has no hidden fees.
The most expensive way is taking a taxi or hiring a private driver. The most recommended taxi is Blue Bird because they operate on a meter. If you want to hire private driver, make sure you bargain their rate. They tend to impose unreasonable numbers on foreign tourists. Do some research on the internet to find out the fair price. It's better for sharing cost with other travelers. Uber is available in Bali. But there is a fierce conflict between Uber and the local taxis. You have to be cautious on using Uber. Probably they can't transport you to the main tourist areas because they have been banned. The worst thing is some people can just intercept the Uber car and force you out of the car. So it's a smart decision to spend the time in tourist area like Seminyak where the attractions are within walking distance. There are lots of things to do in Seminyak.
2. Balinese People Fit You, Girl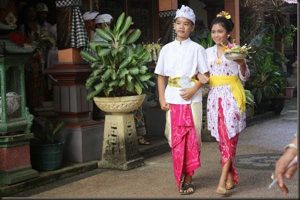 In general, Balinese people are friendly. They were taught from childhood to be polite to guests. But sometimes the behavior of certain people is excessive, especially young Balinese men. Single females, just as they are anywhere, always attract the attention of men. Young Balinese men can be too friendly which can make uncomfortable situation. They will wonder why you travel alone and interrogate your love life. Most likely they will ask you to drink and party with them.
Mind other people's business is a habit in Indonesia. It can be either good or bad. But for single female travelers, it's definitely a bad situation they should handle. Wearing a fake wedding ring or making up a fake boyfriend can be the smart solution to get rid of those annoying men. But it doesn't mean you have to evade conversations with Balinese men. You just need to be wise. It is just like handling hawkers.
3. Reservation is Nice, Girl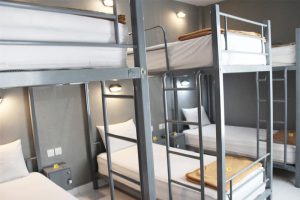 Choosing accommodation can be a bit tricky. The easiest way is to order from a reputable site. You can compare the prices, facilities and comments of previous guests. Also make sure you read the terms and conditions. Use your common sense in choosing accommodation, do not be tempted by cheap price. Before your departure to Bali, you must confirm the availability of the room you has booked. Mistake can happen, especially during peak season.
If you're a go-show type, it doesn't matter. You have many options for accommodation. Hostel is a popular choice because the price is affordable. Lots of hostels provide female-only rooms. Before making a decision, you need to check the condition of the room, the circumstances around, the quality of Wifi, and the rate. It's better to stay in a known hostel that has good reviews on famous travel sites. For your own safety, avoid unfamiliar hostels or guesthouses. Perhaps after a few days you can conclude if a friend ask you, "Is Bali safe for single females?" Anyway, it's better to book hotel/hostel in main tourist area such as Kuta. Surely you will have lots of things to do in Kuta.
4. Balinese Food is All You Need, Girl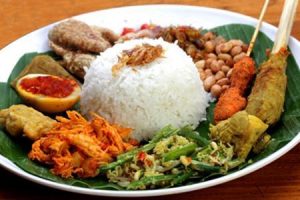 Since Bali is a popular destination, it serves various kinds of food, from Balinese food to Western food. You have to give yourself a chance to taste the Balinese food. Traditional Balinese food is cooked with abundant spices. It is acceptable to anyone's tongue, well flavored and not spicy as well.
But you will not find beef dishes in traditional Balinese food because cows are sacred animals that are respected by Balinese people. One of famous traditional Balinese food is Chicken Betutu. You can find it in Bedugul. Besides having lunch with Chicken Betutu, there are other things to do in Bedugul.
If you are not used to cuisine rich in spices, you can eat at fast food restaurants. They have an international flavor and are open 24 hours. Western food restaurants are also easy to find. Bottled water is sold everywhere and is cheap. Make sure you always bring bottled water. Bali in sunny weather will burn you to thirst.
5. Price and Shopping, Fun Girl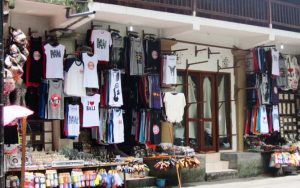 Bargaining is the natural skill of every female. And Bali is the right place for bargaining. You can even practice the cruelest bargaining style you've ever known. For example, Balinese sellers tend to give a soaring price for clothes and souvenirs. Although you see a price tag, if you are in a marketplace you can always launch a bid. Don't worry, you won't offend them. They know it's just part of the game.
You can start your bid one third from their price. No problem if you want to start lower than that. If they reject what you think as a fair price, just walk away. The chances are they will call you back and take your offer. Bali is a perfect market. Everything is negotiable, from renting a car to booking a room. Only prices set by the government that can't be negotiate.
Tips for Single Females Traveler in Bali
Is Bali safe for single females traveler? You may be wondering abut it. But, don't worry, girl, Bali is safe for you as long as you remember about these tips:
Respect Balinese –  This is the absolute points that you need to respect Balinese as they are the host.
Learn The Basic Balinese Phrases – This is important! Balinese have their ow traditional language which is good to learn when you visit them. Such as, "Hello" is "Om Suastiastu: and more.
Talk to The Bali Host – Since Balinese is quite friendly, you can try to talk to them to get to know them. So, they will safe you if you need something.
Watch Out The Cautions – There may be some do and dont's there, so please watch it out!
Wear Proper Dress – It's a must. For instance, if you want to go to the temples, you may need to wear their traditional proper fabric.
Be Friendly – You need to always be good to them
If you are always careful with the circumstances around you, just as you are anywhere, you will be fine. Single females have the same opportunity with their counterpart to enjoy the beautiful Bali. Probably the question will evolve from "Is Bali safe for single females?" to how to have fun in Bali as a single female.