Bali is home for amazing beaches, including the beach clubs. It is known to have some of the best beaches in the world! Does it make you proud? Parties with international DJ's, luxurious spaces to spend the day to relax at the beach, chill sunset drinks, and family-friendly beach clubs. Get to know more about beaches in Karangasem Bali.
All the best Bali beach clubs are spread through some areas, including Uluwatu, Seminyak, Canggu, Jimbaran, Nusa Dua, Legian and others. Can you still wait? Here they are the 7 best beach clubs located in Bali, so get ready to party!
This beach club is one of the best in Bali. It is located in Ungasan, specifically below the Ungasan Clifftop Resort.
You just need to take a funicular ride down, and you will find stunning white sand and clear blue water in the private beach. When the tides are low, the beach can be rocky and less pretty.
At the beach, you will find a restaurant, bean bags and some complimentary water sports, such as stand-up paddle boards, kayaks, and snorkelling.
On Sundays, there's also beach bonfires and music during sunset. It will surely be super relaxing for you! Besides beach clubs, these clubs in Bali are also interesting, especially if you like to have a party!
Potato Head Beach Club is also on the top list for most Bali tourists. This beach club has Bali-inspired aesthetics and endless amounts of delicious food and cocktails. It is recommended to visit this beach club at 11 a.m. so that you can book the best seat in the house for a day before the sun sets.
In this beach club, you will surely be able to graze nibbles and smooth tunes curated by a top list of local and international DJs. You can also relax here and swim in their pool by the beach. It will surely give you an unforgettable experience.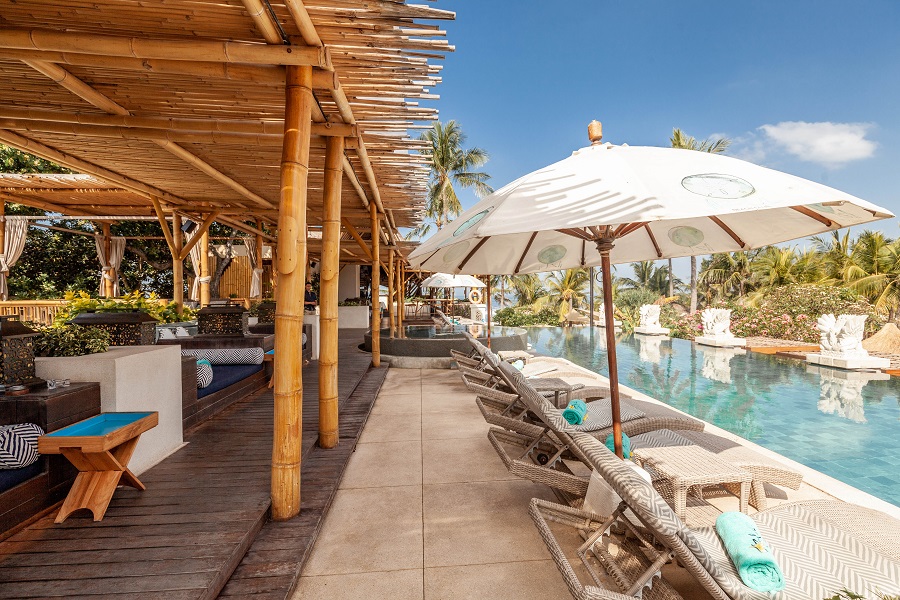 Azul Beach Club is located across the street from Padma Beach in Legian. It will easily catch your eyes by its bamboo structure. It looks like a multi-level beach hut.
If you wish to capture the best sunset moment, then you should come here as it is a great place to watch sunset in Legian. While you enjoy the sunset, have a cocktail and some bites too.
Let's move on to Jimbaran area, as we have Sundara Beach Club. This beach club belongs to Four Seasons Jimbaran. It is a relaxing place to spend your day as it has amazing and outstanding facilities. Just mention its infinity pool on Jimbaran Beach, beautiful decorations, and some favorite restaurants in Jimbaran.
Sundara Beach Club also has VIP boarding lounge that you can book if you have a late flight out of Bali. You can spend last hours relaxing here for a minimum spend, which includes food and beverages, day beds, shower facilities and luggage storage.
Sandy Bay Beach Club is situated in Nusa Lembongan area. It is a perfect place for watching sunset and having dinner. You can also find a pool overlooking the beach in this beach club.
To spend your time here, you can simply wander out the little whitewashed gate onto the sand and swim at the beach. However, before deciding to swim, make sure the beach waves are safe as most of the time the waves are pretty strong.
While you're in Nusa Lembongan, make sure to put these things to do in Nusa Lembongan in your itinerary.
Seminyak is full of amazing beach clubs, one of which is Ku De Ta. If you wish to have a great spot for both relaxing and partying, then you should go to Ku De Ta. It is also a perfect spot for watching sunset. While you're enjoying sunset, make sure to taste the drink or indulge in their delicious food.
If you are in Seminyak, make sure to bookmark these things to do in Seminyak Bali.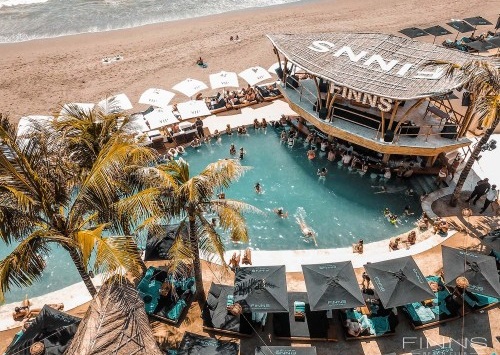 Who doesn't know this famous beach club? Located in Berawa Beach in Canggu, Finns Beach Club is really popular among tourists.
If you come here, make sure to get relaxed in the infinity pool while looking out to the beach and enjoy the range of food and drinks. Enjoy the music and DJ's playing too.
This beach club is suitable for sun worshippers, partygoers, and luxury lovers.