Bali is an island that's well-known for its beautiful nature, culture and tradition. An island that you most probably have heard about or even visited before.
The seemingly endless charms of Bali range from waterfalls in Gianyar, lakes in Bali, to the best mountains to hike in Bali. But what stands out the most as the tourism asset of Bali is its beautiful beaches.
Every beach in Bali boasts their own charms that could attract many. Some has big waves that attract surfers from all over the world. Others offer clean, white sand and calm, clear turquoish water with greenery surrounding them. But the outstanding beauty invites so many people to come that the beaches become so crowded.
Of course it won't be a problem if you enjoy being in the crowd. But it always feels good when you walk on the clean sand and realize that it's only you there. It's as if the beach was booked entirely only for you. A moment when you can do whatever you want and recharge the energy you've lost during your days.
We've made a list of Bali's less-known beaches where you can momentarily escape from the typical tourist crowd of Bali. But today, we're going to take you to a specific place in Bali that's already well known for its beautiful beaches — Badung, which is also known as the home for the most beautiful and busiest beach in Bali — Kuta beach.
But, did you know that this regency is also the home to some of the most beautiful hidden beaches on the island. If you're interested to sought for these calming beaches, here is the list of 5 most beautiful hidden beaches in Badung, Bali where you can recharge your energy.
1. Green Bowl Beach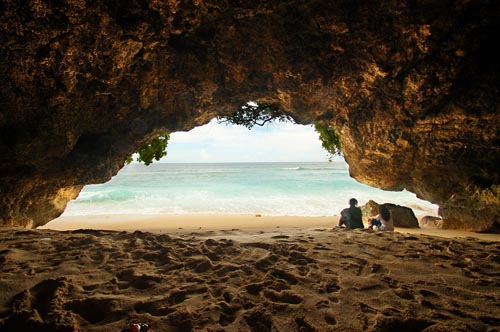 Located quite far from Ungasan area with the remainings of Bali Cliff Resort, it's appropriate to call this beach as the hidden/forgotten paradise that's also known as Bali Cliff beach. The name Green Bowl beach itself is taken from the algae-covered rocks that can be seen at low tide, which resembles green bowl.
After driving to Ungasan Village, South Kuta, Badung, you'll need to walk down hundreds of staircase in order to arrive at the beach. It'll need extra efforts but they're all worth it.
You'll get to see the beautiful hidden corner of the busy beaches in Badung. There are small waves with bats inside. If you're brave enough, you can come inside and see the bats that're sleeping on the caves.
As a tip, it's better for you to come in the afternoon after 3 pm as the tide is quite high in the morning. This can be a great place to escape the typical crowd of beaches in Badung as well as recharge your energy with the beautiful surrounding.
2. Nyang Nyang Beach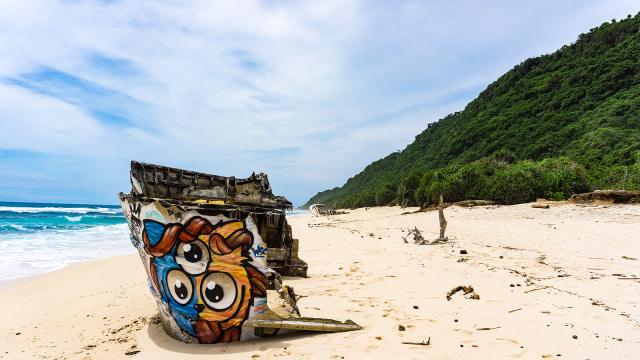 Another full of efforts yet super worth it hidden beach to explore in Badung, Bali.You'll need to go through 500 staircase in oder to arrive at the beach. Nyang Nyang beach is a super beautiful white sand beach with high, green cliff that secludes it from the busy regency.
Located near Uluwatu temple, you can spot the beach after finding a sign that says "Nyang Nyang Surfing Beach." On the beach, you can see some parts of an abandoned vessel that create a dramatic scene, giving a sense of movie where you're trapped in the middle of nowhere.
Around the beach, there's a secret wild garden with beautiful blooming yellow flowers. These two sceneries can be a wonderful backdrop for your aesthetic photos.
3. Gunung Payung Beach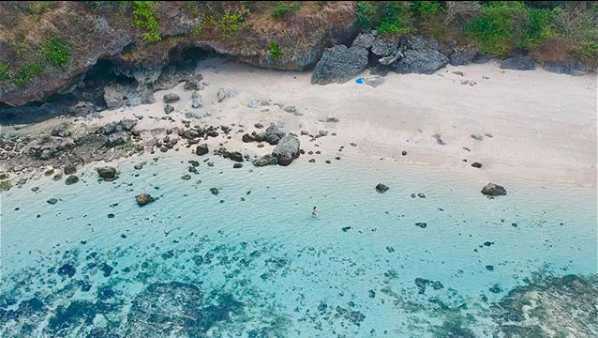 Located to the east of the famous Pandawa Beach, Gunung Payung beach is a hidden beach that thankfully can be easily accessed. By paying only IDR8,000, you can already get access to the seemingly endless ocean view that meets the horizon with clean white sand and blue water.
Similar to Green Bowl beach, Gunung Payung beach also has some caves that you can use as a place to rest while gazing to the enchanting view.
Plus, you can also engage with the local life as the locals are passing around with seaweed and sea urchin on their backs. It's a great opportunity to get both the natural and cultural aspects of Bali in one place while also get to relax yourself.
4. Honeymoon Beach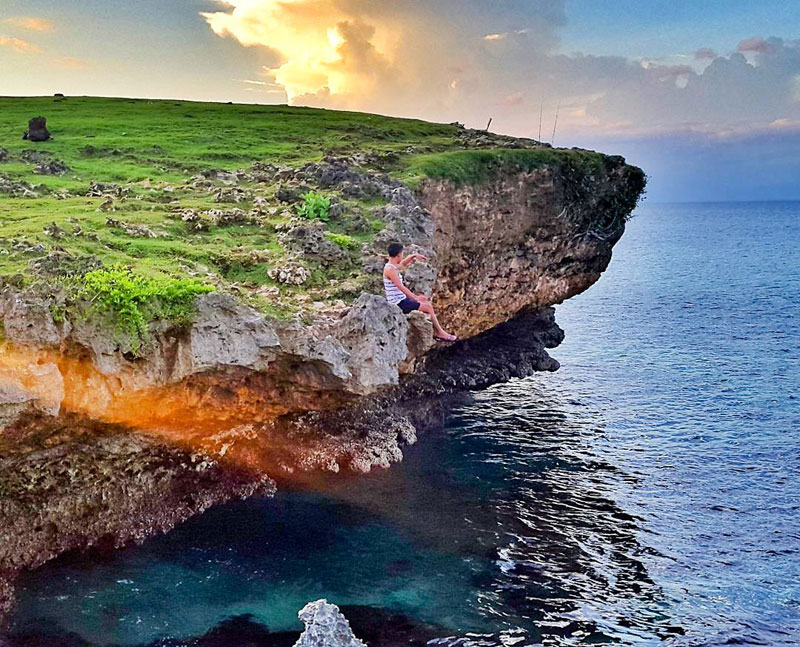 Also known as Jimbaran View Point Beach, Honeymoon beach offers you an excellent way to enjoy the beautiful view that can also be perfect for honeymoon. You can have an exclusive on cliff spot where you can enjoy the seemingly limitless blue ocean view and outstanding wave show.
The cliff is about 4 metres above the ocean. So, if you enjoy having a little adventure, you can jump off the cliff to the ocean and swim back to the land. Or, you can just set up a picnic or barbeque with your friends on the cliff and enjoy the wonderful view. This hidden paradise is located in Jimbaran, South Kuta, Badung Regency.
5. Sawangan Beach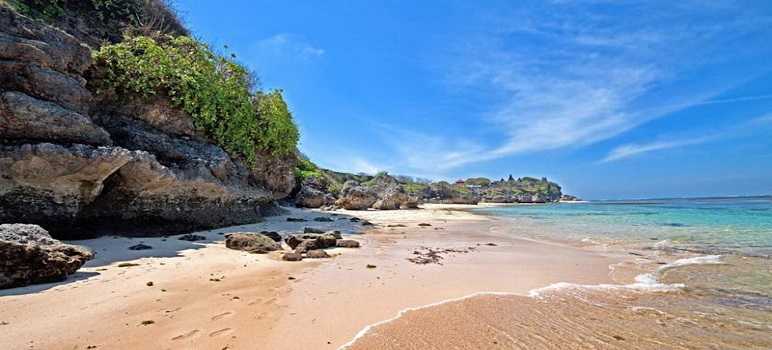 SItuated in front of Hilton Bali Resort, Sawangan beach is rather not so crowded. When you come in the morning, you'll most probably get the chance to enjoy the bautiful hidden beach all to youself. You can find yourself standing on the carpet of sand that's similar to the dessert.
Since the sand is clean and soft and you get cliff behind you with clear water before you, you can have a picnic on the beach or just enjoy sitting by the cliff. It's a perfect place to refresh your mind and get a time for yourself after the busy working days.
After visiting the beaches on this list, you can go to Garuda Wisnu Kencana, one of the iconic landmarks in Bali where you can see a majestic view of Balinese art and culture.
Also, don't forget to check out other interesting things to do in Badung, Bali to make the most out of your vacation time on the island of God.